2012 in tech: Apple up the Cook without a paddle, ARM, slab wars... and MORE
Navigate the year safely, without Google Maps
Regulators versus carpetbaggers
Efforts to introduce an industry standard for DNT through the World Wide Web Consortium (W3C), meanwhile, hit deadlock. Tech companies, especially websites like Facebook and Yahoo! and browser-makers such as Microsoft are compromised, representing on the one hand users and on the other advertisers whose money they take so that they can reach the users.
With creeping changes to privacy and data use, and disarray over DNT, politicians and regulators began to get involved.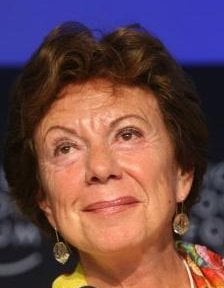 Steelie Neelie: DNT in disarray
The Irish Data Protection Commissioner told The Register that it is seeking "clarity" from Facebook on the proposed rewrite of its privacy policy. European data regulators informed Google by letter in October that had to change its policy to make the terms clearer for users and to give people an an opt-out option for each product so they can stop information being taken from one to the other. Regulators started investigating Microsoft, too, over its new advertising-friendly terms of service.
EU vice president Neelie Kroes told tech companies to reach an agreement on DNT or they'd face a government-imposed option. "Standardisation work is not going according to plan. In fact, I am increasingly concerned," Kroes said.
Privacy and data use rights by tech companies are perennial concerns and it was Google and Facebook in 2012 that – again - made people feel most twitchy. Microsoft's struggle over DNT, meanwhile, proved the industry is riven by groups representing different interests and while they are opposed to each other they can sometimes end up on the same side.
Given the size of companies involved, the billions of people using their services, and the money and power at stake, privacy and data are guaranteed to continue to attract more regulator interest in 2013.
This means we will see tech companies again further push the boundaries of what's allowed and what they can get away with as they try to grow and spin money from nonpaying users. It also means regulators aren't about to give up turning over the Silicon-Valley set's dreams of making easy money.
4G - this ain't dot-com Part II, people
Remember when mobile phones were barely evolved bricks and the most you could except was to have a telephone conversion with somebody else? That was before April 2000, when the Radio Communications Agency in the UK opened up two pieces of broadband spectrum to carriers in an auction that raised £22.47bn for the treasury and let carriers rollout networks capable of providing voice calls, TV-on-the-go, mobile web search and email, and GPS – services and networks known as 3G.
In 2012, the UK started the process for the rollout for so-called 4G services. Plans for an auction were announced, legislation drafted and bidders registered; the auction is due early next year with regulator Ofcom expecting services to start rolling out by late 2013.
Up for grabs is two portion of the wireless spectrum in the 2.6gGHz and 800MHz bands. The former pads out the existing networks making it less choppy for demanding smartphone users and gamers and film fanatics on the go. The latter is analogue TV spectrum that becomes free once the digital switchover is complete and that – in theory – could mean the actual and undisputed arrival of broadband in rural areas.
Seven companies qualified to bid for 4G. Everything Everywhere (EE); HKT (UK) Company - a subsidiary of Hong Kong operator PCCW; Three owner Hutchison 3G UK; MLL Telecom; Niche Spectrum Ventures - a subsidiary of BT Group; O2's parent firm Telefónica UK and Vodafone.
Just don't expect next year's auction to be the same high-rolling, land grabbing affair of 2000. Less spectrum is going under the hammer this time with carriers feeling they overpaid last time around - the auction came off the back of the dot-com boom/bust and it took years to re-coupe the costs on top of network build out.
The spectrum on offer doesn't automatically confer 4G boasting rights: ISP UK Broadband already uses 4G LTE to provide coverage, although the services are patchy, while Everything Everywhere, owner of T-Mobile and Orange, began rolling out a 4G service using LTE.
And, there's plenty of life left in existing 3G. Operators have quietly been upgrading to the latest and much faster version of 3G - dual-channel HSPA+ that can deliver up to between 15Mbps and 20Mbps of data to handsets,
The Chancellor of the Exchequer reckoned he could raise £3.5bn from the 4G sale. Ofcom has set a reserve price of £1.3bn. 4G will rollout in 2013 thanks to the government's actions of 2012: just don't expect the bonanza of a decade ago.
Tim Berners-Lee Tweets from London 2012
If the London 2012 Olympics opening ceremony in July reminded us of anything, it's that Britain gave the world great music, James Bond and the concept of universal health care.
It also reminded the world which nation was responsible for the World Wide Web.
Greatest Living Briton and web daddy Tim Berners-Lee got a brief spot during the Danny-Boyle-directed epic, on stage at the Stratford Stadium.
He snuck in during the middle of a set telling the story of netizen teens Frankie and June, who get together using the power of their mobile devices.
An urban street scene went briefly empty save for a single house with coloured lights pulsating from its windows and that suddenly lifted up to reveal Berners-Lee Tweeting from PC at his desk to the sounds of Emeli Sandé's Heaven. The Tweet: "This is for everyone" with the message played on 70,000 paddle-based screens mounted on the stadium's seats that turned the audience into one giant monitor.
In a ceremony that served the best of British achievement, that fearlessly fused industrialisation, the Lord of the Rings, house music and children's literature for a global audience, it was probably the moment when if you listened carefully you could hear nerd minds across the planet simultaneously exploding.
It was a moment, too, that saw the tiny minds of some US TV anchors unable to cope with the reference.
Ever modest, Lee reckoned he'd simply done it for all the geeks who'd collaborated internationally to build the web, a spirit of collaboration he said existed in the creation of the Olympics opening ceremony, too.
It's a moment that still sends shivers down the collective spine. That and Super Saturday, of course. ®
Sponsored: Minds Mastering Machines - Call for papers now open