2012 in tech: Apple up the Cook without a paddle, ARM, slab wars... and MORE
Navigate the year safely, without Google Maps
Buy me a legacy
What's abundantly clear, is Apotheker wanted a big deal during his tenure and no matter what Lynch says about audits, Autonomy was destined to close.
The episode was another embarrassment for HP's board. It followed the surprise termination of CEO Hurd in 2010, the rash pick and sudden firing of his successor Apotheker – inexperienced material for a CEO – the $8bn writedown of the $13.9bn EDS deal – and the disaster of Palm, bought for $1.2bn cash in 2010 that was written off with the webOS code open sourced a year later.
Zuckerberg hoodie strategy investment burns shareholders
Silicon Valley's always been a step removed from the real world, that's partly why it succeeds in new thinking by breaking the boundaries of what's possible.
Where it fails, is when dreams and business models proven only in the heads of their creators and supporters meet cold, harsh economic realities.
Facebook, GroupOn and Zynga hoped 2012 would be a continuation of 2011 – the year of successful tech-sector and social-network IPOs. And for a while it was. Facebook, the most eagerly anticipated public listing since Google, IPO'd at $38 per share on 18 May, raising $80bn.
But how did the Facebook promise quickly turn from this and this to this and this?
Trading in Facebook was furious: 80 million shares changing hands in the first 30 seconds and the first trade gaining 11 per cent. After an initial rush to $45 per share by the end of week one, though, Facebook was down at $31 per share. Today it's down by half, trading around $21 per share.
Retail investors are estimated to have lost $630m. Investment bank UBS was burned: losing up to $350m and threatening legal action while shares in Facebook did nothing but slide south. Zuckerberg lost $8bn of his net worth thanks to the nosedive.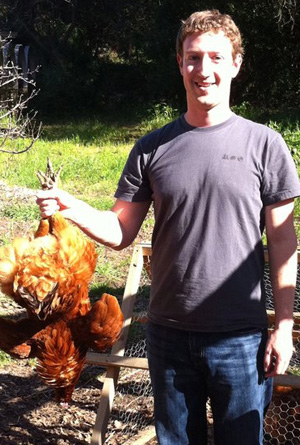 Facebook's IPO turned into a turkey
Technical glitches in the Nasdaq trading system handling the IPO were blamed initially, as people either couldn't buy shares or bought too much.
Within a week of the IPO suits were filed against Facebook, super shareholder Zuckerberg and financial institutions Morgan Stanley, Goldman Sachs and Merrill Lynch who'd brought Facebook to market - it was claimed that they'd hidden the real state of the business from outside investors. The suits were based on claims Morgan Stanley had cut its revenue forecasts for Facebook but withheld the information from all but a few.
Days after the IPO and with the stock falling, operating officer Sheryl Sandberg jokingly urged Facebook users to "click and ad or two" ads while on her company's site. Zuckerberg ended up calling the IPO disappointing and blamed the problems on SEC rules that had prohibited his company from sharing its plans on mobile.
The problem with the Facebook float was unreal expectations and an unwillingness to connect the dots between owning one billion users and somehow turning them into a cash engine for the company. The IPO exposed these challenges to a wider public unfamiliar with the details. To regain confidence, Facebook must show what happens next now it's got one billion users, how it can build a mobile experience they like, and how it can make money from ads in general and ads on mobile in particular, without prostituting users' privacy.
In the meantime, Facebook is trying to build a wall around users. The bricks in that wall involved stopping users bleeding to other destinations, such as Zynga, and owning the end point by creating a "Facebook phone" or "Facebook tablet" - like Apple or Amazon - whose existence was rumoured throughout the year.
Meanwhile, with even it's COO divesting herself of $41m shares in just six weeks, the company now has a long way to go in convincing outsiders it has a future.
The prospect for further stock falls remain, as these problems remain unresolved and shares locked up under the IPO rules are released to market.
Zynga IPO'd five months ahead of Facebook - in December 2011 – but like its web-platform partner Zynga also shared a miserable stock-market story in 2012.
The float came in half of what had been boisterously expected at the start of 2011 - $10 a share, raising $1bn. Zynga was trading at $2.31 by the end of 2012.
The 2012 decline was painful: Zynga twice cut its financial outlook against falling revenue and anticipated losses, it wrote off $95m off its of $182m acquisition of Draw Something game maker OMGPOP, the stock nose dived, the company struggled to attract new gamers - Zynga claims 311 million active monthly users – and lost its chief operating officer financial officer and marketing officer.
The prime problem was Facebook, Zynga's chief financial money maker, which cut the purse strings in 2012. Facebook now wants to keep its users on Facebook, not share them with other social networks. Zynga has also failed to make the kinds of money from mobile games that is shareholders want to see.
Cheapo deals company GroupOn, meanwhile, also rode the stock market south in 2012 as once optimistic investors became disappointed with falling sales.
GroupOn IPO'd at $20 a share in November 2011 making it then the biggest IPO since Google. A year on, GroupOn was selling at $5 a share.
The company reported losses despite growing revenue, cut nearly 1,000 staff and lost top sales execs. The company that tried to introduce some creative ways to count revenue pre-IPO in 2011 had to restate its fourth quarter in 2012 and was probed by regulators following "mistakes" in the reported numbers.
Sponsored: Minds Mastering Machines - Call for papers now open