Boffins cook raw numbers, hope to bake PERFECT kilogram
Say watt? Pass the foil, my balances don't balance....
Posted in Science, 20th December 2012 10:02 GMT
Free whitepaper – Hands on with Hyper-V 3.0 and virtual machine movement
A "recipe" to deliver the perfect kilogram as a mass standard that the world can trust is coming closer to completion as the physicists behind the project bake their raw numbers.
International scientists met in late November and pushed forward a 21-page document that'll eventually instruct boffins responsible for managing weights and measures how to adopt a planned quantum kilogram as an SI standard. This comes after decades of work attempting to redefine the kilo in terms of a fundamental constant of nature. It is the only SI unit still directly defined by an artefact.
Ian Robinson, a fellow of the National Physical Laboratory in the UK who has worked on the kilogram for NPL, described the document – called a mise en pratique - as a "recipe for realising an SI unit at the highest primary level".
It "will describe the processes that will be used to get from an abstract definition to a concrete top-level standard which can be used in the process of disseminating the quantity to science and industry," Robinson told The Reg.
The quantum kilogram will replace the current SI standard: a kilogram mass of metal cast in 1879, housed in the International Bureau of Weights and Measures (BIPM) outside Paris. The metal kilo is considered unreliable because over time its mass does change by minuscule amounts.
Among other things, the mise will tell national measurements bodies how they should combine results from different projects to define the quantum kilogram to help ensure reliability. Mise en pratiques accompany all SI units.
And that's the tricky part, because right now the results from the three different projects on the quantum kilogram disagree too much to be considered reliable.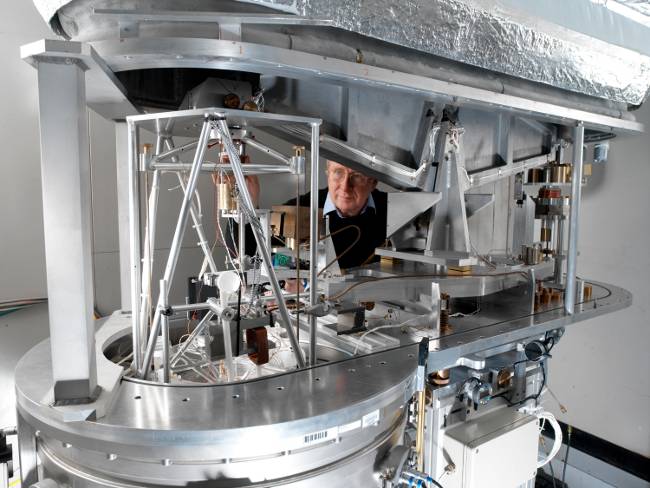 Robinson's watt balance: know your apparatus
Two teams are working to define the kilogram mass in terms of Planck's constant using watt balances – they are the National Institute of Standards and Technology (NIST) and Canada's Institute for National Measurement Standards. The latter group are using a device built by Robinson at NPL. Another approach is to count the number of atoms in a silicon sphere using the Avogadro constant.
But the watt balances don't agree and can't as yet produce sufficiently reliable results while there's also a gap between the watt balances and the Avogadro work.
The gap is small – in the range of parts per billion - and both sides are going over their numbers. The Canadians have already made changes to their balance suggested by Robinson. These included shortening the balance's arm to change the way the mass is raised and lowered and replacing wires with rods that suspended the magnetic coil. NIST has removed superfluous wiring.
Robinson told us NIST is conducting experiments on their balance's super conducting magnet to make sure it's correctly generating the required magnetic fields.
"They are trying everything they practically can – they are revisiting all the uncertainty," Robinson said. "You have to look at every corner of the thing. I spend a lot of time looking [at the watt balance] to see if there's anything wrong.
"I found I had a problem at NPL only by looking at some data and I said: 'I don't like that' and it led me down a deep rabbit hole. But that's the problem: you have to be used to the apparatus and know what's going on.
"When people come across it, they say: 'That's easy and I can do it in five minutes' - but the people who've done it have worked on it for 10 to 12 years. It takes a long time. It's all in the detail. It's all in the little pieces. It's how well do you trust every little piece'?"
The clock is ticking. The goal is for results that everybody can agree upon in time for a meeting of diplomats at the General Conference on Weights and Measures (CGPM) of the BIPM in 2014; the work's been going on since the 1970s. They are pushing hard," Robinson said of the kilogram teams. "They are planning to produce results as soon as they can. They are pushing down their uncertainties in all their devices. People are treating it [2014] extremely seriously."
Following requests from Reg readers during out recent Live Chat on the kilogram, Robinson has compiled a helpful list of links, below, for more reading. Warning, the IOP Science will disappear behind a pay wall within the next 30 days, so download sooner rather than later. ®
Free whitepaper – Hands on with Hyper-V 3.0 and virtual machine movement