Telcos and hosters add US jobs in November, semi manufacturers cut them
Hurricane Sandy didn't affect the national stats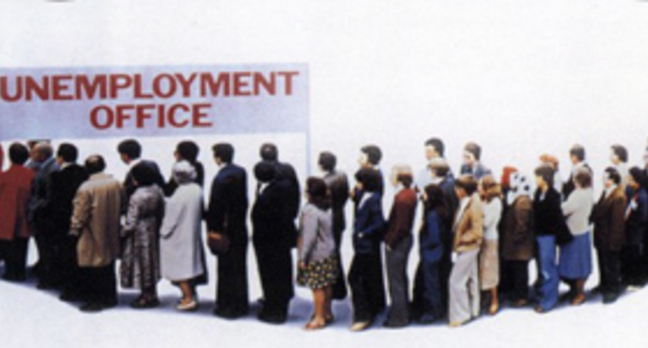 In some surprising good news for the US and perhaps the rest of the world in this interconnected global economy, employers added more jobs and lost fewer jobs in November in the wake of Hurricane Sandy smacking into the east coast in late October, and state governments started adding workers, offsetting losses in the government sector as the US Postal Service continues to shed people.
The US Department of Labor reckons that employers added 147,000 net new workers in November, with the consensus on the street (as gauged by a Dow Jones poll of economists) being that maybe only 80,000 new jobs would be created because of the adverse impact of the superstorm. Those numbers exclude farm workers, whose jobs are often seasonal. (But oddly enough, they do not reflect the fact that most farmers who not operating superfarms have other full-time jobs because you can't make it on what you grow and raise in a lot of cases.)
It is remarkable that Sandy did not have more of an impact, but that is what the economists and statisticians at the Bureau of Labor Statistics said in the latest monthly report, which came out this morning.
"Hurricane Sandy made landfall on the Northeast coast on October 29th, causing severe damage in some states. Nevertheless, our survey response rates in the affected states were within normal ranges. Our analysis suggests that Hurricane Sandy did not substantively impact the national employment and unemployment estimates for November."
That is the good news, and we could use some as the White House and the US Congress seem determined to drive over the fiscal cliff, have Wall Street and the ratings agencies freak out, and then be compelled by the prospect of Great Recession, The Sequel coming to a flat screen and paycheck near you on January 1.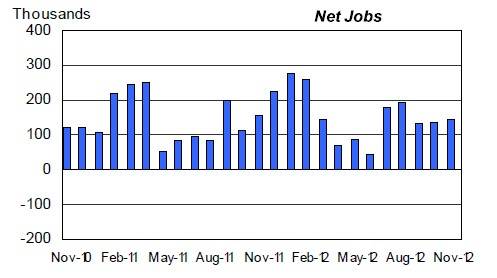 Monthly job creation for the past two years in the US
The bad news – and there always seems to be bad news – is that the US economy did not create as many jobs in September and October as the BLS had originally extrapolated from its surveys of employers. The September net jobs number was cut to 132,000 from 148,000 and the October number was cut to 138,000 from 171,000. So there went 49,000 jobs. But that is nothing like the average of 750,000 people per month that the US economy was chucking into the cold sea of unemployment during the belly of the recession in late 2008 and early 2009.
Adding jobs has come more slowly than in past recoveries, and economists are starting to talk about an inherent structural employment rate of around 7 per cent instead of the 4.5 per cent that prevailed during the good years in the 1990s and 2000s. (There were plenty of bad years in there.) Thanks to the labor pool shrinkage in November as some people stopped looking for work and others actually finding jobs, the unemployment rate in November ticked down two-tenths of a point to 7.7 percent. The BLS still reckons, based on its separate survey of households, that 12 million people who are looking for work can't find it, and it is generally believed that the pool of people who are not working and who have stopped looking for work (and are therefore not part of the official unemployment stats) is roughly the same size.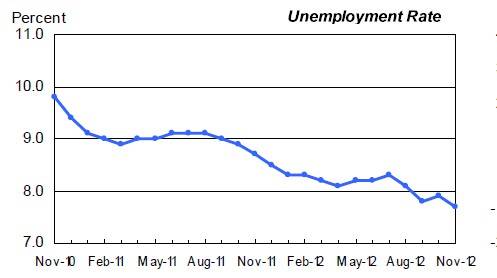 US unemployment rate for the past two years
The BLS looks at the job market by household and by employer, and in the establishment data, as the employment survey is known, it carves up and models the US workforce by industry, not by job type. The healthcare industry added 20,000 workers last month, and the professional and business services sector added 43,000 people. The wholesale sector is perking up, with 13,000 workers added, and the leisure and hospitality sector added 23,000 employees. The manufacturing sector was more or less stable, as it has been since spring, and construction companies shed 20,000 people and there is no clear trend here over the past three years according to the BLS. (The signal is the noise in construction, apparently.)
Every month, El Reg picks through the BLS report to try to come up with a proxy indicator for how the IT sector is doing. We like to look at the raw, not seasonally adjusted, data for this. The results are mixed for this IT proxy, as you might expect.
Computer and electronics products manufacturers chopped 4,200 jobs, barely a blip in the 1.1 million-strong employee base in this sub-sector of the US economy. (Unless that is you holding the pink slip.) Within this sub-sector, computer and peripheral equipment makers added 400 jobs, to 164,400, but communication equipment makers lost 300 jobs, to 106,700. Tellingly, semiconductor and electronic component makers she 3,600 workers, and if you think of semis as a leading indicator for IT sales, this is not a good thing.
In the information sector, which includes telecom, data processing and hosting, and all kinds of publishing and broadcasting, employment was up overall and 2.65 million people hold jobs in this sector. Telecommunications companies added 5,300 workers, making a pool of 833,300 people but down nearly 20,000 jobs since this time last year. Data processing and hosting companies had 240,500 workers as November came to a close, up 600 people from October according to the BLS.
In the services sector, there are also IT jobs. Companies engaged in computer systems design and related activities had just under 1.64 million workers, up 5,000 from last month. But management and technical consulting services companies, which often have an IT aspect to the work they do, chopped 2,000 workers to a pool of 1.16 million people. ®
Sponsored: Are DLP and DTP still an issue?