Elon Musk jumps overboard from Paul Allen's GIANT MOTHERSHIP
Titanic plane will now fire Orbital Sciences rocket
Stratolaunch Systems has turned to Orbital Sciences to get the world's largest air-launch-to-orbit system off the ground.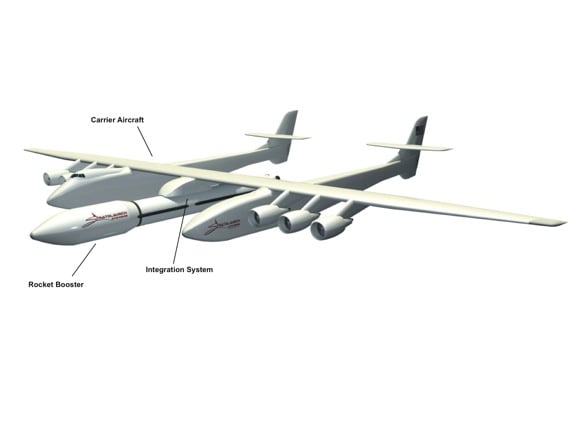 Giant jumbo-jet style heavy lifter
Backed by billionaire Microsoft co-founder Paul Allen, the firm originally wanted to build an enormous craft capable of lifting 6,100kg to low Earth orbit or 2,300kg into geosynchronous orbit.
Scaled Composites was the company that would actually build the mothership, a gigantic 222,000kg airplane with a 117m wingspan, able to fly 2,400km from launch before deploying its rocket.
That system would have launched a Falcon 9 rocket, but SpaceX didn't want to change the Falcon from a nine-engine, liquid-fuelled booster into a four or five-engine air-launched vehicle.
"Stratolaunch and SpaceX have amicably agreed to end our contractual relationship because the current launch vehicle design has departed significantly from the Falcon derivative vehicle envisioned by SpaceX and does not fit well with their long-term strategic business model," Gary Wentz, Stratolaunch CEO, said in an email reported by Flightglobal.com.
Having left SpaceX behind, the scheme will now need a bit of rejigging to fit with Orbital's Pegasus XL rocket.
"Moving forward, Stratolaunch has engaged Orbital Sciences Corporation to evaluate and develop alternative solutions with the objective of arriving at a design decision in the early spring timeframe. The other segment contractors will continue to proceed forward in accordance with existing plans since their interfaces have been defined," Wentz added. ®
Sponsored: RAID: End of an era?