Apple plants flag on wireless power-supply map
Near field charging works well enough for keyboards and mice
Apple has fenced off its own little patch of the wireless charging space, with a patent covering the use of "near field magnetic resonance" (NFMR) to wake up low-power peripherals like keyboards and mice.
Apple's contribution to the art is disclosed in "Wireless power utilization in a local computing environment" here.
Far from being a Great Leap Forward© to a world where tablets and phones will be free from their wall warts, the application makes it clear Cupertino knows the limitations of over-the-air power. The claims of this particular patent envisage just keyboard and mouse, with the possibly-nifty but inefficient idea that if the keyboard is getting more power than it needs, it could retransmit power to the mouse – or vice versa. You can discern a little of the intent in the illustration, drawn from the patent application, below at right.
And there's always the question of "how do we control the market so that the peripherals carry our name?", which seems to be answered in this passage from the patent: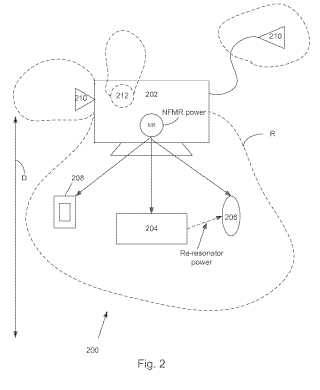 "a plurality of peripheral devices each having a tunable resonance circuit suitably adapted to receive power wirelessly from the NFMR power supply, wherein when at least one of the plurality of devices is within range of the NFMR power supply, the device tunes the resonance circuit to at least one of the resonance frequencies of the NFMR power supply and subsequently de-tunes the resonance circuit to provide a device identification to the NFMR power supply using a change in a resonance circuit load factor."
In other words: the charging unit will only work with identified devices. ®
COMMENTS
the charging unit will only work with identified devices
Technically, I understand their desire to make money, but I want to scream at the fact that, in this day and age, one would purposefully design a system to be incompatible. I may be wrong, but it seems that Apple is particularly prone to do this, like when they expressly stopped Palm devices to connect to iTunes.
Why not just use QI or contribute new ideas instead of more proprietary bollocks?
Because:
Qi has a small range, and requires the device to be placed on top of a mat in the correct way, whereas this proposed system has a range of around a meter, and allows devices to signal when they no longer require power, so that a another device can then be charged, according to a priority system.
If you had read the linked source, you wouldn't have needed to ask.
Re: the charging unit will only work with identified devices
The worse thing is when the industry goes along with them - it frustrates me that so many audio devices cater only for ipods or the minority of Apple phone users. What if like most people I want to plug in an Android smartphone, or I just Think Different and use something like my Sansa? (I'm amused that my LG smart TV actually makes a better audio player than most dedicated audio equipment, because it uses open standards like USB or network playing - plug in or stream from any kind of device.)
Of course they've been hoisted by their own petard, now that the iphone 5 is incompatible with this apple-only system, messing the whole system up - if only they'd used open standards...
Isn't this how RFID works anyway?
The RFID tag takes power from the reader, and can send data back to the reader by load modulation (briefly taking more power to signal).