Unlocked iPhone 5 on sale in US, cheaper than UK - but not cheap
Cost of being British is a high one for fanbois
It has only taken three months, but from last night, Americans will now be able to buy an unlocked iPhone 5, and it will set them back $649.
Available online since last night and in physical Apple Stores from today, it's a sign that the supply pressure on the flagship phone is easing off.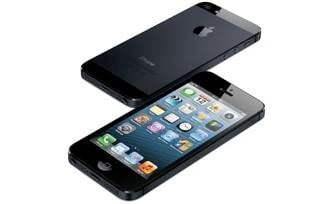 Slim, aluminum and now without a multi-year contract
Unlocked it's pretty pricey: $649 for the 16GB model, $749 for the 32GB model, and $849 for the 64GB model. But that's still a whole lot cheaper than unlocked models in the UK, which start at £529 for 16GB ($848), which means buying an unlocked 64GB in the US costs roughly the same as an unlocked 16GB model in Blighty. An unlocked 64GB iPhone in the UK costs an eyewatering £699, equivalent to $1,120: the cost of being a British fanboi is a high one.
The iPhone 5 has been available in the States since October, for $199 on a minimum two-year contract with AT&T, Sprint and Verizon. ®
COMMENTS
Yet again a reg reporter forgets to factor in Sales Tax / VAT - when will they ever learn?
FYI, the UK price for an unlocked 16GB iPhone5 is £440, not £529. Still a rip-off, but not quite as much as it would appear if you can't do maths.
Some comparison...
US web prices DON'T include sales tax. It varies from state to state.
UK prices include VAT at 20% so your $848 would equate to $1,018.00 in the UK.
Add to that the other costs borne by business in the EU/UK which US businesses DON'T have to bear, and maybe "the cost of being a British fanboi is a high one" but nowhere near as high as that which Leach unsurprisingly claims in her little exercise in sophistry - encore une fois!
Re: Wow
Gosh is the 3GS now 4 years old? I bought mine, unlocked, on the day it came out and its not left my side ever since, still on the same battery (sits in a charging dock overnight by the bed) and is running iOS 6.0.1. It works very nicely thank you and the iOS app quality is very good (even maps is getting better) ... each time a new iphone comes out I consider it but I still can't justify the upgrade to myself.
I like my tech to last and I have certainly found that with Apple products .. I've wasted far too much money in the past on cheap products which either turn out to be nasty to use or don't last very long in use.
Got a Nexus 7 in July to sample Android .. although the Asus kit is fine .. its the software that lets it down for me .. even the same software available on the 1st Gen iPad I have looks and feels nicer than the Android version. I really want to like Android and I have tried hard to but sorry I'm going to be putting the Nexus up for sale soon.
Re: Wow
Problem is that people either don't do the basic maths, or if they can do the basic maths they don't have the cash available to go down the unlocked/SIM only route. E.g.
Google Nexus 4 through O2, 24 month contract, £80 up front, £27 per month = £728 total.
Google Nexus 4 unlocked £279, O2 SIM with same minutes, texts data, £16.50 = £675 total for 24 months.
Depending on the number of minutes you require, texts, data, or your (in)ability to pay something up front, the difference TCO can be even greater. This becomes even more marked at the end of the contract if you are suckered in to upgrading to the next great phone, whereas buying unlocked you can just carry on with your SIM-only deal for as long as you are happy.
Personally I am still running my first-gen HTC Desire, cost me £400 quid plus £15 per month SIM only deal and have been running it for 31 months already. Just about ready to replace it now, but I reckon I am a good couple of hundred quid better off than if I'd gone for a carrier-provided handset deal.
Re: Wow
Not me, i'm still on my 4 that I have had since they came out. I think I just needed to get it out of my system and see what all the fuss was about. Although I think its an adequate device, I just can't see myself paying out a large amount as that again. Prior to that free cast offs from work did me.
I intend to use my 4 until it breaks and then maybe repair it and use it some more, after that, who knows.