Japanese ultrasonic speakers fire out digital info rays
'SteganoSonic' system can transmit sound or data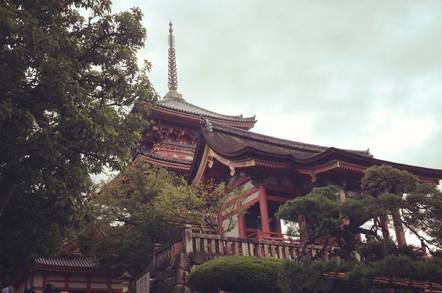 Japanese boffins at Tokyo's Keio university have been showing off new transmission technology which uses ultrasonic waves to send digital information in highly directional bursts.
Unveiled at the Open Research Forum 2012 in the capital last week, SteganoSonic features two plates covered in small ultrasonic speakers and a tablet fitted with a specially engineered receiver.
The speakers act as transducers, firing out digital information such as URLs at inaudible ultrasonic frequencies. The technology can also transmit audible frequencies so that a user's table could pick up the machine-readable URL and go to that web site just as audio arrives in the user's ears.
In the demo, the tablet displayed a web page intro of the SteganoSonic research when it was placed in the path of the speakers and users could hear an accompanying narration, according to Netlover (via RocketNews24).
The benefit of this kind of parametric audio system is that it's highly directional in nature, meaning audio announcements and digital transmissions can be targeted at specific groups and locations without bothering others.
One example offered was sending out information and updates in a train station tailored to passengers standing on specific individual platforms.
Although ultrasonic sound systems have been mooted for use cases including riot control and military combat, the venerable Kyoto temple on stilts, Kiyomizudera, is apparently already using parametric tech to fire out announcements to visitors at the entrance of the site, preserving peace and tranquillity for those within. ®
Sponsored: Minds Mastering Machines - Call for papers now open