Six of the best Nintendo Wii U games
Half a dozen titles for your two-screen console
New Super Mario Bros. U

After the slightly underwhelming New Super Mario Bros. 2 for 3DS, it's good to see the 'New' series returning to some kind of form. A reality helped in no small part by the rendering of the Mushroom Kingdom in HD for the first time in its history – unless Wii emulation is your bag.
An initial twist sees Mario and chums literally hurled half way across the Mario World by the unfeasible throwing arm of Bowser's airship. This leaves the scaly one sitting pretty with Peach in her castle, and our heroes dusting themselves off ready for another bout of 2D side-scrolling platform action.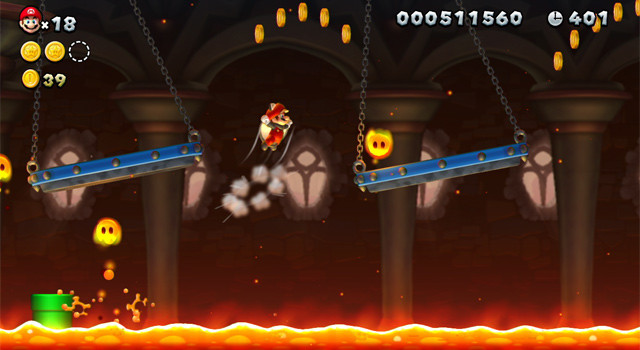 Perhaps one of these days our moustachioed hero will shrug his shoulders and finally capitulate, letting Bowser have his quarry to do with who knows what? But not this time, and so inevitably, Mario sets off to once more stomp Bowser into oblivion.
So far, so Super Mario, and frankly what else would you expect? New Super Mario Bros. U ticks every box, references the best of the 2D Mario games (in Super Mario Bros. 3 and Super Mario World) and does absolutely nothing to rock the boat.
Those HD visuals are rather lovely mind you, though aside from a few gorgeous touches – the Van Gogh-inspired Soda Jungle immediately springing to mind – they don't do anything truly remarkable. Rayman Legends by way of comparison looks far superior as far as cartoon platformers go and honestly I think Nintendo can and will do better with future efforts.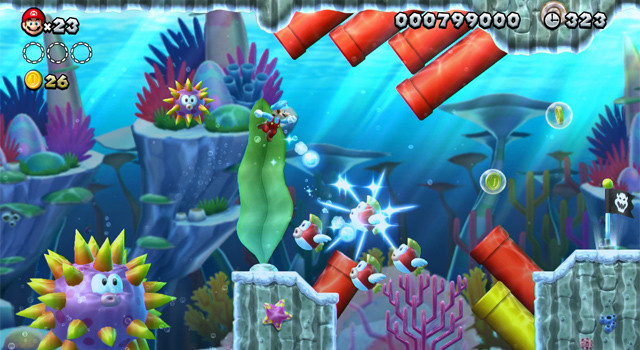 This version also marks a return of the four-player chaos last seen in New Super Mario Bros. Wii, but repeats all of its mistakes as characters ricochet off each other to their doom with alarming regularity. As a result all but the first handful of stages are far too complex for multiplayer success, and to pursue multiplayer only leads to abject frustration.
Here the GamePad user can place 'helpful' platforms to aid players, but it's a gimmick without merit as misplaced platforms trap players still further, making those ricochets unavoidable inevitabilities.
By-the-numbers Mario platforming in HD is never unwelcome and as far as day one Wii U purchases go New Super Mario Bros. U is amongst the best. Just don't go in expecting to be blown away as, while imaginative as ever, Nintendo has elected to play it safe.

Reg Rating
80%
Price
£50
More Info
Official New Super Mario Bros. U website
Sponsored: Minds Mastering Machines - Call for papers now open