Paddle out
Storage solved, it's on to the real reason we're here: the GamePad. The presence of an easy to use tablet in your lounge will be a thrill for those who have yet to experience the joys of, say, an iPad.
The GamePad's screen at 854 x 480 and 158ppi, while not as sharp as the iPad, still looks bright, vibrant and near enough to HD to mean you won't miss it. It comes with touchscreen, stylus, camera, microphone, gyroscope and accelerometer. It's also surprisingly light and ergonomically designed so that even my longest stints haven't led to aches or finger cramping.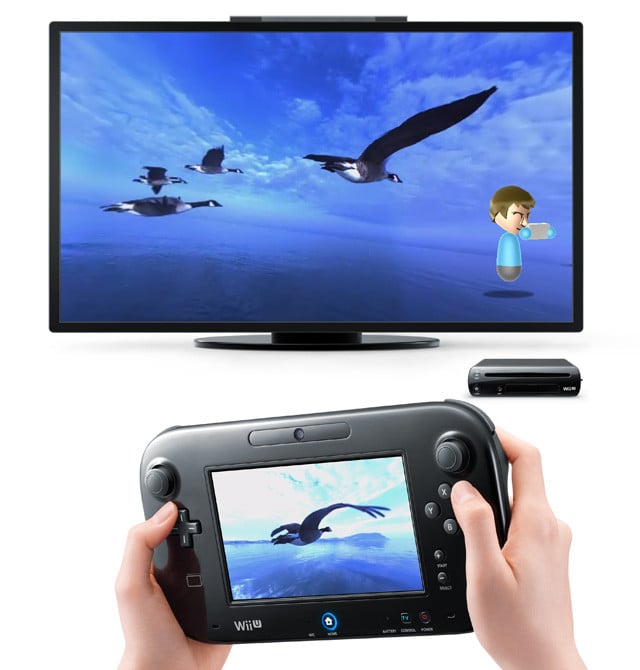 Birds of play
Quickly glancing from TV to GamePad, depending on the requirement of its games, soon becomes second nature. And I've yet to lose the buzz of swapping and changing the action from TV to GamePad to carry on playing even when the TV is unavailable.
Once a game is running on the GamePad play is lag free and the resulting visual down-scaling barely noticeable. However, a little experimentation revealed the GamePad's roaming range is not as great as I'd hoped.
Moving about 5m away from the Wii U is enough to prompt the 'corruption interrupted' screen which means, sadly, that's there's no Mario while sat on the loo for me – a blessing no doubt. It did reach my bedroom though – Batman in bed anyone? – but don't be surprised if its signal won't permeate every room of your house.
Battery life is a concern too; it takes about three hours of play to drain, so you'll have to plug the GamePad in to keep playing. Should you not happen to have a wall socket located handily next to your sofa of choice that'll be an issue, plus the GamePad sure doesn't look as pretty with wires sticking out of it.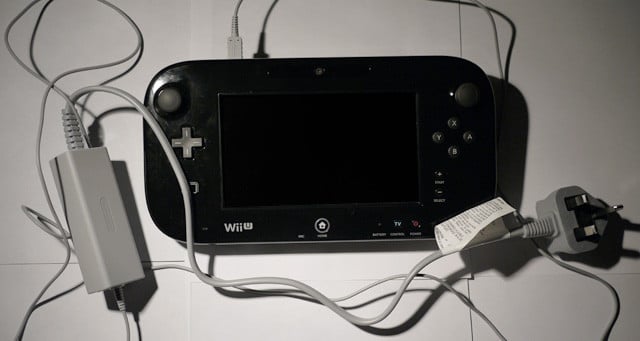 The processing power of the Wii U is a further point of discussion. Hard tech facts like it has an IBM Power multi-core processor, 2GBs of DDR3 SDRAM (1GB to the OS and 1GB to the games), an AMD Radeon-based High Definition GPU, don't really say much to the average consumer.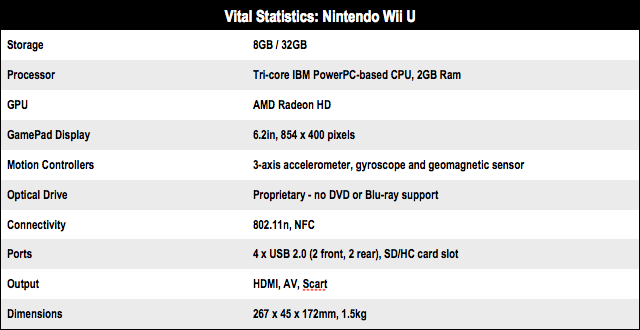 COMMENTS
Re: 80% ???
It's not about the number of points, it's about their weighting.
This is not a hardcore gaming machine - to 99% of this console's target market the lack of 5.1 surround on 2D Mario is not going to be an equal negative to, say, the positive of playing on the pad while the TV is in use.
I've had almost every console since the Megadrive, and the Wii has been a storming success with various members of my family who have never even uttered the word 'graphics'. This is the target market, and I know they will love the gamepad, the ergonomics, the style of games, etc.
Er
I think I missed half of the review. This seems to basically be a rundown of the hardware features, which you could've done the day it came out, or even from a hardware preview. Any experiences of actually playing asymmetrically (quotation marks not needed)? Or really of playing anything at all? Other than the sound technology the games use?
Moving backwards
"I brought the WII for its innovative controls, at the time it was the only way to really get off the sofa and enjoy a game, and it is great fun with a few mates and beers, or with the kids.. this seems to be moving back towards sitting on the sofa playing games..."
That was, pretty much, my first thoughts on the WiiU.
I had considered one as an "upgrade" to the Wii, but as it appears that the thing has to be rebooted in some kind of low resolution compatibility mode to play legacy Wii Games there seems little point, and I see little attraction with the Game Pad.
The original Wii offered something different to the siiting-on-your-arse-twiddling-your-thumbs "traditional" gameplay, which is why people bought into it. This does seem a step backwards and while the Game Pad is different, it doesn't have that "Hey, Wow, want one!!" appeal I felt when I first saw the original Wii in action.
whats the point?
I failed to see the point of this when it was announced and I'm non the wiser now, I have the original Wii and do not see the point to the new one, I thought they would do more with motion control, since they started the whole thing. But we've gone from bouncing around the room, to sitting on one's ass with a tablet, I think its going backwards, sorry, no sale.
Will be interesting to see how this does in todays climate.
Most people I know that bought the Wii that already owned other consoles, found it to be a 5 min wonder. Very few ended up buying more than one or two more games for it.
Most of those that liked the Wii were the more casual gamer but even then, many I know have only bought a handful of games or use just just for Wii Fit etc.
But that was then. Now most people have powerful phones or tablets. Since the day I first got my iphone (then android tablet, then ipad) my PSP and DS have never been turned on as there's simply no need for them.
Most of the people that found the Wii to be a 5 min wonder are hardly likely to buy the Wii U (which is the vast majority of Wii owners I know).
Many of the casual gamers that fell in love with the Wii now enjoy things like facebook type games just as much and I doubt that many will be in a rush to have the next gen Wii
I could be wrong (have been many times before).