NASA confirms ice at poles of Mercury
Astrobiologists probe tiniest planet in 'soggy' solar system
NASA's backronymic MErcury Surface, Space ENvironment, GEochemistry, and Ranging (MESSENGER) orbiter has detected ice in polar craters on Mercury, and has confirmed the finding with multiple methods.
What looked like ice on the poles of Mercury was detected in 1991 by the Arecibo radio telescope, and NASA said this March that more evidence for ice was coming from MESSENGER. But now three peer-reviewed papers have shown that water ice is almost certainly there.
"One of the major objectives of the MESSENGER mission was to test the idea, now 20 years old, that water deposits matching ice are on Mercury," said MESSENGER principal investigator Sean Solomon at a press conference on Thursday.
"We know of no other compound that matches the radar data, neuron readings, thermal signature, and reflectivity of the substance other than ice." In the careful language NASA always uses, this is as definite a statement as you'll get on the topic until we land a rover on the wee planet.
MESSENGER has been scanning Mercury's surface with a variety of tools, and NASA said the first evidence for ice came from the probe's Neutron Spectrometer. This found a hydrogen-rich layer of land, covered by a darker coating, which indicated a layer of ice between 50cm and 20 meters thick.
David Lawrence, MESSENGER participating scientist, said that the substance could amount to between 100 billion and a trillion tons of ice at Mercury's northern pole. That's enough ice to bury Washington DC in a layer two miles thick, he said.
The other line of icy evidence comes from MESSENGER's Mercury Laser Altimeter (MLA), which has fired over 10 million laser pulses at Mercury's surface and picked up their bounce-backs to build a topological and reflective map of the planet.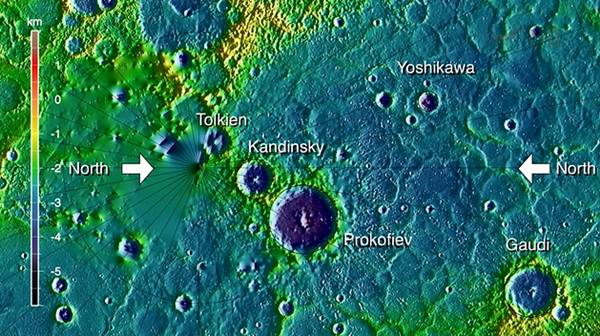 There's ice, but sadly no Santa
The MLA findings show that the areas thought to contain ice have two to four times the reflective capability of the normal surface of Mercury. The surface mapping also outlined deep polar craters, such as the Prokofiev crater, which never receive sunlight and so could keep ice cool enough to survive.
Mercury has the widest temperature range of any planet in the solar system. At noon on the equator typical temperatures are around 700 Kelvin, and this only drops off to 550 Kelvin near the poles. But in permanently shadowed areas the temperature dips to just 50 Kelvin, which is plenty cool enough to freeze water and stop it evaporating.
The discovery adds to the increasing amount of evidence that our solar system is a "relatively soggy place," as one official put it. Its outer edges are packed full of icy comets and it is hypothesized that these bring water – and in Earth's case, at least, possibly the building blocks for life itself – in towards the sun.
"No one is saying there's life on Mercury," explained Solomon. "But history of life depends on the delivery of water to a planet, and then some chemistry we still don't understand on our own planet, let alone others. Nevertheless Mercury is now becoming an object of astrobiological study." ®