Far Cry 3 game review
Jungle warfare
Talk and trousers
Perhaps with so much unscripted chaos going on, it's inevitable that some of the specifically penned moments fall a little short. Most of Jason's core missions, whether clearing a specific area of mercenaries or rescuing his imprisoned friends, involve storming a part of the map and killing all the hostiles therein.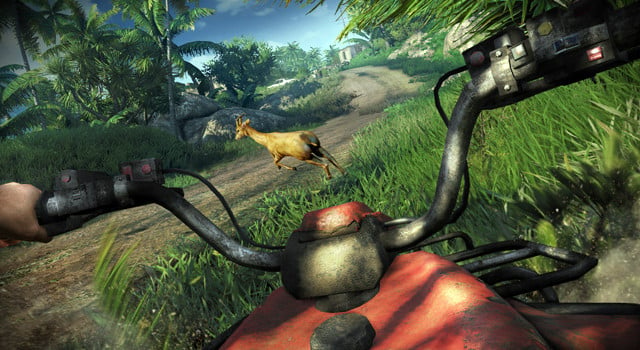 A bad day for Bambi's mother
Such encounters are made more bearable by tools such as his camera (which lets you zoom and tag enemies) and the openness of approach. Choose from stealth, full-on attack or even bring a vehicle mounted mini-gun to the fray. But rarely are such battles as satisfying as witnessing the random machinations of the jungle.
Regardless of the action depicted, expect to see it brought vividly to life by the quite stunning visuals. The blues of the sea and sky, greens of the jungle and yellows of the sand forming the perfect antithesis to the regulation greys and browns of first-person shooters.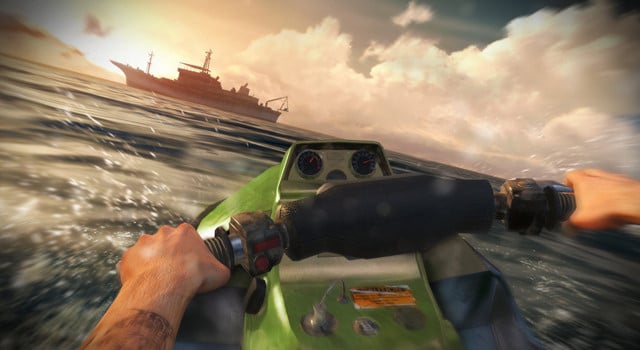 Kenny Powers eat your heart out
Beyond the campaign await co-op and multiplayer modes. Co-op acts as a precursor to the main campaign, following four characters through their plight on the island, while multiplayer offers riffs on capture-and-hold and team deathmatch. Firestorm is perhaps the most novel gameplay type, as teams look to dump napalm on one another from above.
Battle cries, which provide buffs to teammates within earshot; and support weapons such as psyche gas – which makes the opposition see each other as threats – spice up proceedings. Though neither co-op, nor versus modes will prevent Far Cry 3's online options being considered as anything other than forgettable digestifs to the main course of the campaign.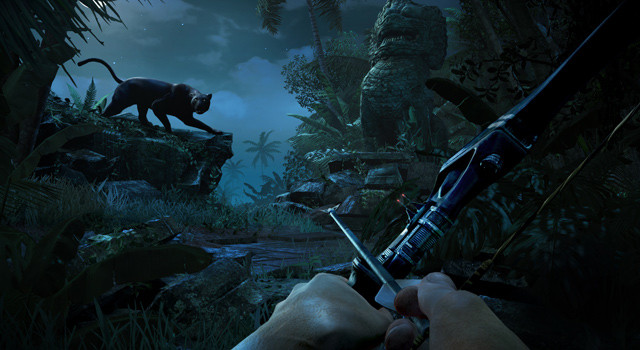 Scaredy cat
Verdict
As engrossing, fulfilling and varied a sandbox as we've been handed the keys to in a long time, is combined perfectly with rich characterisation and storytelling. If you're after an all-action single-player shooter to sink your teeth into, then look no further. ®
More Games Reviews

Call of Duty:
Black Ops 2
Assassins
Creed 3
Halo 4
World of Warcraft:
Mists of Pandaria
Resident Evil 6
Sponsored: Minds Mastering Machines - Call for papers now open

Far Cry 3 game review
Visit Rook Islands, an island paradise of sun, sea and psychopaths. Available on Xbox 360 (tested), PS3 and PC.