Microsoft Office 2013 heads for the cloud but fails to soar
Deep inside Redmond's cash cow: many improvements ... but ... yawn...
Office and SkyDrive, joined at the hip
More interesting than the various nips and tucks made to the individual Office applications, however, are the broader changes that link Office to Microsoft's online service offerings. That linkage becomes explicit with an Office 365 subscription, but it's there even for the perpetual-license version of Office 2013, unless you go out of your way to break it.
It all comes down to Microsoft Accounts and SkyDrive. When you install a new copy of Office 2013 and start using it, it makes every effort to remind you to sign into a Microsoft Account. If you're using Windows 8, you're probably already signed into one, so it will use that by default. If you're not signed in and you attempt to create a document, you'll be reminded again.
The idea that Microsoft is trying to drive home here is that Office and SkyDrive are inextricably connected. Each Microsoft Account comes with a certain amount of SkyDrive storage, and once you're logged in, SkyDrive becomes the default save location for new documents and the go-to place to find old ones. If you use Office, you're supposed to be using SkyDrive.
I'm still not totally sold on this. For starters, it means that saving new documents takes longer, because the new Save As screen requires more clicks than the old dialog box that assumed you wanted to save your document to a local drive.
What's more, the whole idea of using a network share on the public internet as primary storage just seems sketchy. Naturally, loading and saving files is slower than with local storage. Worse, it can lead to unpredictable results.
If I open a document from SkyDrive in Word 2013, lose my network connection, then try to save my changes, the operation seemingly completes without an error message. I can even quit Word and my changes are preserved. Open the file again, though, and rather than reloading it from the server, Word loads it from wherever it tucked it away on local storage and warns me that an update to SkyDrive is still pending. How do I know I have the most recent version of the document? What if it changed on the server since I last opened it?
For that matter, why mess around with loading and saving files directly to and from the server at all, when the SkyDrive client for Windows syncs local files to the cloud automatically? Isn't that a faster and more reliable way to handle cloud storage?
Mind you, you can still store files on your local drive. You just have to be explicit about it. But by doing everything it can to ensure that customers are logged into their Microsoft Accounts and storing their Office documents on SkyDrive, Microsoft gains two things: Customers stay beholden to Microsoft's online services (obviously), and Microsoft can offer cloud-based services around Office documents.
Cloudy with a chance of documents
So far, most of Office 2013's cloudy features involve document sharing and collaboration. For example, because every document stored on SkyDrive has a unique URL, it's easy to send large files via email or IM using SkyDrive URLs, rather than as attachments. In Office 2013, you can do this right from the File menus of the various applications, without launching a separate client.
Storing documents on SkyDrive also means they are viewable using the Office Web Apps – which, while not perfect, make documents accessible from any device that has a modern, standards-compliant web browser.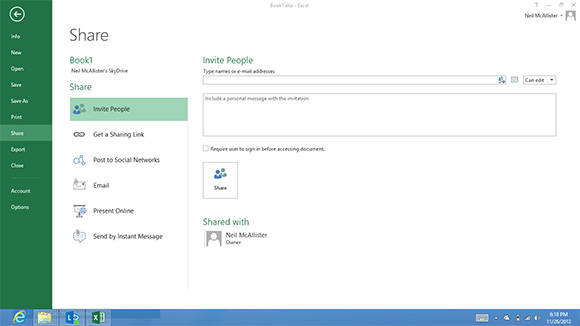 Office 2013 provides many ways to share documents via the cloud (click to enlarge)
Not surprisingly, Microsoft has worked to integrate Office with various social networking sites, as well, including Facebook, LinkedIn, and Twitter, by linking users' social network accounts to their Microsoft Accounts.
In some cases, these links have obvious value; for example, Outlook 2013 can now sync contacts with social networks. In other cases, Microsoft seems to have added social features just because it could. How many times will I need to post an Excel spreadsheet directly to Facebook, I wonder? The option is there, however, if I ever need it.
The new Office includes some additional features for workgroups, too. For example, if you're signed into a Lync server, Office 2013 allows you to collaborate with others on your documents in real time, directly from within the Office applications. The suite also bundles a copy of SkyDrive Pro, which allows businesses to use an on-premise SharePoint server for their cloud storage, rather than Microsoft's servers.
Sponsored: Minds Mastering Machines - Call for papers now open