Microsoft Office 2013 heads for the cloud but fails to soar
Deep inside Redmond's cash cow: many improvements ... but ... yawn...
Is this trip really necessary?
Having kicked the tires on Office 2013 for a while, I can say that it is basically another solid version of the familiar productivity suite. If you're using Office 2007 or 2010 and you survived the transition to the Ribbon, there's nothing here that will send you running off to LibreOffice. Rather, for most Office customers the question will be whether Office 2013 brings enough new to the table to justify the upgrade.
Of course, there will always be some people who claim that Office 2003 had every feature they could ever want and then some, and that nothing that Microsoft has added to the suite since has brought any additional value. Fair enough.
For users who have made it all the way to Office 2010, however, the upgrade still seems hard to justify based on features alone. Few of the changes in any of the Office 2013 apps are truly groundbreaking. (It's even possible to save files direct to SkyDrive from the Office 2010 applications today; it's just not the default behavior.)
Windows 8 users may be disappointed to learn that Office 2013 doesn't do more to reward them for upgrading to the new OS. No such luck, as the user experience is more or less identical to that of Office on Windows 7 and 8.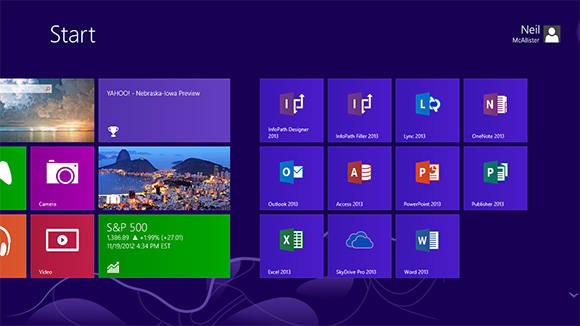 A missed opportunity? Office 2013 does little to integrate with Windows 8's most hyped features
The suite's newfound affinity for Microsoft's online services may actually turn off some customers who aren't ready to bring all of their data to the cloud (or who prefer a different provider). Meanwhile, customers who like the idea of the cloud aren't really gaining much, since getting data in and out of the cloud isn't all that difficult as it currently is.
Some developers may be attracted by Office 2013's new app store, which allows developers to build add-ons for the Office apps using HTML and JavaScript. How much of an enticement that will be for customers, on the other hand, largely depends on the quality of the apps in the store. I'm not seeing much that interests me so far.
Signs point to subscriptions
There is another factor to consider, however, and that's Office 365. As we touched on earlier, Microsoft is offering a number of incentives to entice perpetual-license Office customers to switch to the subscription model, and for some customers these may well be the most compelling reasons to upgrade.
For starters, while a customer with a retail copy of Office 2013 can only install it on a single PC, Office 365 subscribers are licensed to install the suite on up to five machines. What's more, they're even allowed to download single-use, disposable versions of the Office apps onto other people's computers, so that they can always use their own version of Office no matter where they are.
Without revealing anything specific, Microsoft also told The Reg that it plans to roll out new features for Office 2013 on a semi-regular basis following the suite's official launch, and that these new features will only be available to Office 365 subscribers. Retail, perpetual-license copies of Office 2013 will keep the same feature set for the life of the product.
Based on that statement, it's interesting that although Microsoft is using "Office 2013" as the official branding for the retail version of the suite, the apps themselves don't. Word is just Word and Excel is just Excel, with no years mentioned. Perhaps this points to the direction towards which Microsoft would like to go – one in which all Office licenses are subscription-based, new features are doled out on a routine schedule, and the whole concept of a major new Office version launch is done away with.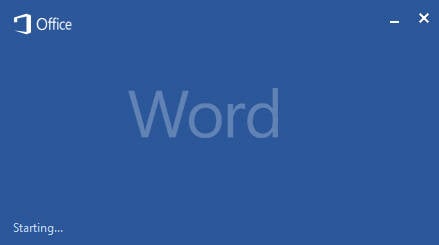 Do Office 2013's year-free startup screens point to a future without major new Office releases?
As mentioned earlier, Microsoft has not launched its Office 365 offering for Office 2013, so we can't yet reliably test how any of the subscription features work in practice. But Redmond has announced pricing for some of the new subscription plans, which should give potential customers plenty of food for thought.
Whether the subscription model or the perpetual-license model makes the most sense is a complex question, and the answer probably varies greatly depending on the customer. We'll dig into the trade-offs more in a future article.
Ignoring the subscription issue, however, Office 2013 is a worthy – if not particularly exciting – follow-up to Office 2010. I had trouble getting on board its cloud-centric focus, and I expect many enterprises will also have the same challenge.
That said, its SkyDrive integration may be appealing to customers who are already heavy users of Microsoft's online storage. Other customers might not see enough new features to lure them away from the version of Office that they're currently using.
But such is the nature of Microsoft upgrade cycles that this is the version of Office that many of us will eventually be using. It's nice to know, then, that if Office 2013 doesn't exactly knock our socks off, at least it does not disappoint.
Office remains the gold standard of business productivity suites, and given its constant evolution, there's little else out there that can challenge it for that title – even if some of its latest features are things we never really asked for. ®
Sponsored: Minds Mastering Machines - Call for papers now open