Chevrolets to get 'Eyes Free' mode for driving with Apple Siri
Took my Chevy to the levee, my phone said it was dry
Cars controlled by Apple's voice assistant Siri will be on the road from early 2013, a General Motors exec announced today at the Los Angeles International Auto Show.
New models of Chevrolet's smaller models - Spark and the Sonic LTZ and RS - will pack an interface that's compatible with whimsical iPhone voice assistant Siri. The new cars will be on sale within in months, GM confirmed in a statement.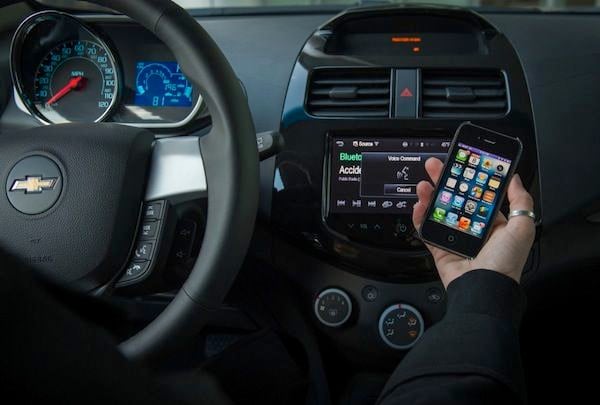 Pairing the iPhone to your Chevvy's Mylink system. In Eyes Free mode, the screen would be black
Siri will not be controlling core driving functions of the cars - fans of road safety may be pleased to hear - but General Motors has instituted an "Eyes Free" mode which allows users to control all the functions of their iOS device by just by talking to it.
In Eyes Free mode, the device's screen will remain blacked out so that drivers will not be distracted by the screen and can keep their eyes on the road. Siri will also blank out any requests that it regards as too complicated in an attempt to protect the concentration of the driver.
The overall effect of Siri's famously whimsical back-chat on drivers remains to be seen. At the very least, it could result in some weird text messages, if Siri's previous failures to grasp spoken English is anything to go by.
In Eyes Free mode, users will be able to: make voice-activated calls, compose and send iMessages and texts, add appointments to their Calendar and play songs in iTunes. Siri will ignore questions that require it to open a webpage on the assumption that users shouldn't be looking at webpages when they're driving anyway.
The porting of the phone to the car is done over Bluetooth and will run through Chevrolet's MyLink infotainment system, which will accept Siri for the first time.
It will of course be only available to those with Siri-enabled phones - iPhone 4S and 5. General Motors announced it was working on 'Siri cars' back in June at the Apple Worldwide Developers Conference. ®
COMMENTS
"It will of course be only available to those with Siri-enabled phones - iPhone 4S and 5."
And of course it will never get any updates, meaning that only two of the features will ever work properly, you'll be forced to choose whether to upgrade your iOS or keep it compatible with your car, and it will never work at all with iPhone 6+.
Embedding tech in cars is incredibly short-sighted. Surely the industry would make more money (by selling far more of the option kits) by standardising on a set of steering-wheel multifunction buttons and a little 2-line display, offloading the actual functionality to any handset? Where's the Bluetooth profile for that?
"Siri, call my insurance company"
Re: "It will of course be only available to those with Siri-enabled phones - iPhone 4S and 5."
Indeed. That car will still be on the road in 10 years time, and quite possibly in 15 years time. How many iphone 4s will be around then?
It always amazes me how it takes 10 years or so for a car manufacturer to actually spot technology that consumers would find useful, then fall over themsleves in a desparate rush to implement it in the most locked-down user unfriendly way possible.
In car CD players were a good example - it took most manufacturers from 1982 to around 2000 to fit them. And by the time they were standard, CD's were obsoleted by MP3 Cd's which again took ages for manufacturers to cotton on to. And I have never found a (prefitted) car CD player that recognises CD text for track names, despite it being around since the mid 90's or earlier. It took another lifetime for manufacturers to figure out that fitting an aux audio jack was a good idea (I used to modify car stereos back around 1988 to take external "discman" CD players). And why is it now, ten years or more after Bluetooth evolved,that all cars do not have Bluetooth handsfree as standard? It would cost mere pennies to integrate with the radio/audio system on all factory models and make a hiue difference in the number of idiots fumbling with phones whilst _trying_ to drive.
Siri, how do i get to (insert destination here)?
How the f**k do I know, I'm using iOS Maps?
Re: Like I would even consider owning one or both?
Damn, they were waiting on your approval for the final go-ahead too.