Nintendo shrinks Wii for Crimbo
Mini Mii for Canada
Nintendo has officially unveiled a new version of the original Wii console, a smaller, top-loading model that shows the Japanese firm hasn't quite given up on its old tech yet.
While many expected Nintendo's focus to shift following the arrival of the Wii U, the company clearly believes there's still a market for standard definition gaming and today revealed a new look for its best-seller.
The Wii Mini - which has literally just appeared on the Nintendo website - shrinks things down into a slick rectangular box with red trim. It comes with a matching red Wiimote too.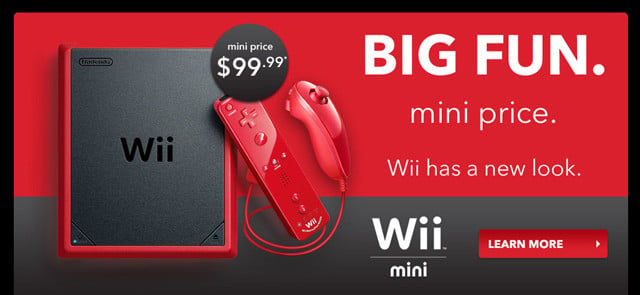 There is a downside, though, particularly for shoestring shoppers in the UK. Nintendo has apparently made this boy "available exclusively in Canada during the holiday season".
And the Nintendo Wii Mini "does not connect to the Internet and does not support online features in games", admitted Nintendo. It isn't compatible with Nintendo GameCube Game Discs or accessories, either.
The price has been set at a smidgin shy of the CA$100 mark, which equates to roughly £63 on this side of the pond.
So UK parents with their eyes set on filling their kid's stocking here with an affordable Nintendo console this Christmas will have little choice but to reach for the Wii slim revamp, released in 2011. ®
COMMENTS
Does that make it a Wee Wii ?
<-- are you sure those are coffee stains on the keyboard?
It's so small to start with though!
Netflix on Wii works great. Out of the few devices I've tried Netflix on (360, wdtv, smart TV), the Wii is the best......so far.
There is a lot more things you can do with a Wii. you can watch YouTube videos, think they just released another "channel" for that, even though you could do it before.
I've modded mine and I can play any video format there is, either from local storage, network storage or from the web, I can stream my digital music collection either local storage, network storage, or internet, play hundreds of music channels throughout my house and even to my outside speakers (works great when in the pool!). Never have to "insert a disc" to play a game, just select a backup image from local storage.
It's got a limited web browser but it's good enough to check local headlines, weather radar. think my kids use it for Facebook. a few years ago, for the price, you really couldn't beat it.
Re: Confused?!?
I had the same reaction. Nintendo seems to be reluctant to have people look at the unit itself much rather than focus on what it does. I suppose the tiny size and focus on cost reduction didn't leave a lot of room for style exercises.
I also suspect this unit exists because Nintendo is in a similar position to Sega when they introduced the Mega Drive/Genesis. The Master System had been a failure, mostly due to Sega's slowness to comprehend the advantages of Nintendo's publishing model. Sega had a lot of retailers with hard to sell inventory who weren't excited about carrying anything new from Sega. Sega also had the problem of very little third party support (and later a problem of third parties writing for the Genesis but bypassing Sega's publishing infrastructure) to compete with the massive support for Nintendo.
So the Genesis was designed to be backward compatible. The needed accessory to use Master System games was inexpensive because it did little beyond providing the needed connector types. Nearly all of the needed electronics were already in the console. The ploy succeeded in winning over retailers and the Genesis limped along until two things happened. First, Sega had two hugely popular games in EA's Madden and their own Sonic, and second, Nintendo launched the Super Nintendo but couldn't meet demand that first holiday season. A considerable number of consumers settled for a Sega instead and found it was actually pretty good. Not long after Sega challenged Nintendo's exclusivity contracts with third party publishers in court and got a settlement. Soon third party games were just as numerous for Sega as for Nintendo. (The NEC TurboGrafx 16 / PC Engine was doomed by this same contract arrangement that kept the best games from Japanfrom appearing in the US but NEC wouldn't sue Nintendo because they were a huge customer for NEC Semiconductor.)
Nintendo has a huge volume of awful third party Wii games flooding the retail channel. Early Wii U buyers are going to ignore the bulk of it and retailers are going to be annoyed at Nintendo. So they've come up with a super cheap Wii to appeal to the super cheap people who will settle for bargain bin crap and help clean out the retail channel of the garbage. And also buy a ton more copies of Mario and Zelda at the same time.
Everybody who cared has long since bought the full feature version of the Wii with WiFi and download capability. Just as everyone who cared about GameCube compatibility when there was still a lot of those games cluttering store shelves has long since been served. So, just as the GameCube support was cut out in favor of a price cut, so now has the online capability.
Expect to see GameCube classic like Mario Sunshine and Zelda Wind Waker appearing as DLC purchases on the Wii U sometime in 2013.
My Wii currently lives in my bedroom and serves as a Netflix/iPlayer machine to the TV in there, although there are a few games I like to play every now and then.
Anyway, I was thinking this version of the console would be ideal for that kind of thing, until I read the bit about having no connectivity. Now I think it seems a bit crap. You should be able to pick up the original console fairly cheaply now too, I would imagine (I haven't checked though).
Oh well.