Microsoft applies for patent for 'Google Goggles'-type AR specs
Redmond follows in Oompa Loompa footsteps
Microsoft has applied for a patent for its very own Google Goggles-alike Terminator-style tech, which will slap facts and figures over everything you see.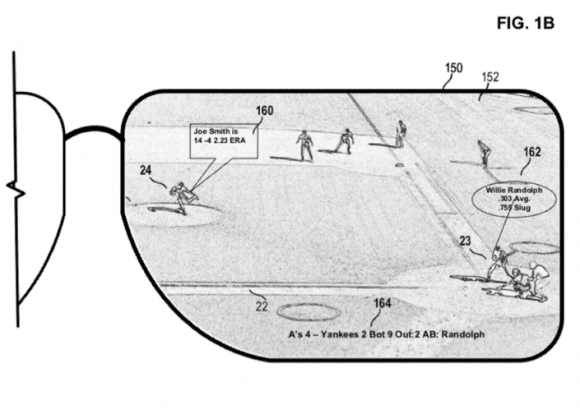 Redmond's idea is for "a head mounted display with supplemental information when viewing a live event". Aside from the "live event" bit that sounds exactly like Google's Project Glass, especially when the firm adds that the display should be "at least partially see-through" and the pictures all show a pair of glasses.
The example Microsoft has for its augmented reality device is a happy punter watching that most American of sports, baseball, and having player stats popping up next to the relevant pitcher and batter.
The tech firm wants the head-mounted display to keep the user informed in real time and with relevant information. The display would have to cotton on to where the user was sitting and what they were looking at while also updating as they turn their heads.
This all might sound a bit familiar, and not just because of Project Glass. A leaked document early in the summer purported to show next-gen Xbox plans, which also included augmented reality glasses that were also going to be giving folks real-time information, but this time on people and places and all manner of stuff. ®
COMMENTS
Re: Microsoft vs Gooble, I hope this will be one of those wars..
How can the consumer possibly benefit from such a war? The war started a while ago with Microsoft suing all of Google's main partners for patents it claims Android is infringing. It doesn't matter whether or not the patents are valid as Microsoft can still freeze trade until a long legal process of validation/invalidation has concluded, effectively killing their business either way. Google's partners have no choice but to pay a tax to Microsoft.
This costs the buyer of most android devices five bucks or so, as the costs are passed onto the consumer. It is also, frankly, insane.
Re: When submitting a patent application ....
Well, it's a 1950's Sci-Fi idea, so probably, yes.
Patents are a nightmare because
Big corporations essentially think up all the possible applications of technology in a new area, e.g. spectacles, mobiles, wearable clothes etc. Then they invest in patents to cover all these ideas.
If a new start up company comes along with a brilliant implementation of such a type of computing gadget, then the corporations can sue them into oblivion, or take a tax from every buck they make.
The patent system is anti-competitive, because large corporations game it.
As for software and method patents, don't even get me started at how insane and anti-competitive those are!
Google still the 'good' guy
Google only after use patents as a weapon when attacked.
They rarely ever call the first shot.
Tax payers fund the MS legal team, they do not google's.
New abbreviation to learn
BVoD: Blue Vision of Death