The 'subversive adult Disneyland' where iPods track your every move
El Reg visits the Museum of Old and New Art, where IT budgets are boundless
Secrets of the O
The O is a normal iPod touch, but is backed by an enclosure containing an active RFID tag.
That chip communicates with RFID sensors scattered throughout the museum. As each O passes a sensor, its location is reported to back-end applications that upload content about nearby artworks over a WiFi network.
That content goes to a custom app on each O. Visitors can then choose from audio commentary, text (some of it Walsh's own somewhat gonzo observations) or the occasional video. Headphones issued with each O keep things nice and private.
Tony Holzner, Nic Whyte and Scott Brewer devised and built The O and its supporting systems, and have since spun out a company, Art Processors, to recreate the work elsewhere.
Holzner says inventing MONA's guide was just about the best environment he can imagine for a technology team.
"This was a dream project in terms of open ended brief and someone to back it and see it to fruition," he says. "It also helped that David didn't' get scared when costs escalated."
Technologists were also made a central part of the whole concept of MONA, from very early in its design phase.
"It worked well because we have a small team and we were on board with the curators, designers, architects, and David, because by and large MONA is his baby and his dream. Everything was treated as one grand project, not islands. The attitude was that nothing gets in the way of each other."
Holzner and the team even had time: work on the O started four years before MONA opened.
At that time, Holzner says "We scratched our head and said 'maybe this is possible with radio based positioning systems to find your location and cross-reference it with the known position of artworks'."
After much experimentation, Holzner and his colleagues found the RFID solution and worked with MONA's architects to embed sensors in its interior design. A proprietary real-time-location-system tracks the RFID tags – MONA has 1340 O's in its fleet – runs under Windows server on two tricked-out Dell R710s and performs 500 million calculations a second to track O's around the museum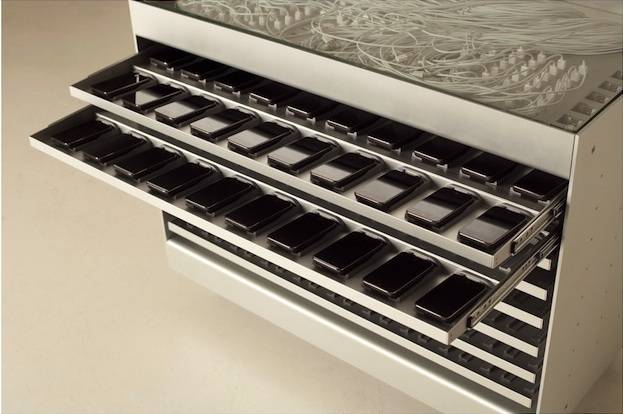 One of MONA's ipod charging racks
The team also wrote a custom content management system, on the LAMP stack.
iOS development is another element of The O, as the custom app had to be interfaced with the RFID-tracking system and the CMS to retrieve content. The CMS, in turn, needed a spatial element so artworks can be located within galleries. Network design was another massive task and involved using 50 to 60 access points to ensure the O could always find signal within MONA's cavernous subterranean galleries.
Each O also stores information about artworks the first time any visitor chooses to view it, to minimise the amount of data traversing the network. That process had to be made super-fast as some audio played on the O is accompanied by video in exhibits, rather than on the screen of the O. That makes accurate synching between audio and movement of on-screen lips essential. Audio compression on the fly reduces the amount of data despatched over the WiFi network and, along with other tricks, means just 80 milliseconds of latency are imposed on transactions over the network. Even when pairs or groups of people stand at the same artwork, the audio arrives in time to prevent the need to share headphones.
A custom network audio streaming system utilising experimental low-latency audio codecs was developed by Ross Bencina of AudioMulch fame
The biggest USB charger in the world
Holzner says the team chose the iPod touch because nothing could rival it for maturity as a development environment, or come close to the form factor and hardware features. "Radios on Apple's gear are markedly more stable than a lot of the other gear out there," he says. "And there was nothing at that price point in Android world."
But managing the 1,340 iPods in MONA's fleet does present some complications, especially figuring out how to charge them.
"We built the world's largest USB charger," Holzner says. "It can charge 240 iPods at a time and we have six of the chargers. They draw a lot of power. Rowan Dinning from INNI came on board to help with the custom industrial design."
Holzner says the various apps and networks at MONA proved themselves on 2011's opening night, when 1300 visitors attended the Museum, and have been working more or less ever since. Ongoing operations include analysing visitors' votes, to help understand which works are most-liked but also to learn which artworks get most attention so the technology team can deliver the right infrastructure in the right places.
MONA has now been open for nearly two years and Holzner, Whyte and Brewer have since created Art Processes to build similar interactive guides for other museums around the world. Walsh is a Director of the company.
MONA, meanwhile, goes from strength to strength and is credited with sparking a mini-boom in Tasmanian tourism.
January 2013 sees an arts festival, MOFO, at which David Byrne and Neil Gaiman will be on the roster of performers. You could do a lot worse than going. ®
The author paid his own way to MONA.
Sponsored: Minds Mastering Machines - Call for papers now open