Jubcropgate: El Reg in snake-fondling nude nipslip outrage
Several pixels of tophamper get past decency filter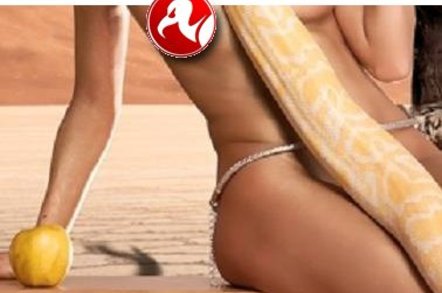 El Reg had Middle England choking on its Coco Pops a couple of weeks back following the failure of its jub-detection algorithm (JDA) - an advanced piece of coding designed to protect sensitive readers from an eyeful of unchecked chesticle.
The JDA compares images uploaded to our media servers with a photographic database of 500,000 breasts* and when it detects a match, automatically obscures the nipples with "modesty vultures", thereby making the snap suitable for a family publication such as this.
However, the technology has its limits, as our exposé on the coffin-punting, snake-fondling Polish blonde nude proved. The JDA succesfully filtered the image in the main article, but when the subs cropped the python-wrapped minx for the "Spotlight" listing, here's what happened: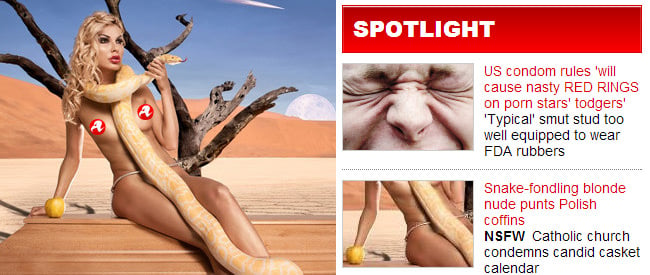 Well, we've had a few cancelled subscriptions over this one. A red-faced Vulture Central back-room boy explained: "The JDA will work only with 75 per cent or more of exposed breast. In this case, the Spotlight crop left just 52 per cent visible, meaning a slither of nipple slipped through the net."
He added: "We're working round the clock to ensure this doesn't happen again, and I can only apologise sincerely to those who were exposed to the unexpected eyeful." ®
Bootnote
*The onerous task of sourcing all those mams fell to a work experience lad called Dave. After his first day, he apparently told a mate in the pub: "I've got a job at some place called The Register. I spend all day on the internet looking for pictures of gazongas and adding them to some database."
"Interesting. How much?" enquired his mate. "Fifty quid a week," replied Dave.
"Blimey, that's not much."
"Well, it's all I can afford," shrugged Dave.
(Brought to you by the El Reg vintage joke appreciation society).
Sponsored: Minds Mastering Machines - Call for papers now open