Asus VivoBook S200 11.6in touchscreen notebook review
Taking a swipe at Windows 8
Swipe protocol
The multitouch capacitive touchscreen part of the equation is more impressive. It registers taps, prods and swipes reliably and consistently and is a genuine a pleasure to use. It's arguable whether or not a notebook should need a touchscreen but once you've grasped the Modern UI navigation is focused on swiping, it becomes more intuitive.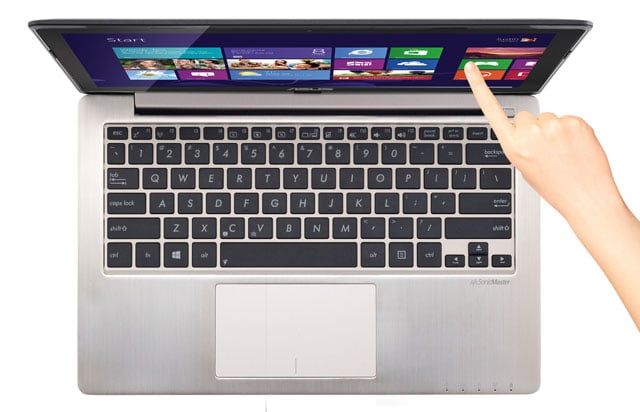 Essential ingredient: Having a touchscreen on-board the only way to really appreciate Windows 8
Indeed, I quickly came to appreciate the way it improves casual interaction when I had the S200 in my lap or on a desk watching a movie, listening to music or making Skype video calls. Thanks to the swipeable touchscreen the clumsy transition between the Modern UI and the Windows 7-like desktop lurking below seemed far less jarring than on my Pavilion.
In a machine this slender, there's naturally no room for an optical disc drive but you do get VGA, HDMI and 10/100Mbps LAN ports, an SD card reader and three USB sockets, one of which is USB 3.0.

Well equipped for general use connectivity but lacks Gigabit Ethernet
The slim design has imposed some limitations on tinkering though. To swap out either the 5136mAh battery or the 500GB HDD, you will need to remove the underside and make with the screwdriver. If you want to upgrade the 4GB of RAM forget it. It's soldered in place and there are no free slots for more.
Though also available with a Core i3 chip my review machine came with Intel's Pentium 987 Ultra Low Voltage (ULV) 1.5GHz dual core processor. This is a Sandy Bridge chip and lacks such features as Turbo Boost and Hyper-Threading but just you try finding anything about this particular 900-series CPU on the Intel site.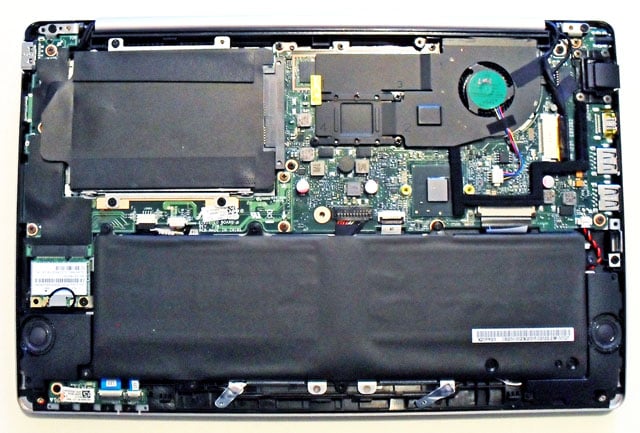 Storage can be swapped out, but RAM is soldered in
With a chip like that the benchmark scores were never likely to set anyone's pubic hair alight. PCMark7 returned a score of 1347 which is rank average even for a machine clearly not designed for gaming (even Crysis 1 is totally out of the question) or intensive graphics work.
Sponsored: Minds Mastering Machines - Call for papers now open