Nokia HERE iOS maps app review
Can the Finnish phone firm solve Apple's navigation woes?
Posted in Mobile, 21st November 2012 13:47 GMT
Free whitepaper – Hands on with Hyper-V 3.0 and virtual machine movement
Location, location, location
For the most part, HERE Maps gets it right where it counts most: the location data. A search for Luton, for example, returns the Bedfordshire town, rather than the much smaller town in Devon, as it does on Apple's app. And both the Traffic and Public Transport views are excellent. The lack of inclusion of suburban rail journeys on public transport directions, however, is baffling.
The presentation, while not as smooth or pretty as Apple's Maps is good, particularly where it combines information on shops, restaurants, and the like, with the local map. That said, it seems your location choice dictates when the bugs will make themselves known. For instance, a search for Blackheath on a 3G iPad using Community View (which didn't have much to show) would take the app some time to redraw when zooming in, losing POIs in the process, only to give up and revert to map my current location in central London. Other view choices were less troublesome.
Your mileage may vary, but if you are holding off from upgrading to iOS 6 for fear of losing Google Maps, you might want to wait a little longer for Nokia to release a few updates to iron out some of the bugginess in HERE.
Verdict
Having a decent track record on mobile navigation services, Nokia's HERE could be a good deal better than this initial offering. Certainly, it is streets ahead of Apple in some areas, yet it stalls badly in others. Still, it has some useful features that broaden its appeal. First though, Nokia needs to sort out pinch zooming and public transport directions, add audio instructions for car journeys, and incorporate 3D maps, then there's potential for HERE to even give Google a run for its money. ®
Overview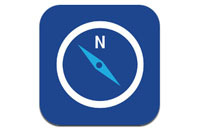 Free whitepaper – Hands on with Hyper-V 3.0 and virtual machine movement