Just what you needed: A cell phone with a remote control. No, really
Got an amazingly huge coat with pockets too far away?
Bluetooth has achieved its dream of being in a remote control, sadly it's a remote for a mobile phone and not a TV, but surely a step in the right direction.
The keyring-sized LG One Key can be used to find one's Optimus VU2 handset, fire up the camera for self-portraits and even control music playback, though with only one button the control is obviously limited. More importantly, though, it can run for years on a button cell battery and shows how Bluetooth Low Energy can be used for remote controls.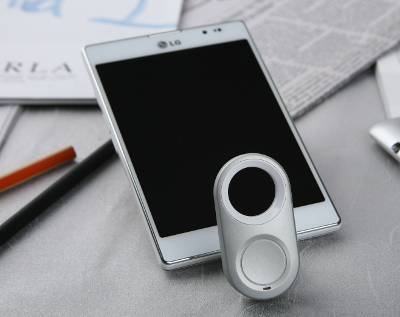 Bluetooth has always wanted to be in a TV remote control, but never made it. Bluetooth chips still cost a lot more than Infrared LEDs (which are astonishingly cheap) and better software has removed the problems of bounce (where a key press is interpreted twice) and working in sunlight which were never very serious anyway, making it impossible to justify the higher cost of Bluetooth which would also chew through the batteries.
The latter problem disappears with Bluetooth Low Energy, part of the Bluetooth 4 specification, and Bluetooth LE chips are turning up in running shoes and wrist watches, but they still can't grab that elusive spot in the ubiquitous TV remote.
The Bluetooth Special Interest Group is pinning its hopes on active 3D specs. The Bluetooth SIG has been working with TV manufacturers to design a standard specification - so that specs from one TV will work with another, but (more importantly) that will mean actually getting Bluetooth into the TV - which would hugely improve the prospects for a Bluetooth remote control.
But it's not alone in coveting the top of the coffee table - lurking on the sidelines is Ozmo Devices, which has been trying to get Wi-Fi built into computer mice for years, and failing because every computer has Bluetooth these days. But last week Ozmo announced that Roku would be using a Wi-Fi Direct remote to control its Roku Streaming Stick, which sits in the HDMI socket and therefore lacks line-of-sight to the viewer. Lots of TVs have Wi-Fi these days, making Wi-Fi Direct an easier sell.
Bluetooth Low Energy has lower power consumption than Wi-Fi Direct, but the two are competing for the same market, and while LG's One Key is pretty and shows off what CSR's Bluetooth chips can do, it's not the TV remote the SIG is hoping for. ®
Sponsored: Minds Mastering Machines - Call for papers now open