Glorious silicon globes could hold key to elusive PERFECT kilogram
El Reg drills into why we need an ultra-accurate mass
From Russia with love: the perfect silicon spheres
The watt balance is not the only effort to modernise the kilogram: work is also underway using a method that employs the Avogadro constant, which is used to calculate the number of atoms in a substance. Thus, once one has worked out how many atoms should exist in a 1kg sphere of silicon-28 isotope, the balls can be manufactured and X-rays scanners used to ensure the correct number of atoms are present.
Production of the ultra-pure 93.6mm-diameter spheres began in 2004 in Russia using a centrifuge at the Central Design Bureau of Machine Building in St Petersburg.
Watt balances, though, are where the action is at: scientists are building balances at France's Laboratoire National de Métrologie et D'essais (LNE), China's National Institute of Metrology (NIM) and New Zealand's Measurement Standards Laboratory (MSL) in addition to the BIPM's very own balance and work in Switzerland and South Korea. NIST has also plans for a second-generation balance to be operational by 2020.
If the NPL and NIST machines can agree, or if the level of uncertainty narrowed, then their data will be assessed by a committee. Data from the Avogadro device will also be combined. At November's BIPM meeting teams from each group will present their work and field questions in an attempt to finally bring everything out into the open and scotch doubts.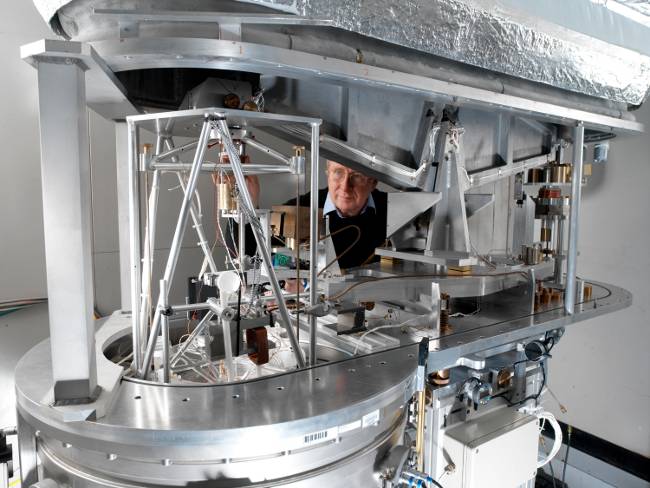 Robinson with the second-generation watt balance he helped build
Professor David Inglis, watt balance group leader for Canada's institute, warned against more balances being powered up before the existing equipment reaches an accord.
"It's important we come to an early decision or else all the countries will want to get involved," Inglis told us. "If they get so involved that they feel they need to be contributing it will slow everything down."
He reckoned NIST and INMS should know by next summer how well improvements are progressing; meanwhile his next move is to measure a full kilogram and weigh different materials to validate the results next spring.
There is another theory that chasing a perfect Planck's constant is wrong and that the physicists working on the project are pushing too hard in the wrong direction. Robinson dismisses this idea.
"The choice of the Planck constant for defining mass in the new SI is a decision that, in my opinion, is independent of the watt balance and Avogadro arguments. I feel that it is the right decision because it has a number of advantages including the effect of unifying the SI by bringing the extremely precise quantum electrical units, which were somewhat outside the SI, into the heart of the SI," he said.
"I feel that the difference between NIST and INMS results will be resolved by careful checking of each apparatus and that process is already underway. In addition other countries are building watt balances, which will add to our knowledge."
The effort to break the kilogram from its original physical artefact has taken the best part of forty years, gobbled a lot of money, and could end in deadlock - all for a breakthrough the vast majority of the planet won't even notice. Not even devotees of BBC2's The Great British Bake Off, who've fully embraced digital kitchen scales, will benefit from the existence of a super-accurate kilogram.
Where it will make a difference is in national laboratories; institutions that rely on absolute accuracy and finely calibrated measuring equipment. The standard mass in Paris, an old-world lump of metal kept under three bell jars, is fickle and unpredictable - relatively speaking, of course.
BIPM principal research physicist emeritus Richard Davis said the rules surrounding the handling of the standard mass are slavishly adhered to for no clear purpose.
Sponsored: Minds Mastering Machines - Call for papers now open