World's oldest digital computer successfully reboots
TNMOC's boffins help bring back WITCH
After three years of restoration by the National Museum of Computing (TNMOC), the world's oldest functioning digital computer has been successfully rebooted at a ceremony attended by two of its original developers.
The 2.5 ton Harwell Dekatron, later renamed the Wolverhampton Instrument for Teaching Computation from Harwell (WITCH), was first constructed in 1949 and from 1951 ran at the USK's Harwell Atomic Energy Research Establishment, where it was used to process mathematical calculations for Britain's nuclear programme.
The system uses 828 flashing Dekatron valves, each capable of holding a single digit, for volatile memory, plus 480 GPO 3000 type relays to shift calculations and six paper tape readers. It was very slow, taking a couple of seconds for each addition or subtraction, five seconds for multiplication and up to 15 for division.
But it had persistence, performing calculations more accurately than human mathematicians and without needing toilet breaks, sleep, or a social life. When a leading mathematician tried to keep pace with the computer, he lasted for around 30 minutes before falling behind and making mistakes.
"The restoration was quite a challenge requiring work with components like valves, relays, and paper tape readers that are rarely seen these days and are certainly not found in modern computers," said restoration team leader Delwyn Holroyd in a statement. "Older members of the team had to brush up on old skills while younger members had to learn from scratch!"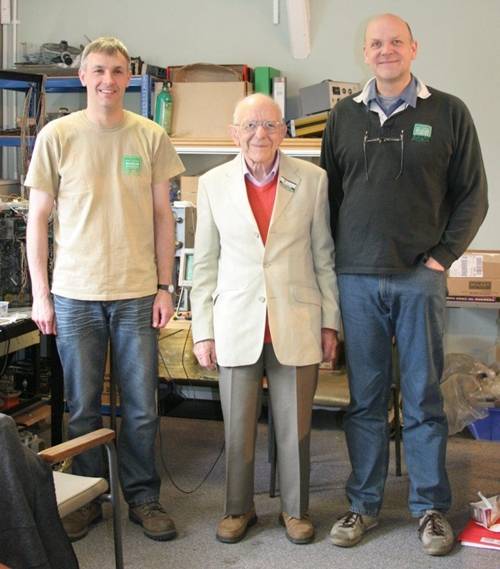 Harwell Dekatron designer Dick Barnes (center) meets the team
After its atomic work was finished in 1957, and with transistorized computers all the rage, the computer was offered to the academic world and ended up at the Wolverhampton and Staffordshire Technical College (thus the WITCH moniker) and ran until 1973. It was retired to the Birmingham Museum of Science and Industry, but was put into storage in 1997 before being rediscovered and rebuilt by volunteers funded by TNMOC
"In 1951 the Harwell Dekatron was one of perhaps a dozen computers in the world, and since then it has led a charmed life, surviving intact while its contemporaries were recycled or destroyed," said Kevin Murrell, trustee of TNMOC, who started the restoration project.
"As the world's oldest original working digital computer, it provides a wonderful contrast to our rebuild of the wartime Colossus, the world's first semi-programmable electronic computer." ®
COMMENTS
Each holding a single digit
The decatron was a type of neon filled gas discharge tube with 10 or 12 separately connected anodes for a static discharge arranged round a common cathode. Between each of the anodes were intermediate anodes for transferring the discharge, these were connected to two circuits. In a gas discharge tube there can only be one active discharge, and this is stable. From any of the 12 anodes the discharge could be transferred clockwise or anticlockwise by applying overlapping pulses in turn to the two circuits supplying the intermediate anodes.
The tubes plugged into valveholders, each requiring connectors for the number of anodes plus three to be soldered.
Brilliant. They counted, you could read whichever anode was conducting, and of course this could be used for a carry, and you could see the content of every tube.
So the single digit in this machine was almost certainly decimal.
I used this in the first electrostatic copying machine built in the UK. It used a continuous length of paper on which the image was projected from an original lit by an electronic flash. The paper was taken through the process to be cut to sheets and delivered to the output tray. The problem was that at the time standard paper came in two lengths, 10 and 13 inches. We wanted to be able to adjust the paper size while running. The machine gave a pulse for every inch advanced, a chain of pulses marking the cut positions passed through the valves. We used 10 output decatrons, when set to longer sizes a spurious signal advanced up to three anodes and then received a reset from the previous tube.
If the computer's 61 years old...
How old is Mr. Barnes? I salute him for still being around and sharp!
..and now we have Windows 8.
Still - it does you good to laugh and it's been an interesting journey :)
"World's oldest digital computer successfully reboots"
That explains why my web host was down for a while this afternoon.
Just you wait!
Windows 9 will have a DIP-switch and incandescent-lamp user interface.