Google hires top US traffic fed for driverless cars project
'Hm, no spaces. Car, drive around 'til I finish drinking'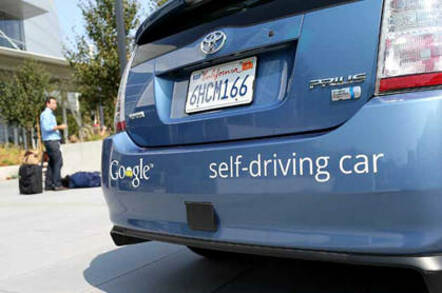 Google has signed up the deputy director of the US National Highway Traffic Safety Administration (NHTSA) to work on the company's self-driving cars.
Detroit News reported that Ron Medford was moving on from the NHTSA, after working in government roles for more than four decades. He will join the Chocolate Factory as the ad broker's safety director in January next year.
His appointment signals just how keen Google is to get its driverless vehicles on the road. Medford told his workmates at the agency that the move was a "bittersweet" one.
Self-driving cars are Google co-founder Sergey Brin's pet project. His company has been lobbying hard to get Mountain View's driverless vehicles on sale. He has predicted that drunks, old people, youngsters and the blind could all benefit from the cars as soon as five years from now.
Google's current fleet of vehicles has racked up 50,000 miles without humans having to take the wheel. Brin has previously said that the project already had 300,000 miles of automated-driving testing under its belt. ®
Sponsored: Minds Mastering Machines - Call for papers now open