Big Blue hands bulging $4bn suitcase to partners to grease IT sales
Let's see if some liquidity can slide kit out the door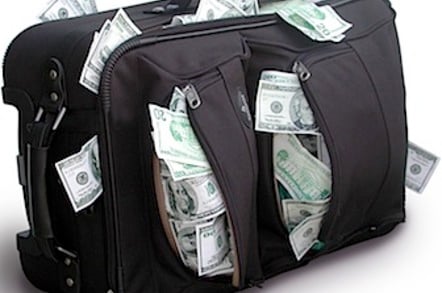 In the hope of pumping up sales of hardware, software, and services over the next 12 months, IBM is taking $4bn of its own cash and giving it to its Global Financing arm to originate leases over the next year.
Big Blue is hoping to clear the way for enterprises of all sizes to get financing, when the banks might be a little stingy given the state of the economy.
In a separate – but oddly enough related – announcement, HP is also ramping up its extended pay financing for partners peddling x86 servers, but it is using other people's money to do it.
Back in September 2011, the Global Financing unit was given $1bn for lease deals aimed at small and medium businesses in particular. That program offered financing on 29 different stacks of hardware, software, and services that were part of IBM's Cost Buster program, which offered the integrated bundles for specific jobs aimed at companies with 100 or fewer employees.
IBM expected that $1bn in cash to back lease originations would last 18 months, but Ed Abrams, vice president of the midmarket business at Big Blue, tells El Reg that SMB customers burned through that Cost Buster financing six months early doing deals for 6,800 small and medium businesses.
Seeing how successful the Cost Buster program was, IBM is quadrupling the amount of cash it is making available to back lease originations to $4bn while broadening it out to encompass the entire IBM product catalog as well as wares and services available from third parties – even its system competitors. But there's a catch, and it is a clever one, because IBM wants partners to be enthusiastic about its products. The financing in this latest round is only available through the 120,000 companies that are members of its PartnerWorld channel program. By the way, the Cost Buster program is still active as well, so those integrated solutions and SMB-focused financing is still available.
As part of the $4bn in funding for leases, IBM is also rolling out a lease calculator and application app for channel partners called the Rapid Online Financing Tool, which works on iOS and Android smartphones and tablets and which is designed for partners who might not be whizzes at finance even if they do know IBM's products.
The financing is available in 50 countries and can be used to lease non-IBM stuff. Customers with squeaky clean credit can get zero per cent financing terms for the first 12 months, and others get market rates based on their credit ratings. Lease terms are generally over 36 or 48 months, but are also flexible. You have to finance at least $5,000 of hardware, software, or services (or any mix of the three) through managed service providers, resellers, ISVs, system integrators, or distributors to take part in the deal. Companies of any size can participate.
And that may not be the end of the financing. "If we see the marketplace requires more, we will bring more money to bear," says Abrams.
Over at HP, the company is also ramping up its financing efforts, but HP isn't shelling out its own cash to back the leases. Like IBM, HP sees that the lack of capital is crimping sales among its resellers. Back in August, to help partners who were not flush with cash, HP launched the Extended Finance Program to provide 60-day, interest-free payment terms to resellers pushing printers, scanners, and all-in-ones. With this week's announcement, the Extended Finance Program is not expanded to cover x86-based systems that are preconfigured and discounted under HP's SmartBuy packaging.
HP is in its quiet period ahead of announcing its financial results next week, so executives are not available to speak about HP Financial Services' plans, but an HP spokesperson tells El Reg that this deal does not come through HP's own captive financial arm. The HP man said the funding is really aimed at VARs who have downstream relationships with HP server distributors D&H, Ingram Micro, Synnex, and Tech Data. The 60-day funding for gear that is then sold to users is being provided by De Lage Landen, GE Capital, Wells Fargo Capital Finance, and – wait for it – IBM Global Financing. ®
Sponsored: Minds Mastering Machines - Call for papers now open