Sun BELCHES twice, mighty plasma loops miss Earth - NASA vid
Immense gas-lassos snare only empty void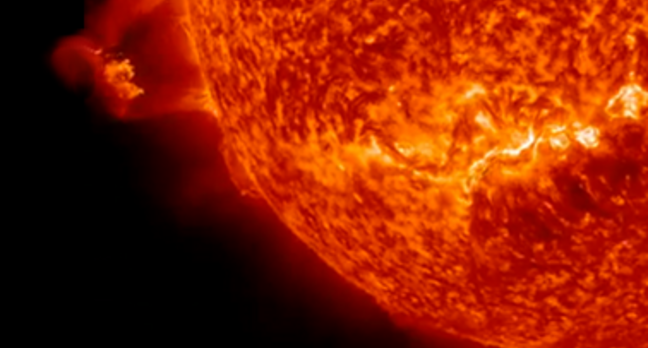 The Sun lashed out with two plasma eruptions one after the other early on Friday morning.
NASA's Solar Dynamic Observatory (SDO) spotted the solar flares, when red-hot loops of plasma burst out of the surface of the Sun.
The flares both happened within a four-hour window between 6am and 10am GMT, when prominences in the Sun became unstable and belched out hot gas made of electrically charged hydrogen and helium.
During a flare, the plasma flows out along a tangled and twisted structure of magnetic fields generated by the Sun's internal dynamo.
According to NASA:
The action was captured in the 304 Angstrom wavelength of extreme ultraviolet light. It seems possible that the disruption to the Sun's magnetic field might have triggered the second event since they were in relatively close proximity to each other.
Luckily, the flares were not aimed at Earth, but spewed out into space. Had the resulting particle clouds been headed for us, there could have been issues for spacecraft and astronauts in orbit, though the only effect normally seen for most of us is boosted polar aurorae. ®
Sponsored: Application managers: What's keeping you up at night?