Bleeding storage firm Overland: OK, we're losers, but so are our rivals
Award-winning tech... but nobody's buying it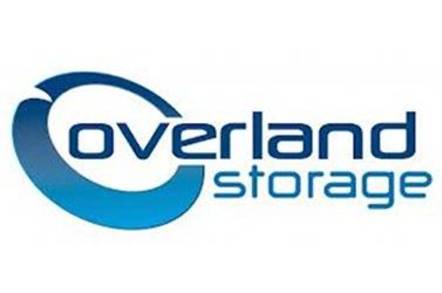 Is Overland toast? Its latest results are dreadful - again - with revenues down and losses up, yet management talks about operating profitability being gained by July 2013. Is it nuts?
CEO and president Eric Kelly said: "Our lower than expected total revenue is largely due to the difficult macroeconomic environment in Europe and longer sales cycles, which we believe have similarly affected our competitors. While we continued to win new business in Europe, customers delayed taking product due to the market uncertainty, which negatively affected our revenue across all our product families and has tempered our outlook for our sales in the region."
Overland Storage makes and sells Neo tape libraries, Reo virtual tape libraries, SnapServer filers and SnapScale scale-out filers, and SnapSAN block-access drive arrays. It also has IP lawsuits underway against BDT, a German maker of tape autoloaders, and various tape library vendors such as Quantum, SpectraLogic and Tandberg Data.
Revenues were down 17 per cent from $14.1m a year ago to $11.7m in its first fiscal 2013 quarter, finishing on 30 September this year.
Compared to the previous quarter they were down 24 per cent. The net loss was $4.9m. In the previous quarter it was $2.7m and a year ago it was $5.4m; we could say that the loss has narrowed on a year-on-year basis, if we wanted to paint a rosy picture on this sea of red ink.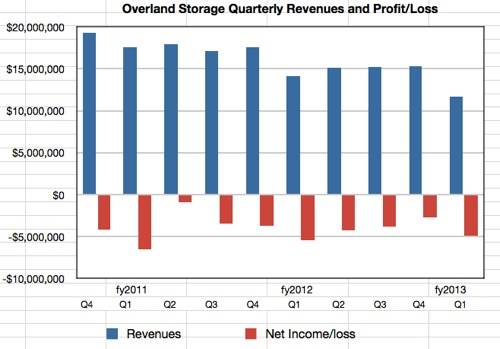 But going back 10 quarters we see loss after loss after loss, and a trend of declining revenues; they were $17.6m in the first fiscal quarter two years ago, $14.1m at the same time last year, and are now $11.7m.
Overland has focused on developing new Snap-branded products for the small and medium business file, scale-out file and SAN markets, while continuing to develop and sell its tape and VTL product lines.
Are five product lines too many and is Overland spreading itself too thin? Looking at the revenue decline picture we can see that new product revenues are not growing the business overall; far from it.
In fiscal 2011 the quarterly revenue run rate was $17m or so. It was $15m in 2012 and has started off at the $11m level in 2013. As the chart shows, Overland quarterly revenues generally follow the lead set by the first quarter, maybe growing a million or so, indicating that fiscal 2013 could see revenues of $48m. Fiscal 2010 was $77.6m, 2011 $70.2m, 2012 $59.6m, and a $48m 2013 would continue this dismal trend.
How long can this go on? The company has $7.32m in cash and equivalents. This sum has gone down roughly $3m/quarter since the third fiscal 2011 quarter. Two more quarters at this rate and Overland will have just $1.2m cash left. It had a $4m credit facility at he end of the first fiscal 2013 quarter.
From tape vendor to disk-seller to IP firm?
Could the lawsuit rescue it? All anyone can say is "maybe". Its lawyers have an unbroken loss record in such matters but the case progress is tortuous and slow. As far as products go, so far it is evident that not enough customers want Overland's products, even though they win awards.
Like Quantum, Overland has found it extraordinarily hard to break out of the tape backup product ghetto and build strong and self-sustaining disk-based businesses, that are seen and valued by customers generally as best-of-breed products compared to competing ones from mainstream vendors and established low-end, box-shifting ones from far East vendors.
It's a tough market with lots of competition in Overland's SME file and SAN product areas and a continuing move away from tape for backup.
Going by the CEO's statement about a July recovery, we can expect a loss next quarter as well then.
Shares took a dive, dropping 22 per cent to $1.20 on the news of the results. They peaked at $2.69 in January.
Encouragement comes from a "growing pipeline of new business," but discouragement comes from the chart and from extrapolating its trends. Will the Lone Lawsuit Ranger ride to the rescue? Even if it does, that can only add slightly to the bottom line, and that product revenue is shrinking. Maybe it's time for Overland to think about the possibility that it is spreading itself too thinly across too many products. ®
Sponsored: Minds Mastering Machines - Call for papers now open