Liberator: the untold story of the first British laptop part 3
Into the maelstrom
Against some stiff competition
With the loss of Sinclair, Liberator production was moved from Treorchy to Datatech's Feltham, Middlesex plant. John Cavell, who worked at Thorn EMI at the time, says that the move was not a success. Cavell was Datatech's Materials Manager and had been tasked with the planning and execution of the transfer of Liberator production from Treorchy to Feltham. "Very few units were produced at Feltham, as demand was very low," he recalls.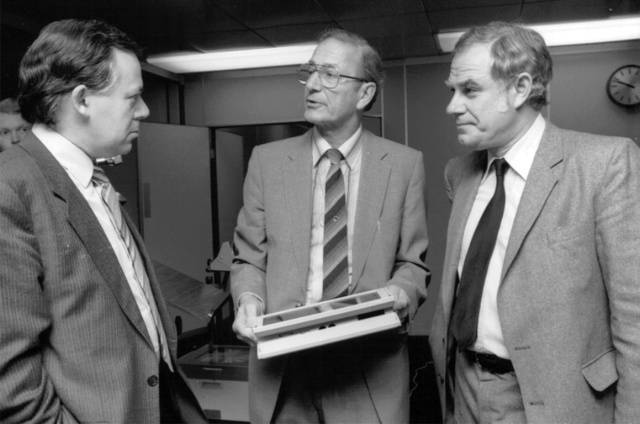 Bernard Terry demos the Liberator to (left) Victor Maller, Thorn EMI Information Technology's Director of Technology.
The other participant (right) is unknown
The CCTA's enthusiasm for the machine had not led to the forecast volume of sales, and the Liberator was not a huge seller in the public sphere. In September 1985, just as the Liberator was coming to market, Amstrad launched the PCW 8256, an all-in-one desktop machine that, though a CP/M-running, Z80A-based computer, was marketed as a word processor, just as the Liberator would be. The PCW may not have been portable, but it came bundled with a built-in floppy drive, 256KB of memory and dot-matrix printer. It cost just £460 including VAT sales tax, then 15 per cent.
Of course, the Liberator had the advantage of mobility, and was undoubtedly superior to the handheld machines Bernard Terry had assessed in 1983. But three years on, its specification was looking less competitive.
"When you design, you can't design into the future," Terry remembers. "I don't think anyone realised [then] how far memory prices would [soon] tumble."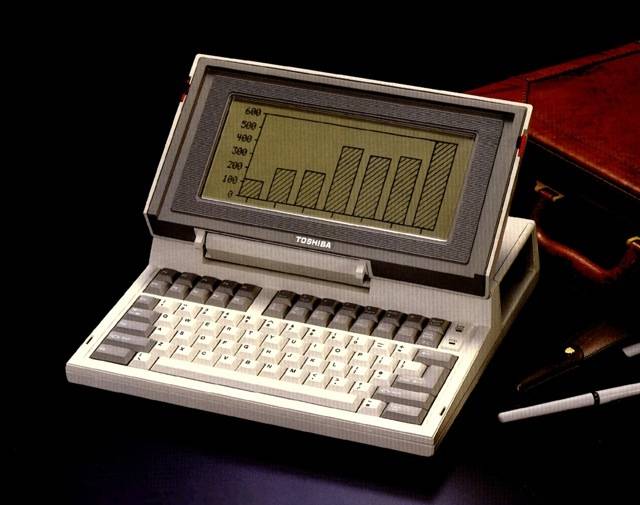 Toshiba's T1100: the first IBM-compatible laptop - but maybe not the first mainstream machine of its type
After the specification had been set, Ram prices plunged, allowing later machines, or those devised by more fleet-of-foot developers, to deliver more memory. Amstrad's PCW contained four times as much Ram as the Liberator.
And the IBM compatibles were coming. Clones of IBM's desktop line were widespread by the time of the Liberator's launch and rapidly cementing their dominance of the business computing market. HP had introduced the portable HP 110 in 1984, and it was still on sale the following year, albeit for a colossal £2995, which bought you lots of Ram - 272KB - plus a 5.33MHz 80C88 CPU, MS-DOS but not true IBM compatibility, an 80-character x 16-line text LCD all packed into a unit that weighed 3.9kg.
Toshiba released its first laptop, the T1100, in 1985 just after the Liberator launch. It had commonly used ports, a 3.5in floppy drive, only weighed 4.1kg, was PC-compatible, packed in 256KB of Ram and could run for up to eight hours on a charge of its rechargeable battery. Of course, it would have set you back $2000 - two and a half times what the Liberator cost. Toshiba today claims the T1100 was the world's first mainsteam laptop, but the Liberator was announced, to civil servants, months before Toshiba went public with its machine.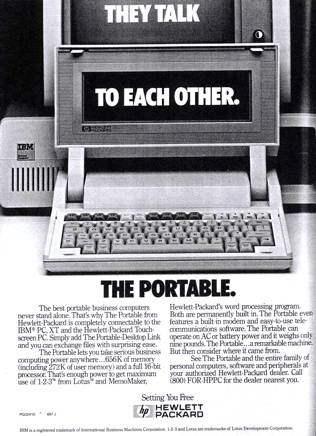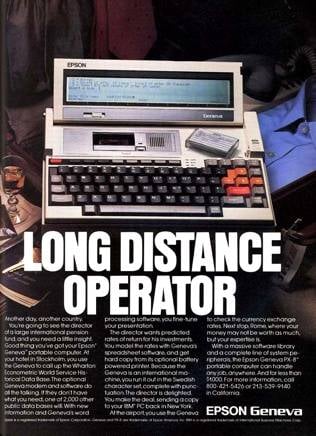 Liberator rivals: HP's 110 (left) and Epson's PX-8
Other rivals included the Kaypro 2000, which also appeared earlier in 1985. With its use of a lead-acid battery, it weighed a fraction under 5kg - not exactly light enough for easy on-the-knee usage - and came equipped with a removable keyboard, it was clearly intended to be more a desk-use PC you could move from place to place than a truly mobile computer.
Perhaps a closer machine to the Liberator - though, at £1600, it was twice the price, and was a rather weightier 5kg - was the Hong Kong-made Bondwell 2, which also ran CP/M - version 2.2 - on a 4MHz Z80A processor. It was equipped with a Liberator-beating 80-character by 25-line, 640 x 200 pixel display, 64KB of Ram and a 3.5in floppy drive.
Not that the Liberator's own specification was ever intended to remain unchanged. In an "outline specification" dated 24 April 1986, Thorn EMI Information Technology staff were presented with an updated design proposal, dubbed the Liberator Mk 1A. Planned to incorporate a 6MHz Z80-compatible processor - the Hitachi HD64180 - it would run 50 per cent faster than its predecessor and incorporate more I/O functionality than the Zilog original, the kind of features today we'd find in a system-on-a-chip part.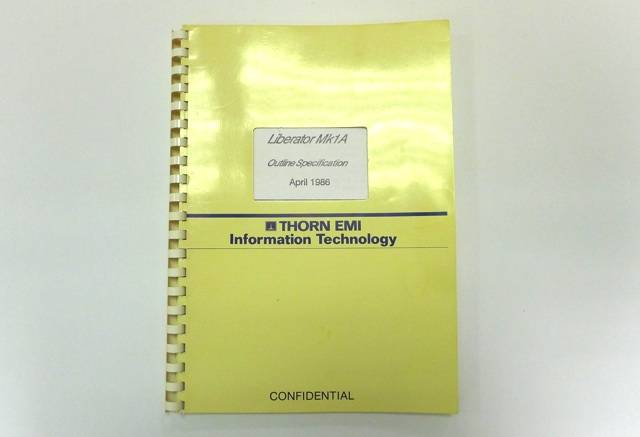 Where next? Planning the Liberator's future
Falling memory prices saw the main Bank A Ram upped to 96KB, configured as 24KB of working space plus 72KB for storage - again non-volatile, kind of, thanks to a built in button battery. An external 3.5in floppy drive would be offered too, though whether as a bundle - to match the machines already offering a built-in drive - or optional isn't made clear in the documentation.
The on-board software would be extended with address book, alarm clock, scope to install multiple printer drivers, and enhanced communications tools. Bernard Terry's text processor was becoming a personal organiser. The editor would get an overhaul, gaining the ability to add headers and footers to documents; adjustable tabulation; string search and replace rather than just search; and in-document line and word counts.
Sponsored: Minds Mastering Machines - Call for papers now open