Taken to task
Sit back and treat the VSD220 like any other desktop touchscreen device – a simpler, lighter, silent alternative to HP's TouchSmart series, if you like – and the user experience is very effective. Of course, as well as navigating by touching the display, you have to enter text using the on-screen keyboard, but you can just as easily pair up an inexpensive external Bluetooth keyboard.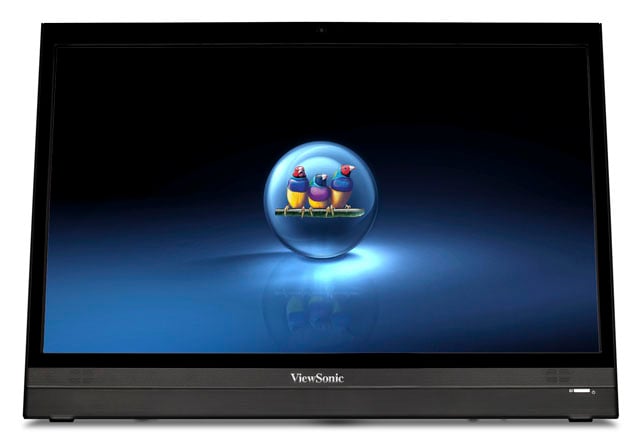 A pair of 1W stereo speakers are integrated into the front bezel under the display
ViewSonic has integrated an 'OSD' icon in the Android taskbar along the bottom, providing quick adjustment to screen brightness and audio volume without need for hardware buttons. Otherwise, this feels like pure Android 4.0, letting you instal whatever good or rubbish Android apps you fancy and allowing you full standard customisation of your Android desktop home screens.
Here's the clever bit: connect another computer using HDMI and you can toggle the VSD220 into dumb monitor mode with a couple of screen touches from the OSD – no restart required. In fact, it can be better than a dumb monitor if you additionally hook up the other computer via USB, thus enabling basic touchscreen control of that computer. For touch control of the external computer from the VSD220 display to work, the external device needs to support touchscreen functions natively, so it's fine with Windows 7 (haven't tried 8, sorry) but not with Mac OS X.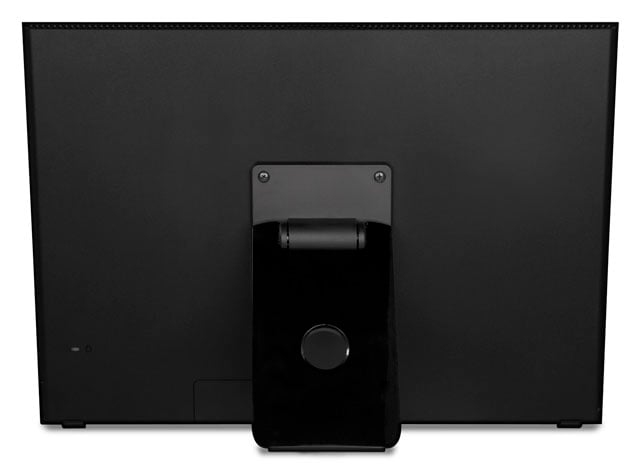 The prop stand allows near-horizontal positioning too
Despite my initial reservations, it doesn't take long to imagine plenty of places where a product such as the VSD220 might come in useful. Point of sale, advertising, hotel and customer kiosk implementations are obvious choices. Mount it on a wall or stand it on a desk and it's immediately ready to display whatever you want or interact with customers via touch control, even feeding wirelessly from the Internet, without needing to attach an external computer.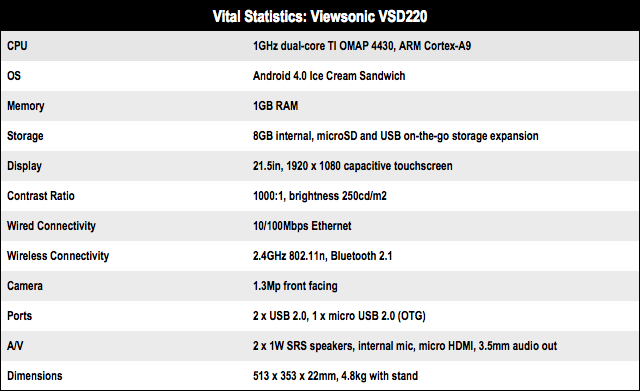 COMMENTS
No rear facing camera?
That's a deal breaker for me!
Wow!
Let's see you get THAT bastard in your pocket! :-)
Re: Wow!
Excellent for those who are long sighted and struggle with a 4inch screen.
Seriously though what an interesting device and the price is £314.50 on lambdatek. I think there are going to be a raft of these things coming with android. Now I wonder if it can be rooted and Linux installed ?
You just need to open your eyes.
Was walking round a trade show a couple of weeks ago, and plenty of stands had iPads, laptops, TVs hooked up to DVD players and PCs hooked up to monitors, nearly all being used to display videos or photographs. All of which could be replaced by a single unit like this.
Bigger than an iPad, no keyboard like a laptop, no need for DVD/TV or PC/Monitor combos.
>>Referring to it as a "22in tablet" is just silly: as Chromebooks have ably demonstrated, just because a computer runs Android doesn't mean it's a toy.<<
Chromebooks don't run android, they run Chrome OS. It's not the same thing.