Google stealthily coalesces UK music cloud into being
Maybe it's on my phone already? Do I care? Probably not
Google has quietly yet finally brought its cloud-based music service to the UK.
It's part of Google Play, which is Google's continuing makeover of the scruffy Android Marketplace into a slick cloud storage and playback service for books and mags, movies and music. The magazine department isn't ready yet in the UK, but now the music section is.
There's two parts to the service. One is an online locker that can hold up to 20,000 tunes for playback anywhere. A helper app for Windows or Mac scans your iTunes folder, or folders of your choice, for files to copy to the cloud. On our test rig it picked out iTunes playlists and offered to upload them individually - but not iTunes Smart Playlists.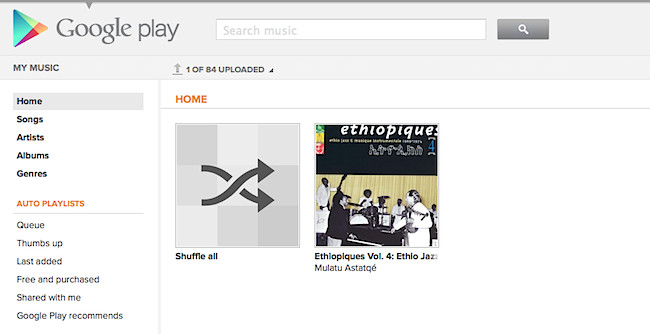 Google Play - no sign of Scan and Match here
Uploading is tedious. Although Google is supposed to offer a scan-and-match service, it actually isn't. Scan and match, where it does work, populates your cloud locker with a decent quality copy of your songs it identifies, but from its own cloud servers. (Decent quality, relatively speaking.)
This means each song doesn't have to be piped up across a slow uplink; when a song is identified, the software just copies the data between the cloud servers as the music is already over there. This is built into Apple's iTunes in the Cloud. Our test uploads to Google Play maxed out the smartphone's 3G uplink at 200kbit/s.
The second part is an online DRM-free download store, offering songs at prices closer to Amazon's than Apple's. The xx's Coexist costs £6.49 from Google and Amazon, and £7.99 from iTunes; the new Robbie Williams album costs £7.99 from Google, £7,49 from Amazon and £11.99 from iTunes. The latest Rolling Stones greatest hits package Grrr! costs £11.49 from Google, and £12.99 from iTunes. We had difficulties in previewing tracks, however, even using bog-standard FireFox.
Overall, it's probably good enough for Android devices, but not compelling enough to lure Kindle owners away from Amazon's store nor iPad owners from iTunes. ®
Sponsored: Minds Mastering Machines - Call for papers now open