Cisco cuts costs, boosts profits faster than sales
Servers, NDS buy fills in switch and router gaps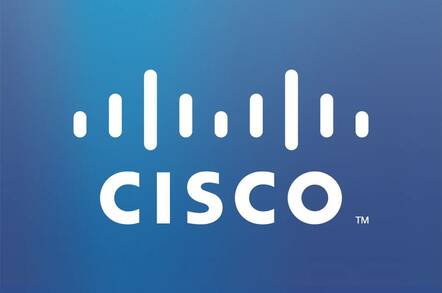 After a number of other big IT players stumbled in the third calendar quarter, Wall Street was braced for a possible slowdown at networking giant and now converged-system supplier Cisco Systems.
It seems that all that muscle tightening was for naught, because Cisco was able to do better than expected in the quarter ended in September, despite a dip in European switch and router sales and in the US public sector.
The September quarter is the first of Cisco's fiscal 2013, and during it the company's revenues rose by 5.5 per cent to $11.9bn. After some pretty hefty belt tightening – a sure sign that Cisco was not expecting to do as well as it did, either – the company was able to boost net income by 17.7 per cent to $2.09bn. That works out to 39 cents per share.
This is in keeping with Cisco's long-term strategy of growing profits faster than revenues – one that rival and occasional partner IBM has followed for the past two decades – but it would be foolish to think that Cisco could maintain that kind of spread over the long haul between revenue growth and profit growth.
In a conference call with Wall Street analysts and reporters, Cisco CEO and chairman John Chambers was clearly pleased with the results – particularly, as he pointed out, with his peers in IT Land reporting declines and dialing back their expectations for the next quarter and beyond.
Cisco generated $2.5bn in cash from operations during fiscal Q1, up from $2.3bn in the year-ago period, and is now sitting on $45bn in cash and investments.
During the quarter, the company closed its $5bn acquisition of television-software company NDS, announced back in March – which is why the cash hoard was not larger. Cisco blew an undisclosed amount on two other minor acquisitions in the quarter, $744m on dividends, and $253m on share repurchases.
Here's an astounding number: Cisco has spent $76.4bn on share buybacks since it started that practice, taking 3.8 billion shares off the market. The company has another $5.6bn in share-repurchase authorizations approved by the board, which it could do in an afternoon if the spirit moved it and barely dent its cash pile.
In the September quarter, product revenues rose by 3.9 per cent to just a tad under $9.3bn, while services revenues were up 11.9 per cent to $2.58bn. Chambers said on the call that over time, services would continue to grow faster than product revenues, and grow to be an increasingly larger part of the Cisco revenue pie.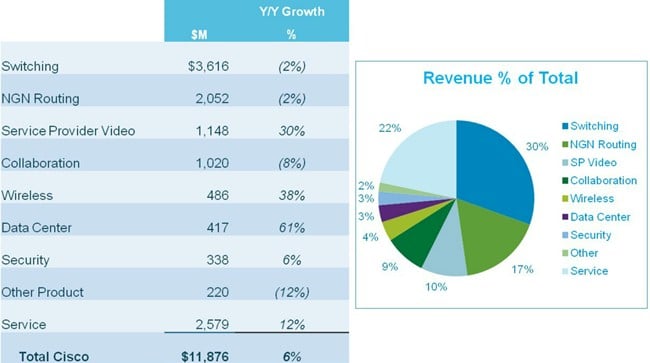 Breakdown of Cisco's Q1 fiscal 2013 revenues by product category
Despite sales of Nexus 2000 and 5000 rack and Nexus 7000 row switches being up "in the high teens" across all three product lines, overall switching revenues for Cisco fell by 2 per cent to $3.62bn in the quarter. Gross margins in switching were on the upswing, and Chambers conceded that the Nexus product line was not designed to have the same profit margin as the prior Catalyst products they replace – but quickly added that despite this, the company has figured out in the past two years how to get them pretty close to old profit levels. Macroeconomic issues in Europe and uneasiness in the public sector in the US caused the switch sales decline, not competitive pressure in Europe, Asia, or the States.
Ditto for routing, which was under the same pressures, with revenues also down 2 per cent to $2.05bn in the quarter. Chambers said that Cisco had double-digit growth in edge routing, and that the ASR 9000 line was up 80 per cent year-on-year. So there were some bright spots.
Thanks to the NDS acquisition, which was expected to add around $200m to the top line in Q1, Cisco's sales in the service-provider segment were up 30 per cent to $1.15bn. Frank Calderone, Cisco's CFO, said that NDS represented 20 per cent of sales in this segment, which if you do the math means it brought in just under $230m in sales. That's better than expected.
And by the way, without the NDS deal the service-provider video segment would have had only a 4 per cent revenue increase in the quarter, and Cisco's revenues in the quarter would have only been up around 3 per cent.
Cisco's data center business, which is dominated by its UCS server and integrated switch sales, grew by 61 per cent to $417m. Again, without this growth, Cisco's revenues would have been approaching flat year-on-year if you extract NDS as well.
Chambers did not provide much in terms of UCS sales figures, as the company did in earlier quarters when this part of the business was smaller, but he reiterated that Cisco had in three short years become the number-four provider of servers in the world, the number-three supplier of blade servers worldwide, and the number-two supplier of blade servers in the US, ahead of IBM and Dell and behind HP.
In an interesting aside, Chambers said that for the first time since introducing the UCS products in March 2009, Cisco was starting to see these IT products lead to new sales where the servers actually pull through attached sales of switching gear in these new accounts.
Wireless products did well in the quarter, too, up 38 per cent to $486m, with the 3600 series access points singled out for doing particularly well. Collaboration product sales, which includes telepresence wares, took it a bit on the chin in the quarter, with revenues off 8 per cent to $1.02bn. Chambers said Cisco had to execute better here, but said further that this area is one that often gets cut first at companies and governments when budgets are under pressure. Security product sales rose in lockstep with the company as a whole, up 6 per cent to $338m.
By geography, sales in the Americas were $7.02bn, up 6.6 per cent, while revenues in the EMEA region were flat at $2.84bn. Sales across Asia/Pacific-Japan-China were $2.01bn, up 10.2 per cent.
Speaking of China, Chambers said that Cisco had nothing to do with the US Congress report on Huawei Technologies and allegations of spying using its comms gear. As El Reg subsequently reported once the investigation by the House Intelligence Committee was made public, what seems to be more accurate is that Huawei and ZTE, which was also a target of the House investigation, had buggy – meaning improperly working – equipment. Cisco needs China to fuel its growth, so it has to walk a fine line.
"China is very important to Cisco and we want Cisco to be very important to China's transformation," Chambers said.
If there is a bright spot, it is the fact that business in the US seems to be picking up. Orders from enterprises in the US increased by 9 per cent in the quarter, with service-provider orders up 9 per cent and orders from all other kinds of commercial institutions up 5 per cent. Orders across the Americas region were up 2 per cent, and across the APJC region grew a tidy 7 per cent; orders, however, were down 10 per cent in EMEA.
By segment, orders by enterprises fell by 1 per cent and in the public sector by 6 per cent. Orders from smaller commercial companies (including consumers buying stuff) rose by 1 per cent, and service-provider orders were up 3 per cent.
Looking ahead, Calderone said that Cisco expected revenues in the second quarter of the fiscal year, which ends in December, to be up somewhere between 3.5 and 5.5 per cent as reported, with non-GAAP earnings per share of somewhere between 47 and 48 cents. To convert that to GAAP EPS, shave off between 8 and 11 cents, which means it can be anywhere from 36 to 41 cents a share, or roughly around where it was in the quarter just ended. ®
Sponsored: Minds Mastering Machines - Call for papers now open