Apple MacBook Pro 13in Retina display review
Exorbitant eye candy, anyone?
Slipped disk
Even the speakers seem to have picked up a bit too – they're still a little shrill on higher frequencies, but there's more weight to the sound than on most of the laptops I've tested recently, so you can listen to some tunes or music videos without automatically reaching for your headphones.

Positively portly: the 13in MacBook Pros compared – standard model (left), Retina model (right)
Along with the Retina screen, the MacBook Pro also gets a slimline makeover. At first glance, the 'unibody' aluminium case looks unchanged. It certainly feels as sturdy as ever, with a large and comfortable keypad and trackpad. However it's a full 11mm narrower than before and Apple has also sliced half a centimetre off the thickness of the unit, bringing it down to an Ultrabook-esque 19mm.
I'd take issue with the weight though – Apple quotes it at 1.62kg, down from 2.06Kg – but it felt a little heavier than that to me and my Jamie Oliver kitchen scales put it closer to 1.7kg. Even so, that's still quite firmly in Ultrabook territory and you can pick it up with one hand and slip it easily into a backpack or briefcase when you're ready to leave the office.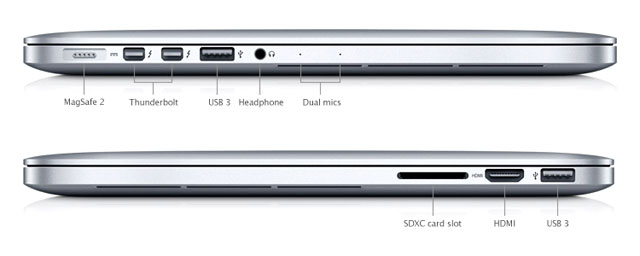 No FireWire, no Ethernet and no adapters included in the price
Performance is something of a mixed bag, though. The 2.5GHz dual-core i5 processor remains unchanged, although the memory has doubled to 8GB and the poorly performing 500GB hard disk of the previous model has now been replaced with 128GB of solid-state storage. Using BootCamp to run the PCMark 7 benchmark software did produce a big improvement – increasing by almost 90 per cent from 2450 to 4600. But since the processor hasn't changed that improvement seems to be almost entirely due to the use of the solid-state drive.
The most tangible benefit of the solid-state drive is that the MacBook Pro boots in just 10 seconds, and I was also rather impressed by the way that it wakes from sleep before you've even fully opened the screen panel once more. However, it doesn't feel noticeably faster for routine tasks such as web browsing or running MS Office, and a quick burst of Far Cry 2 produced the same 30fps as the non-Retina model.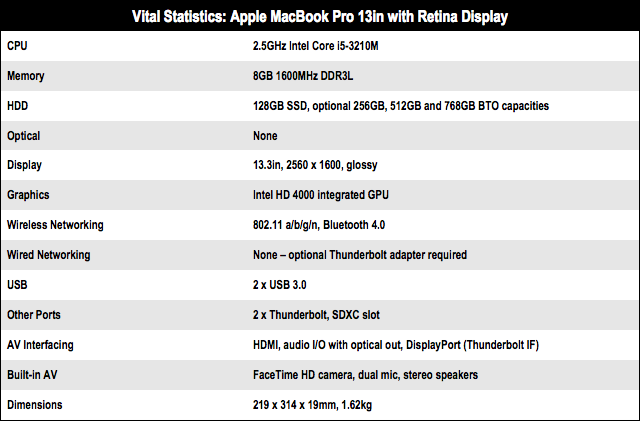 Sponsored: Minds Mastering Machines - Call for papers now open