Apple MacBook Pro 13in Retina display review
Exorbitant eye candy, anyone?
Pass the port
Battery life was a pleasant surprise. I'd thought that the Retina display might give the battery a hard time, but the intensive PowerMark 11 test squeezed a full 3hrs 45mins out of the MacBook Pro. It also held out for 4hrs 45mins when using Wi-Fi to stream video off the BBC iPlayer, so you should get close to a full day's work between charges without too much trouble.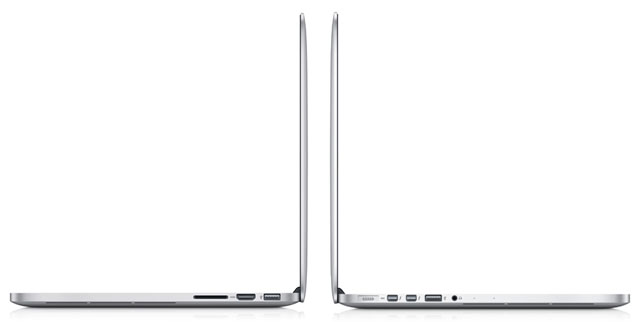 Visual feast at an eyewatering price
I do have some complaints, though. I can live without the optical drive, but the loss of both Ethernet and Firewire ports on this model is irritating, as I still use both in my office. It does gain HDMI and a second Thunderbolt port, and you have the option of buying Thunderbolt adaptors for both Ethernet and Firewire. They'll cost you £25 each, though, and with a starting price of £1449 for the base model those adaptors really ought to be included as standard.
And, of course, it's the pricing that brings everything down to earth with a bump. At £1449, the 13-inch MacBook Pro With Retina Display is £450 more expensive than the standard model – which Apple has kindly kept on sale for the hoi polloi – and that £450 just gets you the Retina display, an extra 4GB RAM and the SSD drive. That strikes me as a pretty hefty premium – especially when you look at the 15in MacBook Pro and see that there's only a £300 difference between the Retina and non-Retina models, and that the 15-inch model also gets 256GB of solid-state storage.
Verdict
In all fairness, the 13in MacBook Pro with Retina Display is undoubtedly a terrific laptop. It provides good performance and battery life, lightweight design, and a screen that none of its PC rivals can even come close to matching. But at almost £1500 it's very expensive indeed, and I'd have thought that the professional users who can afford that price would be more likely to opt for the 15in model anyway. It'd be a tempting upgrade at around £1300, but at this price I reckon Apple is pushing its luck. ®
More Notebooks Reviews

Apple
MacBook Air 13in
Apple
MacBook Pro 13in
Ten...
Ultrabooks
Apple
MacBook Pro 15in
Retina Display
Apple
MacBook Air 11in
Sponsored: Minds Mastering Machines - Call for papers now open

Apple MacBook Pro 13in Retina display review
The Retina display is in a class of its own, but the price will be out of reach for many.
Price:
£1499 (128GB SSD); £1699 (256GB SSD) RRP