Get a grip
And while we're on the subject, Kobo has better design than Kindle for the power switch, too. The button mounted on the base edge of the Kindle is perhaps too easy to switch off unintentionally. Kobo has a slide switch on the top edge. Much better. And if pocket space is crucial, the Kobo Glo has the same size screen but a smaller overall footprint. Anyway, back to the Paperwhite lighting effect.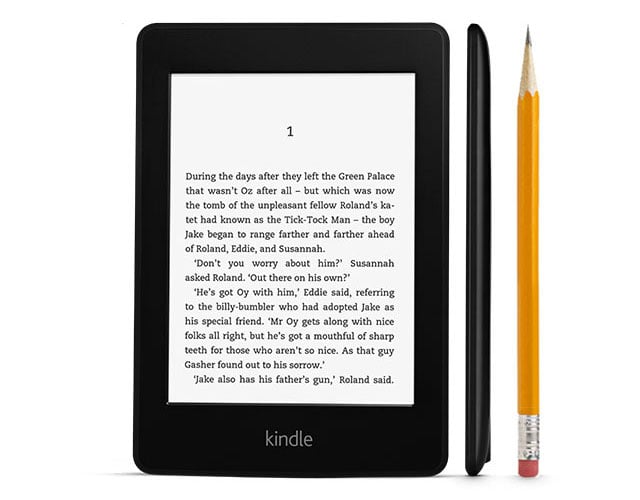 Inked in: You can turn off the illumination for normal e-ink viewing and to preserve battery life
The temptation is to have it always on, just for the way the screen looks bright and appealing. This will drain the battery, of course. E-ink screens go on for weeks, though this will drop if you keep the light on all the time. Amazon says it should last eight weeks, even with the light on. Though if you're going on holiday, the rule is that if you don't check your Kindle battery, you'll discover it's as flat as a pancake before the plane has reached the end of the runway.
The Kindle Paperwhite feels great, thanks to a tactile rubberised finish that will prevent it slipping from your hand. Earlier Kindles were slippier. And the screen on the Paperwhite is higher resolution than earlier Kindles. It's clearly an improvement and looks sharp and inviting. As before, you can set the page refresh – that horribly intrusive white-to-black-to-white flash – to happen every page or every six pages. If you do it every sixth page there are some artefacts that build between flashes but it's so much easier on the eyes that it's definitely the way to go.
There's one other benefit Kindle owners, including those with the Paperwhite model, can enjoy. Amazon has just announced that the Kindle Owners Lending Library has arrived in the UK, which offers 200,000 titles which can be borrowed free. Free? Well, you do have to be an Amazon Prime member, which costs £49 a year and you can't borrow more than one book a month. Still, since Amazon Prime offers free next-day delivery on many Amazon items that still have to be sent to your door in the old-fashioned way, this additional feature for no extra cost is a welcome bonus.
Verdict
If you want a Kindle just for reading books, not for playing games and surfing the net, then this e-ink screen is way easier on the eyes than the Kindle Fire HD or iPad mini. It has the crispest e-ink screen from Amazon yet and it's enhanced by a light that – while not perfectly even in its illumination at the base of the display – is attractive. It makes the grey Kindle screen look almost white like, you know, paper. ®
More E-Reader Reviews

Barnes & Noble
Nook Simple Touch
with Glowlight
Amazon
Kindle Touch
Google
Nexus 7
Bookeen
Cybook Odyssey
WHSmith
Kobo Vox

Amazon Kindle Paperwhite
Amazon joins the glow in the dark e-book reader fray.
COMMENTS
Still no buttons
Still no page-turning buttons on these new Kindles. Why? Sure, the touch-screen interface is great for navigation, etc., but I spend very little time navigating, and most of the time reading. The page-turn buttons on my Kindle Keyboard get pressed thousands of times a week. Surely the cost of including real page-turn buttons in addition to the touchscreen would be tiny. The focus should be on making the reading experience perfect. That "horribly intrusive" flash to refresh the screen bothers me not one jot - but having to stick my thumb in front of the text every page seems a lot more intrusive and is definitely a retrograde step.
Re: At least yours worked
Good story. Maybe you could self-publish it.
Tied in how? I've had a Kindle since February of this year, and haven't spent a single euro on e-books from Amazon.
Colour
Sure, colour e-ink would be nice but even B&W e-ink is much better than LCD for reading.
I don't expect my paper books to show me the internets, so when ereader does not do that either - it's not an issue for me at all.
"Does no-one else like colour...? Yes I know most 'books' are black and white but some include colour pictures and you lose that on a b/w device. Also the battery life is good but is charging a normal tablet every 10 hours of reading such an issue. The iPad mini or Nexus 7 are about twice the price but both do so much more."
I suspect that quite a few people have managed to get the hang of books without pictures.