Oz lays plans to cover possible US met sat gap
Alert but not alarmed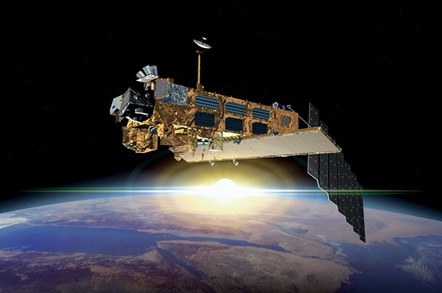 In the aftermath of Sandy-the-storm, a surprised America looked skywards and started wondering about Uncle Sam's weather forecasting prowess.
In particular, venerable organs like Time and the New York Times have voiced concerns that as the National Oceanic and Atmospheric Administration-and NASA-run polar weather satellite program might leave a coverage gap as satellites begin to reach the end of their lives.
To précis the fears: the NOAA's older polar satellites are near the end of their design lives; America's geostationary assets are also ageing; and replacement programs are running late, with launches not possible until 2017.
This led The Register's antipodean hacks to wonder whether Australia would be blind-spotted by an American outage. We put these questions to the Bureau of Meteorology. A spokesperson has responded that while NOAA data is important to this country's forecasts, it's not the only data source used down under.
For a start, coverage is also provided by two polar orbiting Metop satellites operated by EUMETSAT. The international forecasting capacity is also going to get a boost from China, which is soon to launch two polar orbiting satellites in the Fengyun-3 series of birds.
In explaining all this to The Register, the Bureau spokesperson also hosed down somewhat the American media's fear that a Sandy-like storm might go undetected because of the risk that new satellites won't be aloft before the current satellites cease to function.
While the NOAA satellites have been in use for decades, the newest of them was launched in 2009, and in 2011, the US launched the first of the Suomi National Polar-orbiting Partnership birds, which is likely to span any NOAA series "gap". The spokesperson also said that the NOAA series has "a history of significantly exceeding their design life" (something which, The Register would note, is common among many satellites). ®
"Whilst there is some risk of failure of individual spacecraft," the spokesperson told The Regster, "the risk of overall failure of the system is very small." ®
Sponsored: Minds Mastering Machines - Call for papers now open