Facebook's IPO was a disaster? RUBBISH, you FOOLS
Well, not for Facebook, anyway
Acquisitions? Facebook? Really?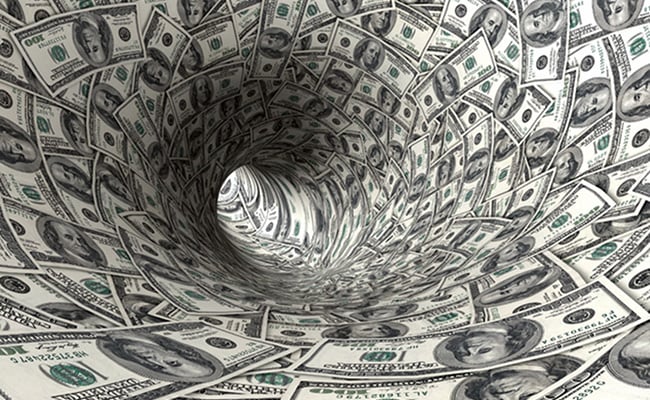 Funnel of cash. Credit: via SXC
Which brings us to the final possible reason why they might want to float the company. To have a liquid currency, as opposed to one restricted by that 500 rule, with which to go buy other companies. But we're not really seeing much evidence of that, are we? Instagram, sure, but other than that they're not exactly printing stock to snap up other players, are they?
Which brings us back to the general view in the financial markets.
Facebook just didn't have any great or convincing reason to go public other than that SEC rule. They didn't particularly want more capital, or more liquid currency and insiders were already able to sell. So it really just was those regulations that led them to it. Which is one reason why there's not been much excitement about the stock from said financial markets. Facebook became public very much as the reluctant bride and that's never something that creates a great deal of excitement.
But what about...
As to whether the flotation was successful, well, from the point of view of those who bought it: obviously not. But from the point of view of the company, the sellers, it was just great. They sold, in good capitalist fashion, for a better price then than they were going to get a week later or any time since.
There are problems with having a low share price, sure.
For example, you might want to issue more stock to increase your capital, perhaps you're running out of money? But as above, they're cash generative so that's not a problem.
You might want to issue more stock to buy other companies: but again, that doesn't seem to be what they want to do either.
The third one is that you're paying your people partly in stock and you want to be able to motivate them. But a low stock price helps not hinders there. Everyone getting issued restricted stock or options is getting them at the current low low prices. Everyone can see that there's more potential upside from a low share price than a high one. Yes, of course, those who got the stock at last year's higher price are pretty pissed but they're already committed to the company.
The end of this story is that Facebook's IPO simply hasn't been a failure. It does depend upon the specifics of the company's situation, yes. They're cash generative and need no more capital. They don't seem to be trying to buy up everyone else. A low stock price just doesn't bother them that much.
And they did manage to get away what they did sell at twice the price or more of today. This is, in that red-in-tooth-and-claw way of capitalism, regarded as a success, not a failure. ®
Sponsored: Minds Mastering Machines - Call for papers now open