Astroboffins spot smiley face on Mercury
Taking a break from science, NASA's hard-working orbiter finds a friend
It may not be an image as mysterious as the "Face on Mars" spotted by Viking I in 1976, but NASA's MESSENGER Mercury orbiter has snapped a shot of whimsical smiley-faced crater on that desolate planet.
"It looks like even the craters on Mercury have heard of Bob Ross!" NASA exclaimed when unveiling the photo, referring to the ever-twinkling host of the ever-cheerful PBS show The Joy of Painting.
The reason for the release of the photo is not, of course, to extol that now-deceased purveyor of all that is sweetness and light, who was known for such lyrical bromides as "We don't make mistakes, we make happy little accidents."
Rather, NASA is calling attention to the successes of its MESSENGER orbiter – a painfully convoluted backronym for MErcury Surface, Space ENvironment, GEochemistry and Ranging – which was launched on August 3, 2004, and which last month won the International Academy of Astronautics (IAA) the 2012 Laurels for Team Achievement Award.
Although MESSENGER was launched over eight years ago, it didn't enter its Mercurial orbit until March 2011. Since its arrival at that hot rock, it has acquired 88,746 images, and NASA has plans to acquire another 80,000 during next year's extended mission.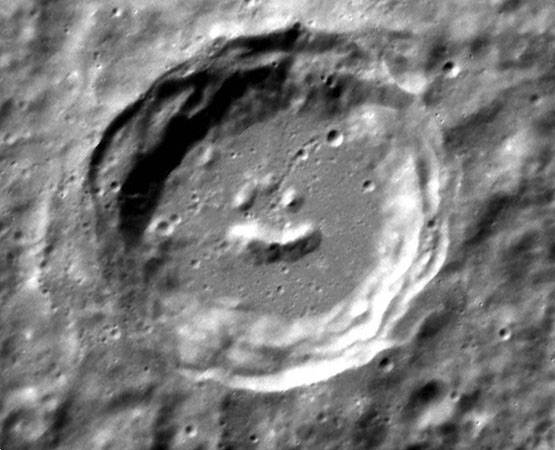 Among MESSENGER's 88,746 images, one smiles back (click for uncropped original)
In addition to those images, MESSENGER has also obtained what NASA defines as "extensive other data sets" from its rich mix of instrumentation: a gamma-ray and neutron spectrometer, magnetometer, laser altimeter, atmospheric and surface-composition spectrometer, energetic-particle and plasma spectrometer, and Doppler radio sensor.
That degree of scientific depth, however, doesn't catch the general public's fancy as much as a single smiley-face crater image might – and during these days of budget cuts and jostling for the few dollars that fall from the tight fists of a deficit-crazed, ax-wielding Congress, NASA is to be forgiven for a bit of "Look at us!" PR jollity. ®
Sponsored: RAID: End of an era?