Volkswagen Beetle car review
Retro done right
Sonic vroom
It's a very willing and tuneful motor though and makes up in brio what it lacks in outright grunt. Economy is reasonable but no more. VW reckons the Beetle should average 47.9mpg but I only just managed to make it over the 40mpg mark in a week of motoring that seldom took me into urban areas. Carbon dioxide emissions are nothing out of the ordinary either – 137g/km isn't bad but nor is it going to win any awards. This rating drops the Beetle into band E for car tax or £120 a year in old money.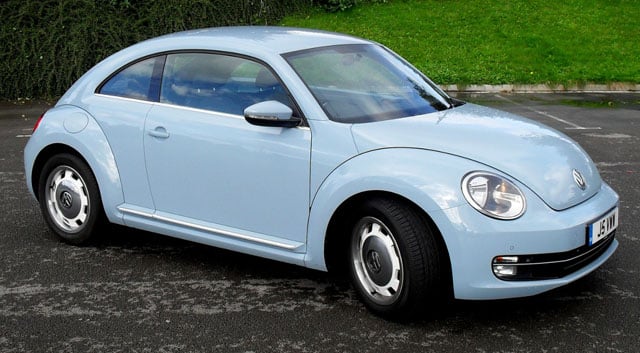 Looks are closer to 1938 than 1999 model
Bolted to the engine is the latest version of VW/Audi's highly regarded DSG or Direct Shift Gearbox, now with 7 speeds. It's a clever transmission with two dry clutches, two input and output shafts and more electronics than you can shake a stick at. Other than a desire to hold onto the short first gear a bit too long on getaway and too many ratios – you really don't need more than six – it's a very nice box and does what you want when you want almost all of the time.
There are no flappy paddles to override the automatic cog swapping but you can stick it in manual or Tiptronic mode and nudge the gear selector back and forth to change up and down, which is a pleasingly rewarding way to drive.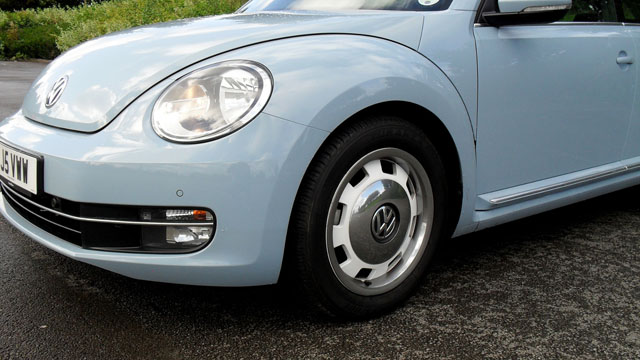 Alloys are made to look like steel
The cabin design has a lot in common with the minimalist VW Up due to the abundant use of colour-coded metal and plastic. Borrowing from a cheaper model is a risk but it's paid off. The Up is one of the most pleasant cars I've sat in recently – the eight grand price tag notwithstanding – so I have no complaints about encountering a similar design ethos in the Beetle.
Considering the shape of the rear metalwork, it's a surprisingly spacious car. Yes, the headroom is at a bit of a premium when sat in the back but I managed to get all 5'10" of me behind a 5'7" driver without any excessive contortion or discomfort. The boot's not a bad size either.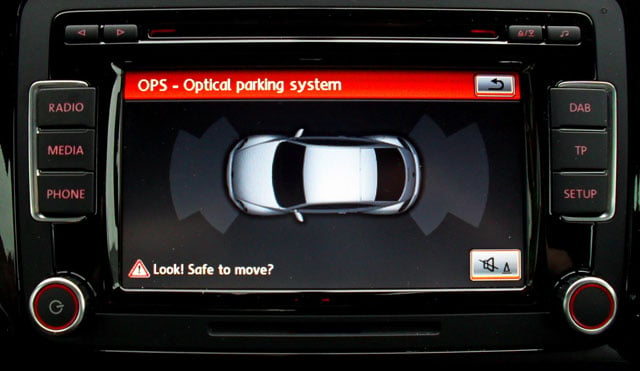 Parking sensors - a must-have option
I've heard more than one motoring hack opine that the Beetle's ride is too firm but that's stuff and nonsense. In my opinion, VW has struck a near ideal compromise between handling and comfort, with even pretty vast potholes not causing too much of a disturbance. In all circumstance, the Beetle handles very well and can be hustled down twisty roads with gay abandon.
Sponsored: Minds Mastering Machines - Call for papers now open