Smarter, better, faster... breakable
The Sharp J-SH04 - available only in Japan - was the first phone to implement a snapper, pitching itself towards picture-crazy Tokyo yoof. The craze slowly crept towards the shores of Blighty, and in 2002 T-Mobile launched the UK's first mobile picture messaging service.
Customers could fork out an extra £20 a month to use the feature with flashy new handset, the Sony Ericsson T68i. A separate camera attachment was necessary, though, as the phone failed to come with one built-in.
Nokia soon fixed that problem with the 7650 - the UK's first proper camera phone. With a quality of just 0.3 megapixels (640 x 480 pixels), it was useless for anything serious, but punters did start to use Europe's pricey MMS service and the Symbian OS v6.1 brings back fond memories. Snake in colour… oh yeah!

Sony Ericsson T68i (2002), Nokia 7650 (2002) and BlackBerry 5810 (2002)
Having spent a few years producing two-way pager devices, Research in Motion launched its first BlackBerry handset in 2002. Its focus on email capabilities with a built-in Qwerty keyboard proved colossally popular among the business community.
Three meanwhile launched the country's first 3G service though struggled at first to get people signed up. My memories of the first phone to support it - the NEC e606 - are far from fond and after being stung by the price of Three's fresh network, I switched to Vodafone for its 'spend-a-fiver get free weekend calls' incentive… Bargain.
Motorola flexed its muscles in 2004 with the launch of the iconic Razr handset, which sold over 50 million units within two years, however by this time smartphones were already on the rise to dominance and even feature phones started to converge into smarter devices. I remember my boss at the time salivating over the fact the upcoming Nokia N95 had built-in Wi-Fi.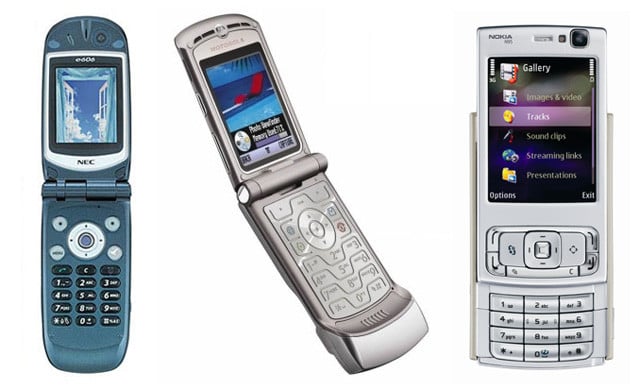 NEC e606 (2003), Motorola Razr (2004) and Nokia N95 (2006)
Since the iPhone's introduction in 2007, we've literally seen hundreds of smarties hit the shelves, the rise and rise of Google's Android platform and of course, Microsoft's latest attempts to crack the market with Windows Phone. Nokia has struggled to retain dominance, RIM's handsets have lost their cool and our mobile devices have grown into fully-fledged computing slates.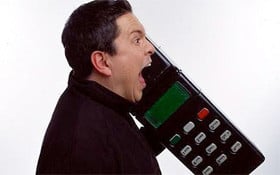 Nevertheless, according to recent research from YouGov carried out for Carphone Warehouse, a third of those over the age of 45 still use their first mobile phone, which highlights just how quickly the market has developed. And perhaps how well-built the handsets of yesteryear, like the Nokia 1011, were.
It's hard to believe things have changed this dramatically in half a decade and it'll be more than interesting to see where we're at in another five years.
Either way, while the oversized devices immortalised in Dom Joly's famous Trigger Happy sketch have all but died out, their memory lives fresh in the mind and upon a milestone of such significance, we doff our caps to the Nokia 1011 and the 20 years of digital blowers that followed. ®
COMMENTS
"while the oversized devices immortalised in Dom Joly's famous Trigger Happy sketch have all but died out"
No they haven't. Most phones are oversized nowadays. There was a time when having a small, well-built phone was a good thing. Now everyone apparently wants something that's too big to fit in your pocket, will get scratched by your keys if you try to, and will shatter if you drop it.
Oh, and the battery doesn't last an entire day.
Downvote away, fanbois.
Re-writing History
"Since the iPhone's introduction in 2007, we've literally seen hundreds of smarties hit the shelves..."
Rubbish - for years before iPhone's introduction in 2007, I have been using smartphones; the original SPV (Classic) (2002), SPV E200 (2003), SPV C500 (2004), Samsung i300 (2005), XDA Mini S (2005 - 1st of my touchscreens), XDA Orbit II (2007), HTC HD2 (2009) & now my S3... only the last 2 of these post-date 2007 iPhone. All of these have music playing functionality as well as the ability to load different applications.
Let's get this straight - Apple DID NOT invent the smartphone or even the touchscreen smartphone. They did not invent the portable digital music player. They did not invent the tablet computer.
They DID do much to popularise these device families, but they are not the ancestors!!
So stop trying to rewrite history like some glove puppet of Apple & write a factual article that acknowledges Apple's influence & even dominance; but credit where it is due to non-Apple smartphones.
Ahhh...
Nokia 6310i.... They never really improved on that one?
Well the small, well-built phones that fit in your pocket and have a battery life measured in weeks can now be had even in your local supermarket for about £20 nowadays. They've certainly gotten less popular than the newer pocket computers you can fit in your pocket (just) but they're still available, so I'm not entirely sure I understand your gripe.
Re: 20 years?
Agreed, the formative years/rise of the smartphone seems to have been glossed over. Could have easily written another 2 pages.
Where's the section about HTC providing telco branded smartphones, Windows Mobile was surely a big kick start to the smartphone revolution with the various handsets HTC were building. I had about 5 Windows smartphones before iPhones and Android hit the shelves.