Fire wall
And herein lies what is potentially a deal breaker for El Reg readers: the Kindle Fire HD is so closely tied in to Amazon's own App Store that it blocks access to all other Android App Stores. The Fire may run on Android 4.0.3 Ice Cream Sandwich but don't expect to use it as a general-purpose Android tablet because Amazon won't let you.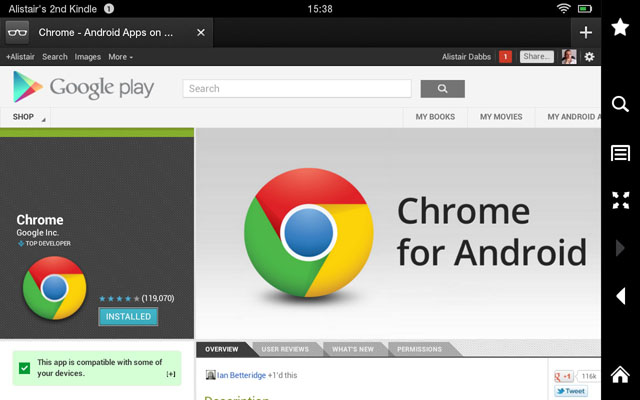 This is just to fool you: you can try to instal Chrome instead of Silk but it can't be done.
Competing apps for reading e-books in ePub format, such as Kobo, are banned, for example, which wouldn't be so annoying if the Kindle reader itself supported ePub, which it doesn't. I also came across apps in Amazon's App Store that, when launched, announced themselves as being out of date and prompted me to download a later version, whereupon Amazon's digital riot police stepped in and prevented me from doing so.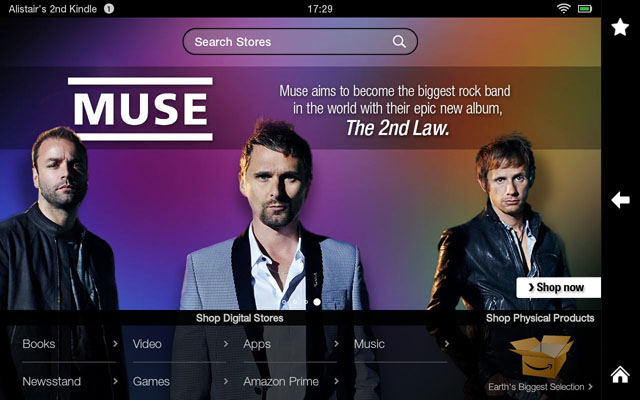 It's actually easier to buy digital music with the Kindle Fire HD than it is with a 'proper' computer.
Frankly, if I was a bookworm who made purchases from a variety of e-book stores, this would not be the tablet for me: I'd be better off with an Android device that allowed me to instal Kindle, Kobo, Blio, Nook, etc apps alongside each other. You can't instal Google's YouTube app, either. Hell, even iOS devices let you do all this, making Apple seem like a bastion of openness by comparison to Amazon.
Yet within these limitations, the Fire HD is still an affordable quality tablet that could suit Amazon fans down to the ground. Just don't expect to push the boundaries.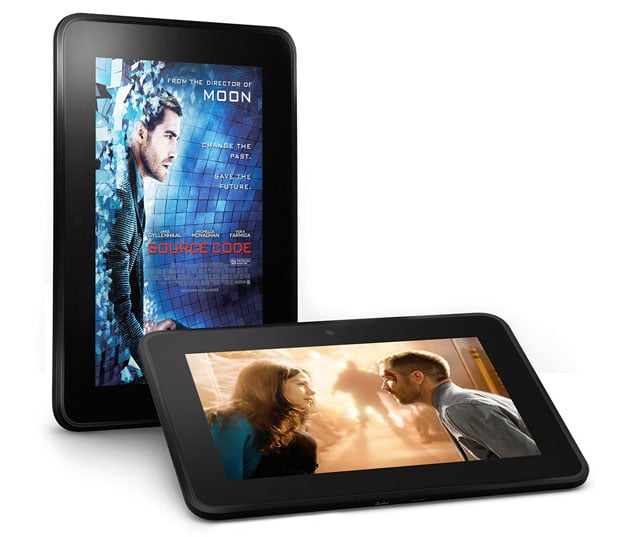 Amazon's walled garden approach to installing apps and other content is more stringent than Apple's
Verdict
OK, perhaps I could break down the Fire's defences with SDKs and sideloading tricks but why should I? My mum can't do this and I thought she symbolised the Fire's target market.
On the other hand, if you're technically competent or very patient or are buying it for someone who is happy to use it for little more than consuming digital media exclusively from Amazon and Lovefilm in the comfort of his or her own home, the Kindle Fire HD is undeniably an attractive purchase. The display is beautiful and, once you've set everything up, the device is pretty simple to use. Nor should you ignore the fact that it is significantly cheaper than any of its competitors while offering double their storage capacity. ®
More Tablet Reviews

Apple
iPad Mini
Acer
Iconia A110
Toshiba
AT300
Archos
101 XS
Samsung
Galaxy Note 10.1

Amazon Kindle Fire HD
A luxury mini-slab at a competitive price but frustratingly limited and a poor Android choice.
Price:
16GB (£159 with ads) or £169 (no ads); 32GB £199 (with ads) or £209 (no ads) RRP
COMMENTS
Why anyone would get this over a Nexus 7 is beyond me.
" the Kindle Fire HD is so closely tied in to Amazon's own App Store that it blocks access to all other Android App Stores. The Fire may run on Android 4.0.3 Ice Cream Sandwich but don't expect to use it as a general-purpose Android tablet because Amazon won't let you."
Stopped reading at that point. If they are adopting Apples closed garden I am not interested at all regardless of what specs it has.
No single vendor does everything I want all the time. I want choice and the ability to buy where and what I want to buy.
Not interested... Next.
Why stop there?
You were only 3 short paragraphs from the end
Think the reviewer has missed the point a little
The Kindle Fire (and Kindle Fire HD) isn't a "normal" Android tablet. This is a tablet which runs Android but a modified version, reskinned, and linked to Amazon rather than Google. You don't switch it on and log in to a Google account because it isn't a Google tablet - it is an Amazon tablet, which is why you sign in to an Amazon account. You also don't get apps from the Google Play store, instead you get them from the Amazon app store. For some people - the reviewer included - this is maddeningly restrictive, but for others it is just fine. Some people want a Kindle that is backlit, does colour, plays music, can surf the internet more quickly than an e-ink Kindle, and nothing more, and for these people this is a suitable device, but if you don't want the restrictions of being tied to Amazon then there are plenty of other tablets available, both running Android and other operating systems.
Wow, Mr Dabbs, that was a desperately poor review.
Firstly, you present "can be used one-handed" as some sort of must-have criteria (which, let's be fair, is likely true only of the most compulsive onanist).
Secondly, you use the imaginary experience of your mum unboxing the device as a negative, then ignore the likely content preferences of your mum and the demographic in which she sits to moan about how Lovefilm has focused on getting recent, hugely popular period dramas (watched by millions including, in all probability, your mum) instead of getting old content from between 10 and 25 years ago.
Lastly, but worst of all, you whinge about the limitations of the device (fair enough) and demonstrate no interest whatsoever in exploring whether they can be circumvented - I don't expect " Can I use this as a drop-in replacement for my iPad if I glue a shiny fruit sticker on the back?" to be the core question asked by someone writing for The Register, and your utter failure to even ask whether you can sideload applications and/or content suggests that you've either ignored or fundamentally misunderstood the difference between an Android Tablet and an Android-based Kindle/Amazon tablet.
I enjoy your Something For The Weekend pieces, but this really was a shocking drop in form.