Silk ties
The initial out-of-the-box experience was dreadful. Expecting to enter my Google sign in and immediately have access to all my email, contacts, calendars and web bookmarks, I was disappointed to find that this particular Android tablet asks only that you sign in to Amazon.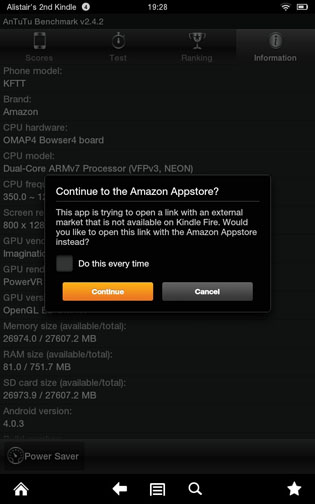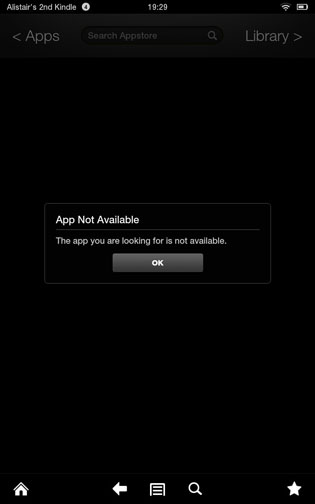 If it's not in Amazon's App Store, you can forget it. Get used to seeing this message... and this one too
Fine, this puts your previous Amazon digital purchases, such as e-books and music downloads, at your fingertips, but leaves you to plod around setting up email and everything else by yourself. If I gave a Kindle Fire HD to my mum for Christmas, I'd have to take a train up to Leeds simply to set it up for her.
Movies and TV shows are channelled to the tablet exclusively through Lovefilm, whether you want an account with them or not. Even as an existing Lovefilm customer, I found the registration process on the Kindle Fire HD to be a circular, confusing and unresponsive mess. After an hour of being asked to sign in again and again, only to be returned to the same dumb, half-blank screen with some untappable feature film slides at the top, I told myself that this was the worst tablet I had ever tested.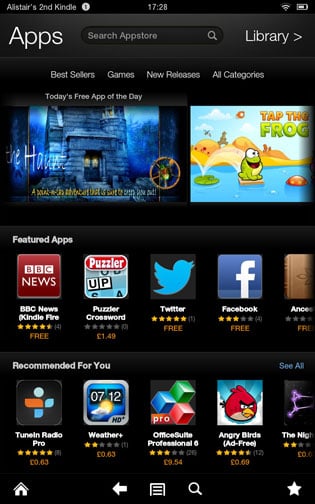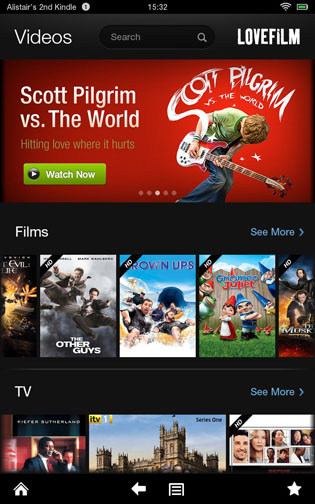 Restricted apps selection, with many out of date. There's no alternative video service, not even YouTube, you're tied in to Lovefilm
It was only the following morning that the Videos category inexplicably sprang into life by adding 'Watch' buttons and showing rows of browsable films and TV shows. It's a good job I'm patient: my mum would have thrown the Kindle Fire HD into a drawer the previous evening and never touched it again.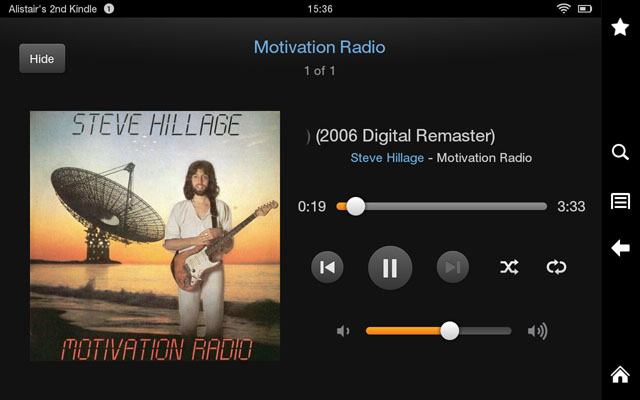 The Fire HD features a Dolby audio engine yet there's still no bass, but the external stereo speakers are loud and clear
Although Lovefilm is offers a terrific DVD and Blu-ray service, its range of digital delivery titles through the Kindle Fire HD is a bit too mainstream for me. The range of British TV shows was pitiful. No Father Ted, no Spaced, no The IT Crowd, no Not Going Out, although plenty of Downton bloody Abbey and similar shit. The search engine logic is clunky too: if you type "black adder" instead of "blackadder", you'll turn up no results at all.
Owners of iOS devices can find all of these British shows on iTunes, by the way.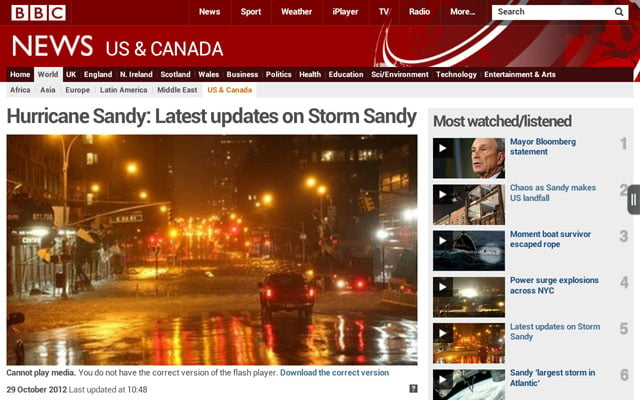 Here's Silk in action from its 'Trending' web pages. Note the error message immediately below the non-working video
Amazon's own webkit browser, Silk, is not just the default web browser but the only one you're allowed to use. This is a shame because it doesn't seem to be able to handle certain types of media. For example, Silk presents you with a list of 'Trending' sites such as BBC News, but when you go to a BBC News page, you will find that Silk cannot play any of its videos.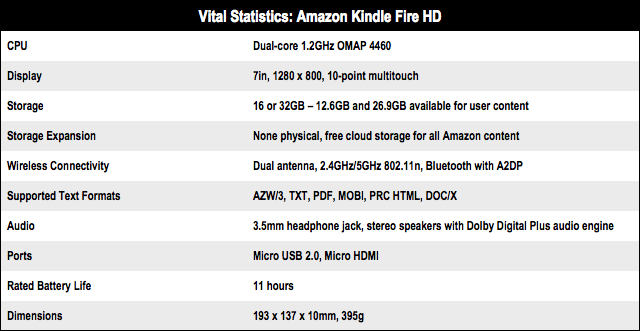 COMMENTS
Why anyone would get this over a Nexus 7 is beyond me.
" the Kindle Fire HD is so closely tied in to Amazon's own App Store that it blocks access to all other Android App Stores. The Fire may run on Android 4.0.3 Ice Cream Sandwich but don't expect to use it as a general-purpose Android tablet because Amazon won't let you."
Stopped reading at that point. If they are adopting Apples closed garden I am not interested at all regardless of what specs it has.
No single vendor does everything I want all the time. I want choice and the ability to buy where and what I want to buy.
Not interested... Next.
Why stop there?
You were only 3 short paragraphs from the end
Think the reviewer has missed the point a little
The Kindle Fire (and Kindle Fire HD) isn't a "normal" Android tablet. This is a tablet which runs Android but a modified version, reskinned, and linked to Amazon rather than Google. You don't switch it on and log in to a Google account because it isn't a Google tablet - it is an Amazon tablet, which is why you sign in to an Amazon account. You also don't get apps from the Google Play store, instead you get them from the Amazon app store. For some people - the reviewer included - this is maddeningly restrictive, but for others it is just fine. Some people want a Kindle that is backlit, does colour, plays music, can surf the internet more quickly than an e-ink Kindle, and nothing more, and for these people this is a suitable device, but if you don't want the restrictions of being tied to Amazon then there are plenty of other tablets available, both running Android and other operating systems.
Wow, Mr Dabbs, that was a desperately poor review.
Firstly, you present "can be used one-handed" as some sort of must-have criteria (which, let's be fair, is likely true only of the most compulsive onanist).
Secondly, you use the imaginary experience of your mum unboxing the device as a negative, then ignore the likely content preferences of your mum and the demographic in which she sits to moan about how Lovefilm has focused on getting recent, hugely popular period dramas (watched by millions including, in all probability, your mum) instead of getting old content from between 10 and 25 years ago.
Lastly, but worst of all, you whinge about the limitations of the device (fair enough) and demonstrate no interest whatsoever in exploring whether they can be circumvented - I don't expect " Can I use this as a drop-in replacement for my iPad if I glue a shiny fruit sticker on the back?" to be the core question asked by someone writing for The Register, and your utter failure to even ask whether you can sideload applications and/or content suggests that you've either ignored or fundamentally misunderstood the difference between an Android Tablet and an Android-based Kindle/Amazon tablet.
I enjoy your Something For The Weekend pieces, but this really was a shocking drop in form.