Apple iPad 4 Wi-Fi only tablet review
Better slate than never
Big screen star
I don't fall into the 'I'd like a HDMI port on the off-chance' camp, having only occasional - maybe twice a year - need for it. And it's more a 'want' than a 'need'. Ditto SD and USB. My Nexus 7 has neither of these, either. It does have a GPS pick-up, mind, which the Wi-Fi only iPad lacks. Not that I'd ever use a 10in tablet as a satnav, so it's more a failing for the iPad Mini.
I would say that Apple is looking less competitive on storage. If it doesn't want to charge less than £400 for the entry-level iPad, it should by now be offering that model with 32GB of Flash, not 16GB. It can afford to be generous, and generosity will help sway many buyers who're also considering other tablets.

Extensive bezel colour choice, not
Beyond the screen, the iPad 4 delivers considerably more oomph than its predecessors. The Geekbench testing app showed that the iPad 3's performance was much the same as the iPad 2's, but the new model scores considerably higher: 1766 to the iPad 2's score of 763. That's in part because the chip is better, but also due to a 40 per cent increase in CPU clock speed.
Despite that, there's no degradation in battery life - up to ten hours, says Apple, and I concur. If that's due to a bigger power cell inside, it hasn't increased the gadget's weight or thickness. It has gained a pair of upgraded cameras and a Lightning port, for which Apple really, really should have bundled an adaptor. I've deducted points off the score for that. Lightning is unquestionably a more elegant technology than micro USB, but the latter is more universal so I'd have preferred it, even if I have to take care to put it in the right way.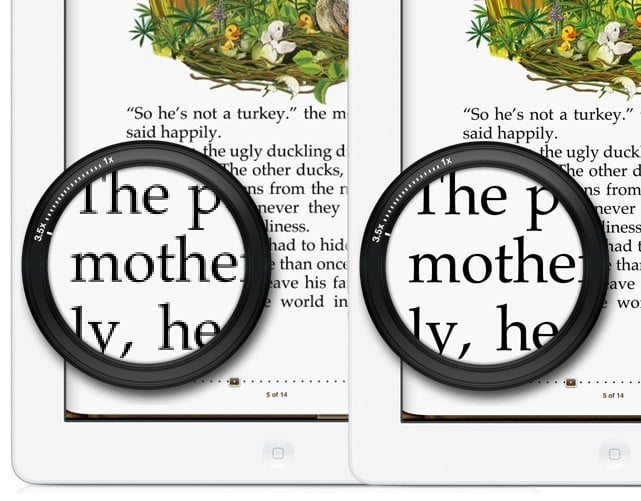 Retina gotcha: text is certainly better on the retina display (right) than that of the iPad 2 (left) but not all
website and app graphics have a resolution to suit the high-pixel panel
Thanks to the App Store, there are plenty of apps to help you access media content on remote Nas boxes, and there's Dropbox, Microsoft's SkyDrive, Google Drive and others of their ilk for smaller files. You don't even need iTunes any longer - there are third-party desktop apps for copying files into iOS apps' sandboxes. I wrote one of my own, using Jeff Laing's handy, reverse-engineered Mobile Device Access framework.
So there's very little reason, it seems to me, to reject the iPad 4 on grounds of connectivity. Or because the screen is pants (not the case), the battery life is poor (not so, either) or it lacks horsepower (ditto). To do so because you think it's too expensive, doesn't run a Google OS, lacks ports you want, or you just don't like Apple... well, knock yourself out - there are many, many equally capable alternatives out there for you. That's what choice is all about.
Verdict
It's daft to say Apple's fourth-generation iPad is its best yet - how could it not be? If you're sure you want an iPad, fanboy or not, it's the one to go for. Still, there's no need at all to upgrade if you have an iPad 3, of course - wait for the 5, at least. I wouldn't go from an iPad 2 if it wasn't for the retina display, though the new model's performance hike is welcome. Having to cope with a new connector is less so, but new buyers won't be overly inconvenienced, though they may baulk at the price. ®
Thanks to the missus for the review sample
More Tablet Reviews

Apple
iPad Mini
Ten...
Apple iPad Mini
alternatives
Microsoft
Surface
Toshiba AT300
Acer
Iconia Tab A700
Sponsored: Minds Mastering Machines - Call for papers now open

Apple iPad 4 Wi-Fi only tablet review
Apple soups up its 9.7in tablet's performance and adds Lightning, but it's the "retina" display and software selection that makes this such a worthy slate.
Price:
£399/$499 (16GB), £479/$599 (32GB), £559/$699 (64GB) RRP