Angry Birds Star Wars game review
Rovio joins the galactic empire
Rovio's global takeover
Angry Birds Star Wars is a predictable affair and isn't anywhere novel enough to tempt me into spending my journeys to work engaged in another Rovio outing. It's good, but as someone with minimal Star Wars enthusiasm and too many hours under my belt playing Angry Birds already, it didn't hold my attention for long.
I do look forward to fresh games from Finland's biggest developer, though, after enjoying its less-successful Amazing Alex app, released earlier this year. And Rovio says there are plenty more in store.

While numerous new titles are promised, it's clear where the moolah really comes from, so who can blame Rovio for focusing firmly on the growth of its feathered franchise?
The influence of former-Fox employee Andrew Stalbow - who jumped aboard the Rovio ship after thrashing out a deal for the Angry Birds Rio tie-in - appears to have no bounds.
In the past 12 months, the Angry Birds franchise has shot through the roof, rocketing into space and leading to comparisons being drawn with the likes of Sanrio's Helly Kitty as a pop-culture brand with mammoth merchandise potential.
There has been steady market penetration too. Rovio raked in roughly €23m (£14.4m) from merchandise in 2011 alone and with the bombardment of plush toys and increased popularity, that figure could easily double in 2012.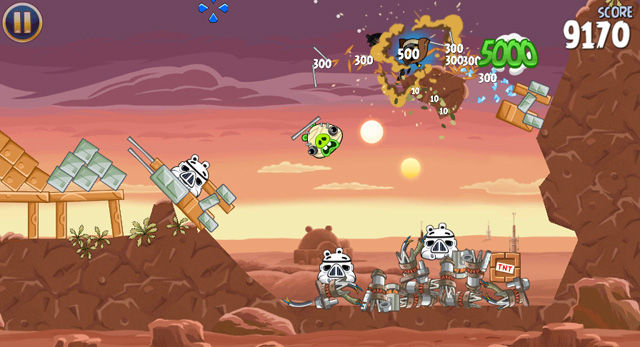 We've long heard about the Angry Birds cartoon series and following Rovio's acquisition of an animation studio, a collection of 52 shorts are on the way soon. Stalbow says discussions with broadcast partners are ongoing and apparently Hollywood is "very hot" for Angry Birds right now.
As Yoda said "once you start down the dark path, forever will it dominate your destiny," yet the force is certainly with Rovio right now. ®
Sponsored: Minds Mastering Machines - Call for papers now open

Angry Birds Star Wars game review
Available on iOS, Android, Windows Phone, Mac and PC - tested on Motorola Razr i.
Price:
Free (ad supported), £0.69 or £1.99 (HD version) RRP