President Obama declares VICTORY over JUSTIN BIEBER
I think we all know who the real enemy is
President Obama beat out Justin Bieber today to become the tweeter with the most retweeted tweet in the history of the internet.
His victory tweet "Four more years" accompanied by a photo of him hugging wife Michelle has been retweeted by over 637,000 people and favourited 215,000 times.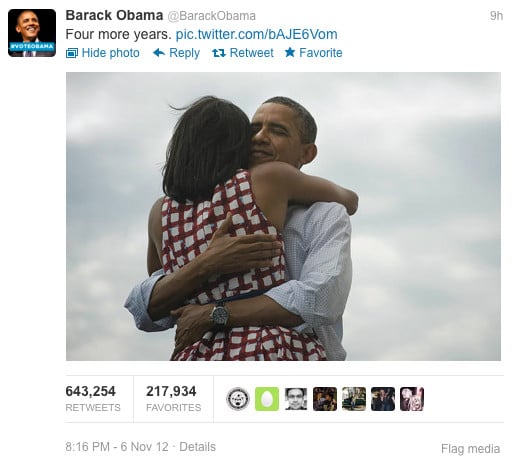 Most retweeted ever
Obama's tweet knocked Justin Bieber's tweet of 26th September off the top spot in the retweet tables according to stats compiled by media bistro.
Bieber's tweet - up till now the most retweeted ever - was about a six year old fan, Avalanna Routh, who recently died from cancer. Bieber had actually donated to her cancer care and the tweet got retweeted over 200,000 times.
The President also won re-election in the United States.
Like Obama, Bieber has a strong power base among young and the female segments of the population.
Bieber was in the news yesterday because the 18 year old popstar is suing an American company that made a sex doll in his image "Just-in Beaver", on sale for $20.
But Obama beat Justin there too. The President inspired a blow up sex doll over two years earlier - in 2010. ®
Sponsored: Minds Mastering Machines - Call for papers now open