Intel in Flash flush, offers 'smoother' fresh jobbie to data centre bods
Read the 'rithmetic on righted 'riting from Chipzilla
Intel has replaced its data centre-class 710 SSD - and its poor write performance - with a DC S3700 that reads twice as fast and writes 15 times faster.
The DC, standing for Data Centre, S3700 uses the same 25nm High-Endurance Technology (HET) multi-level cell NAND as the 710 - it was announced roughly only a year ago after all. That product could last as long as it took 1.1PB to be written in its 300GB max capacity model.
The S3700 can handle 10 full drive writes a day for five years, about 14.6PB at the 800GB capacity point, and 7.3PB at the 400GB level; a clear advance on the 710. It comes in 100, 200, 400 and 800GB capacity points. Its 4K block random read performance is up to 75,000 IOPS, the 710 did 38,500. Random write performance is 36,000, far more than the 710's pathetic 2,700. Apparently the older SSD used a Sandforce controller whereas the S3700 has an 8-channel Intel ASIC driving the flash.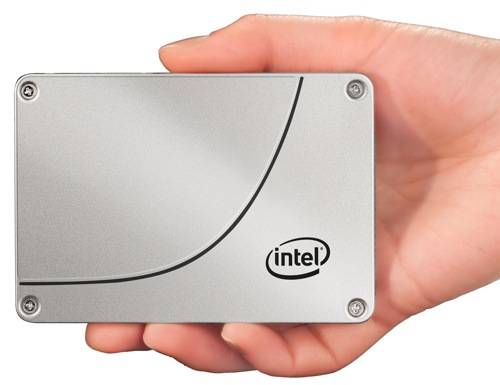 Intel SSD DC S3700
Sequential read performance is up to 500MB/sec, the 710 doing 270MB/sec, and the sequential write performance is up to 460MB/sec, increasing with the product's capacity. The 710 topped out at 210MB/sec. The 2 million hours MTBF rating of the 710 is unchanged but that product's 128 bit AES encryption has improved to 256 bit. Latency is as low as 65 microseconds for a sequential write.
Intel states: "This accelerated storage performance gives parallel multi-threaded computing increased storage throughput to keep multicore CPUs more active. This reduces lapses in response time for end users for a smoother computing experience. " This suggests that the S3700 is seen as a server-attached SSD as having at the end of a network link would increase the latency Intel is trying to bring down.
This new Intel drive outclasses the WD Hitachi GST subsidiary's Ultrastar SSD400M, co-developed with Intel ironically, and using 25nm Intel NAND. That drive does 56,000 random read IOPS, 24,000 random write IOPS, and has 485MB/sec sequential read and 385MB/sec sequential write bandwidth. It's endurance is 7.3PB written over its life, the same as a 400GB S3700 according to our calculations, and maximum capacity is 400GB. This drive comes with a 6Gbit/s SAS interface.
Samsung has a PM830 enterprise-class SSD, with 2X nm MLC NAND, offering 500MB/sec sequential read and and sequential writes up to 350MB/sec. It also has a 6Gbit/s SATA interface. We don't know the random read and write IOPS, Samsung being coy.
Toshiba has its PX02AM server and storage array SSD; a 24nm eMLC-based product with 100, 200 and 400GB capacities. It does up to 36,000 random read IOPDS. 5,000 random write IOPS (oops!), 500MB/sec sequential read, 240MB/sec sequential write, all through a 6Gbit/s SAS interface, and a lifetime endurance of 2PB written at the 400GB capacity level. Intel's S3700 outclasses it. Toshiba is transitioning to 19nm technology though and probably has a new enterprise SSD in development that matches and/or beats the PX02AM.
The S3700 is a 2.5-inch drive, but with a 1.8-inch variant at the 200GB and 490GB capacity points. It is sampling now, with general availability starting at the end of the year and volume shipping early-ish in 2013. ®
Sponsored: Minds Mastering Machines - Call for papers now open