Surface more profitable than iPad
Microsoft's margins greater than Apple's
Microsoft's Windows RT-based Surface tablet - designed to compete with the full sized Apple iPad - has a larger profit margin than its rival, a teardown analysis has revealed.
The Surface, with its minimum 32GB of Flash storage and optional Touch Cover, has a bill of materials (BoM) that totals $271. Chuck in an additional $13 to cover manufacturing costs, and the whole thing costs $284 to make, market watcher iHS iSuppli has claimed.
Over $100 of the BoM is pumped into the Surface's 10.6in, 1366 x 768 touchscreen display, with memory priced at $34 and the device's Nvidi Tegra 3 processor a mere $21.50. Check out the full BoM table below.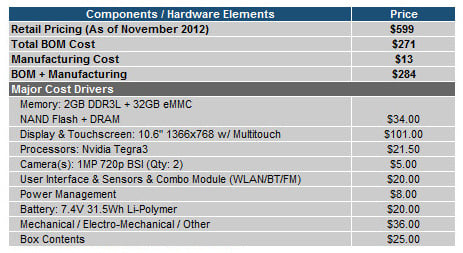 Source: IHS iSuppli
With a retail price of £479/$599, the Surface generates both hardware and manufacturing profits that are higher than the low-end iPad, in margin percentages at least. Microsoft could price the product at $499 and still stay ahead, iSuppli reckons.
Even without the optional Touch Cover unit - which costs Microsoft roughly $17 a pop - profit margins remain greater on a per-unit basis.
When stripping down a 16GB iPad 3, iSupply concluded it had a total BoM price of roughly $347.55.
The caveat in all this is, of course, that BoM figures don't take into account the cost of the core software and promoting the product.
Separately, teardown service iFixit.com concludes in its own Surface X-ray that the Redmond firm's fondleslabs are easier to repair. ®
COMMENTS
Because it has a cheap ass low res screen, but for it to be profitable they have to convince people to buy it !
I actually have a Surface. Been using it for over a week now. Honestly, the screen is fine. Everything is very clear and it's extremely easy to read text on it. Haven't used it for video much yet, but it's good so far.
Re: Why?
So, just to be clear, you DON'T think that the Surface is competition for the iPad but is instead competition for the Nexus 7 or the Kindle (FireHD I presume?) So a 10.1" tablet that has numerous business and consumer uses as well as a possible desktop replacement for the less intensive user ISN'T competitive with a 9.7" video player with some apps? But you think that that it IS directly competitive with a 7" tablet device running Android.
Sit down son before you hurt yourself, or someone else. If I was Ballmer I'd come round to your house and punch you on the nose before throwing some sales figures and market share graphs at your bloddied nostrils. Different people want different things from their tablet devices, I personally don't like the 7" form factor and despite initially loving my ipad I am becoming increasingly frustrated at the number of things it DOESN'T do, or doesn't do well, especially in a productivity space. Why should I always have to buy an app for something?? Anyway, that's off topic. Point is, I've actually used a surface unlike yourself and can safely say that it's a very nice device and the screen resolution isn't that much of a problem since 1080p doesn't really stream well. Mind you, the screen on the new, not quite so new, 3rd generation, stop gap, must get something in the shops iPad is fantastic and Avatar in 1080p looks amazing. Which is why I'll buy the Surface Pro when it comes out :)
Re: Interesting breakdown
Look how much a class 10 SDXC card would cost of equivalent size and figure that someone like Apple could probably get the same flash for half the price. It might cost them £20-25 for a 64GB flash part.
Of course Apple slaps a £160 markup on the 64GB model.
Interesting breakdown
I'm surprised that the RAM and flash cost more than the CPU ... and that the battery doesn't account for more of the cost.
I'd really like to know the difference in parts cost between 16GB, 32GB, and 64GB as fitted to iPads (and Galaxies, and the like); and the cost difference between a low-res "HD" 1366x768 screen and Apple's 2048x1536 "Retina" displays. A comprehensive price-list would be fascinating reading ... and would help us all to understand where we're being ripped off and where we aren't!