Ring of gold
Not that the series' momentum has slowed any, with Halo: Reach taking $200 million in global sales on its launch day alone, and not a Master Chief or Cortana – his buxom, curvy AI companion – in sight. All told, some 46 million copies of Halo-related games have shipped, with takings of $2 billion over its lifetime - and that's before Halo 4's launch. Even the spin-off titles of Halo: ODST and Ensemble Studios' real-time strategy, Halo Wars, have easily topped the million mark.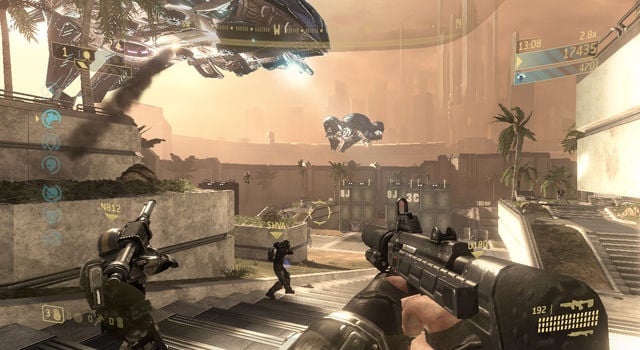 So successful has the series been that games created to rival it – generally borrowing and stealing any number of its aforementioned qualities – have even been dubbed "Halo Killers". Not that the likes of Killzone, Haze and NOVA have ever realistically come close to really rivalling Bungie's creation - but then nor have they ever really looked to copy what is arguably Halo's most interesting facet: those huge open environments chock full of malevolently intelligent Covenant opponents.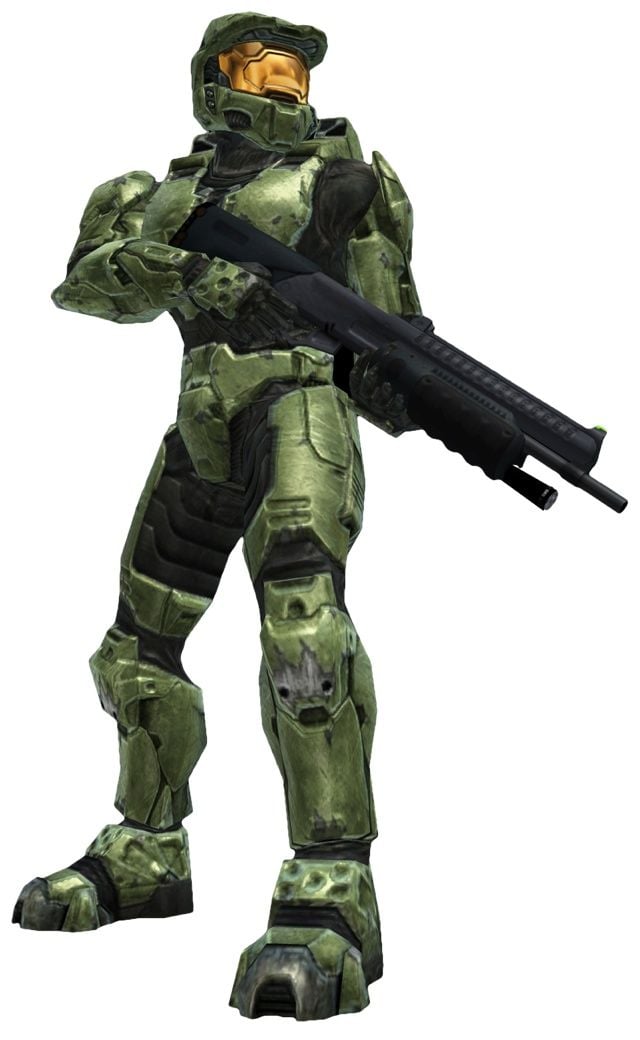 The legacy of Halo is such that it has penetrated into a multitude of other entertainment industries. Comics and books have followed, so too animated shorts - most created by fans using the game's own engine - and whole series of action figures by McFarlane Toys. The recently released Halo 4 soundtrack composed by Neil Davidge even sold 9000 copies in its first week of sales, taking 50th place in America's Billboard charts.
A franchise with such a following has inevitably led to flirtations with Hollywood. Screenwriter Alex Garland - The Beach, 28 Days Later, Dredd - having reportedly penned a script that such luminaries as Peter Jackson and Neill Blomkamp were said to have been hired to produce and direct, in a project joint-funded by Fox and Universal. That project fell flat, but Halo 4's launch has since brought about rumours of a revival with even Steven Spielberg's name being thrown into the orbital ring.
As I near the end of this look at Halo's impact I realise I've yet to even mention its multiplayer, which helped shape our expectations as far as the online components of shooters go. And I've not covered those happy days of Halo:CE LAN parties where Xbox consoles could be hooked-up locally to create 16 player games, nor indeed have I delved into the monumental AI which made the Covenant all the more pleasurable to annihilate – especially with a well-aimed plasma grenade.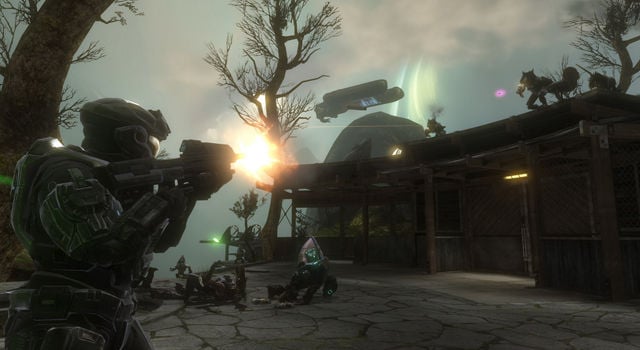 I suppose the series' main criticism is that in getting the formula so right in its first outing its successors have grown sequentially more stagnant. Yes Halo 4 plays very well, but one of its major critiques is how it apes Halo: Combat Evolved, with 343 overly conservative in ensuring they got the patented Halo "feel" just right after inheriting the reins from Bungie.
How the series progresses from here, with Halo 5 and Halo 6 certainties for the Xbox 360's successor, remains to be seen, but here's hoping that Frank O'Connor and his team at 343 Industries are brave enough to evolve its combat once again. ®
COMMENTS
Absolute crock of....
Valve hasn't followed on its successes???????
No Valve moved on and did something different instead of vomiting the same junk on people. Portal & Portal 2, Left 4 Dead and Left 4 Dead 2. Team fortress etc etc.
Halo just continually pumped the same crud out in sequel after sequel adding little more than a few weapons or a new vehicle or a new location to what was the same engine. Plot moved on a bit but not much and if you play the ODST it isn't even much of a plot jump.
Even your own review just says Halo 4 is a clone of the first Halo with nicer whistle & bells.
What actually happened is a good formula from the likes of any PC game before it like Half life, was put onto a console where a captive audience of people who have no attention span and where logic and brains are not required can run round shooting everything in a linear fashion. Run jump shoot, hide, run jump shoot. (can you even crouch) Then on every incarnation since it has repeated that winning formula of no puzzles, plenty of shooting but nothing on a par with the likes of Crysis, Half life 2, Cod (choose any of them) or battlefield games.
Halo gives a you a few vehicles, so did BF2 (and planes, and boats, subs) but that was purely online game play, Halo included nothing new in Halo 2, BF2 had an entirely different skin, model list, weaponry. etc etc. Battlefield however had mods, had the vietnam with an entirely different mechanic for flying, all new profiles and skins, and a different physics engine. As did the 2142, once the bugs were sorted you could not only have different kits but the range of upgrades made those kits something completely new. Halo gave you another gun.
Every COD has a different arsenal of unlocks and upgrades, Halo 2 gave you a second hand. Halo 3 gave you an upgrade (shield, speed). ODST gave you less, Halo Reach gave you some more plot and a brief linear flight in a space fighter or VTOL. Even the plots are the same, run and jump and shoot and finally drive a car at great speeds either on a collapsing ship or on a collapsing planet.
Halo didn't define a generation of FPS, it just gave XBOX 360 owners something to play. But you can't compare Halo to anything in other formats. Battlefield 1942, Half life 2, Crysis (not the Crysis 2 port) and Cod:MW pushed and defined FPS for differing reasons.
I own all of the Halo series but each and everyone is the same. I have yet to start Halo 4, but I predict it will have exactly the same plot of run, jump and run and jump, shoot something a lot and then press a few buttons before you drive very quickly against the clock.
Genre defining, no. Peddling the same stuff and having idiots (me included) pay over the odds pricing for the next clone, yes. I also lay odds that graphics, speed, game play and longevity are nothing on a par with the new CS:GO valve have released (not that they follow on their successes) Could be the game, could be the XBOX 360 being just too old now.
Re: Halo, gaming devolved
By effortlessly translating the accuracy - well, most of it - of the keyboard and mouse to the few buttons and dual analogue sticks of the 360's pad
All I thought when I read that was "Ahhhh haahaahaahaahaahaa" ; when my sides stopped hurting I felt like I should post.
When reading this I thought of numerous games that offered what Halo did. But then I have been a PC gamer most of my life and before that Acorns, BBCs, C64's, Speccy, Amiga's etc. I used to love my consoles for what they were good at but first person shooters was not it.
And for your info Bungie ripped this away from PC gamers who had been waiting for it for years.
Re: Halo, gaming devolved
Yeah, Halo was a massively over-rated game. Probably because of the lack of decent shooters on consoles, Pc users on the other hand had plenty of better ones to choose from. And we could use a decent control system too. plus only 16 player multi player in 2001? LOL...
Halo, gaming devolved
The only thing Halo taught me was that I love my keyboard and mouse. Sure the game was well executed but it wasn't ground breaking. The Xbox simply introduced what PC gamers were enjoying to the console masses. in 2001/2002 I was busy playing BF1942.
Re: Erm...
The Chief's dual health system was a pioneering step too. The decision to have shields and health separately governed might be a largely standard occurrence now, but it was anything but back when Halo: Combat Evolved was making its debut.
Again, Future Shock did this in '95. Keep up, guys.