LucasArts' Dark Forces
Star Wars meets Doom in this classic first-person shooter from 1995
Hokey religions and ancient weapons are no match for a good blaster
All that said, Dark Forces was still loyal to its FPS origins too - some might say slavishly so. Its list of weaponry follows the classic fists, pistol, machine gun, mini-gun, rocket launcher, BFG ladder, just with some real Star Wars weapons thrown in, plus some cool new ones like the Fusion Cutter and the Concussion Rifle. No lightsabre, mind, or Force powers. They would have to wait for the sequel, 1997's Dark Forces 2: Jedi Knight.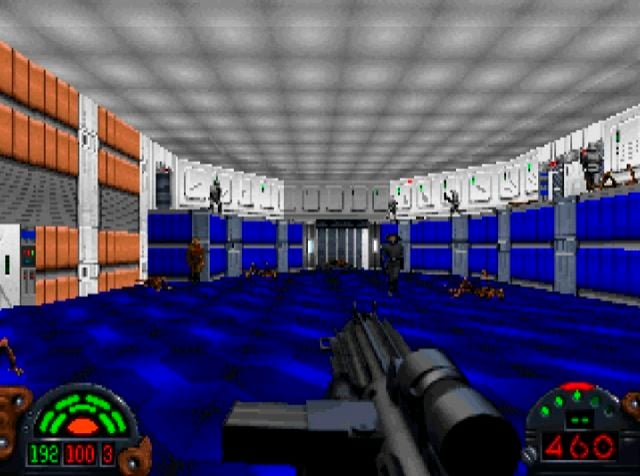 Mint Imperials
Likewise, there's a clear hierarchy of bad buys, with Death Squad Commanders, Stormtroopers, Imperial Officers - whose hats cutely fly off when they're shot, remotes, interrogation droids, mouse droids and probe droids being joined by Trandoshans - represented in the movie by the bounty hunter Bossk - plus Ree-Yees with their three eyes on stalks; slime dwelling Dianogas; and Gammorreans.
And there's even a brief cameo from Boba Fett.
Not that Dark Forces didn't extend the genre. While Doom prevented the player from looking up and down, Kyle Katarn can. He can also crouch and jump. Some areas were literally pitch black, with only droids' lights and - if you found them - power ups or infra-red goggles to help you see. To make it tougher, you can't save the game during play.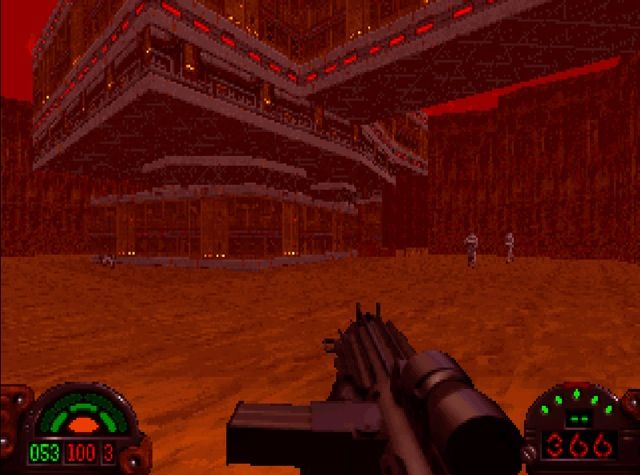 Gloomy Gromas
Dark Forces also features some of the most extensive locations to explore in an mid-1990s FPS, with some levels positively labyrinthine in their complexity - made more so with sections built on top of other sections for some very impressive three-dimensional architecture. Parts of which could move, too. Not merely up and down like Doom's elevators, but sideways and rotationally. There are conveyor belts and drag-you-along sewage streams. There's slippery ice. There are hazy, poisonous fumes.
And while, yes, Dark Forces had three colours of key - red, blue and yellow - just like Doom, and the inevitable but unrealistic secret rooms, at least it imposed a broader array of mission parameters than 'find key, open door'. There were sequences of different-speed elevators to ascend, multiple switches to hit to open up computer cores or to detonate the Arc Hammer's reactors.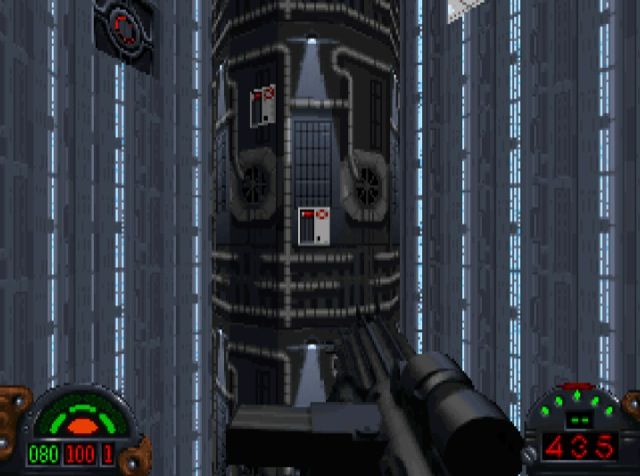 True-to-the-movie architecture fills each level
The FPS feature that Dark Forces didn't offer was multi-player gaming, but this was early days for LAN play, let alone over-the-net gaming. Its absence didn't diminish my enjoyment of the game, played on the Mac, though in a form that's long been incompatible with modern Apple machines. I tried it again recently using the DOS emulator DOS box - I still have the original CD - though in DOS' grainy 320 x 240 pixel-doubled graphics rather than the full 640 x 480 the Mac version was capable of, albeit only with a top-of-the-line Power Mac.
Come on, George, free up the source code.
DOS and Mac discs can still be found on eBay and such, if you fancy rekindling fond memories. Just never fear being told: "You're in violation of Imperial law!" ®
More Retro Games

Half-Life
Populous
Legend of Zelda
Ocarina of Time
Ghostbusters
Goldeneye
Sponsored: Minds Mastering Machines - Call for papers now open