LucasArts' Dark Forces
Star Wars meets Doom in this classic first-person shooter from 1995
Antique Code Show With the release of Doom in 1993, and Bungie's Marathon, the year after, the first-person shooter was firmly on the gaming map, so it was no surprise LucasArts wanted to be there. If there was one thing a Star Wars fan wanted, it was to get in on the action, to grab a blaster and take out some Stormtroopers. In 1995, Dark Forces let them do just that.
Up until then, LucasArts' Star Wars games had focus on starship combat, most notably X-Wing and that flag-flyer for the CD-Rom, the on-the-rails space shooter Rebel Assault. Dark Forces was different. This was a game you could play and feel - if you closed your eyes a bit and squeezed your imagination really hard - that you were in a Star Wars movie, a sensation aided by its clever 'i-Muse' music tech, which played synthesised sections of the movie soundtracks selected to match the tempo of the game's action.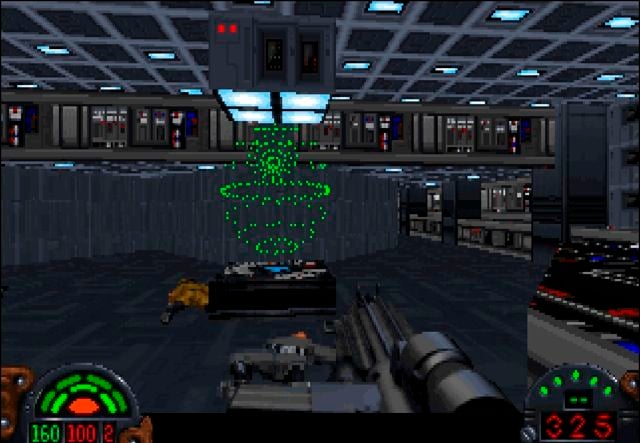 'That's too big to be space station'
Where Doom pared back storytelling to focus solely on blazing away, Dark Forces had a film-like plot that grew as it was told through the situations you encountered as a player and through the level-separating cut-scenes.
Abort the Imperial starship Arc Hammer, General Rom Mohc is in charge of a project to create a new breed of Stormtrooper: cybernetically enhanced Dark Troopers equipped with powerful new weaponry, jet packs and other cool stuff, though you first encounter them as blade-wielding Terminator-style skeletal droids.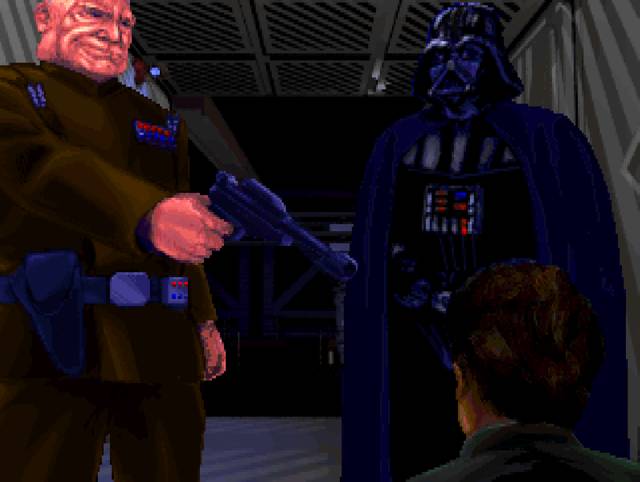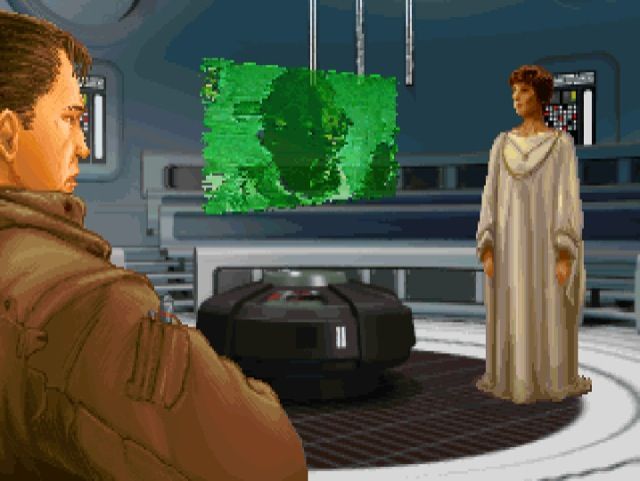 Your adversary, Rom Mohc, communicates with Vader while you get your orders from Mon Mothma
You are Kyle Katarn, a mercenary with Han Solo's gun skills but none of the Correlian's wisecracks. The Rebel Alliance has got wind that the Empire is up to something nasty and, having proved your skills and loyalty in Dark Forces' first level, Mon Mothma you're sent off to uncover the scheme.
The plot neatly ties in to the movies' storyline. In the first level, for instance, you break into an Imperial base to steal the plans for the original Death Star - plans that, off screen, make their way into Princess Leia's hands and set in train the first film. A later level has you track down Imperial renegade Crix Madrine who will eventually become a rebel and, in Return of the Jedi, brief the troops on the assault on the Death Star 2.0.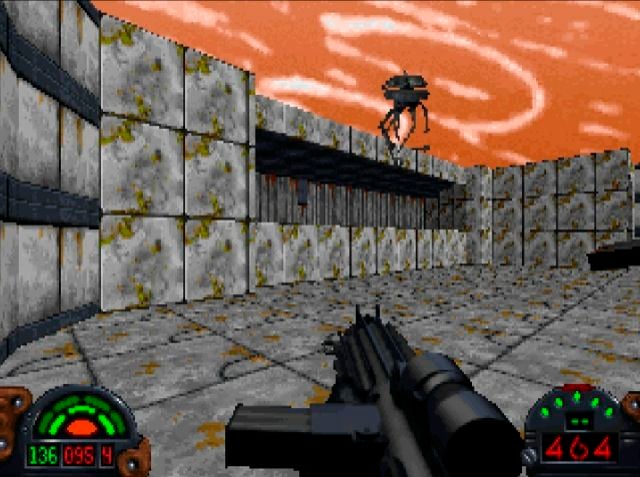 Shock! Horror! Probe droid!
Level by level, you're taken to some of the Empire's most famous ships and locations, from Star Destroyers and Jabba the Hutt's private yacht to Imperial capital Coruscant - years before it was depicted in Phantom Menace. Even the planets created for the game run the gamut of the sewers of Anoat City, the ice planet Anteevy, Nar Shadaa the vertical city, and the desert world of Gromas. This was not a game made entirely out of just a handful sets of textures as so many other FPS of the time were.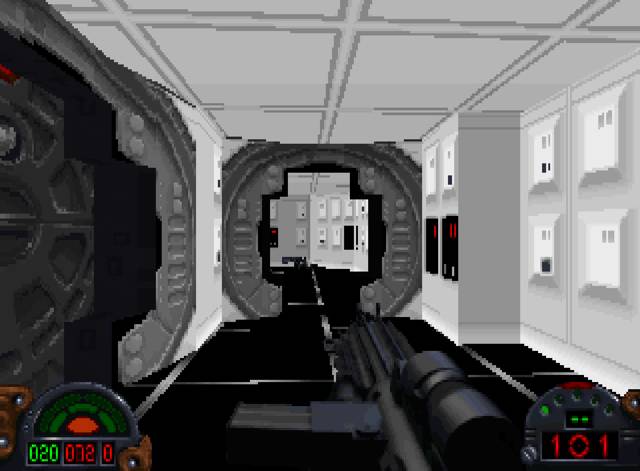 This ship will look familiar...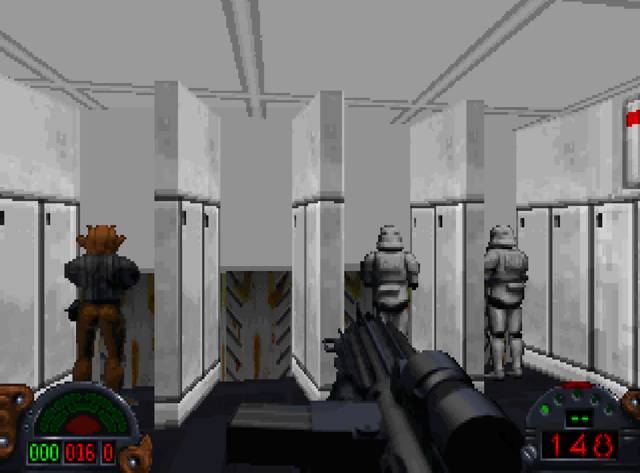 ...though you may not have seen the urinals before
COMMENTS
Genuinely...
... the best FPS I have ever played.
The graphics are naturally primitive by current standards but for the time they were really good, and what it now lacks visually it even now makes up for in terms of sheer fun. There's a mission progression that actually makes proper logical sense, a coherent plot (unusual for anything Star Wars), intricate levels - some of which require proper problem solving to complete, a real sense of "you're on your own now" in not being able to save progress during a mission, and while the weapons may in themselves be a pretty standard assemblage, there is huge scope for using them creatively to get past the next baddie. It's a shame that as the visuals have improved in more recent FPS, many of these elements seem to have been left out.
Still one of my absolute favourites
This game was amazing when it came out and I still enjoy replaying it. I had both the PC and the Playstation 1 versions of the game. The PS1 version was actually quite compromised, they took out the iMUSE system and just streamed pre-recorded versions of the PC midi music from the CD. The framerate on the PS1 was also a bit dodgy and the controls often required some quite convoluted combinations to switch weapons or run and jump.
On the subject of iMUSE, I think this was one of the last titles to use midi music. It had a fantastic score with lots of unique themes and cues (I think it was by Clint Bajakian). Sadly LucasArts moved on to chopping up bits of John Williams music for future games. While having full orchestral music was nice, I think the lack of a composer creating music specifically for each level was lost. The end credits music to Dark Forces in particular is one of my favourites.
I do remember being slightly annoyed that the longest cut-scene was the one at the end of the first level (and was included with the demo). Based on the demo you'd expect massive cut-scenes after every level but usually you'd get little more than a shot of the Mouldy Crow flying away from an explosion...
Does anyone remember the box to Dark Forces? There was a screenshot of a map to a level not in the game. As I understand it this was the original first level but it was dropped as it was considered too complicated.
A few years back some fans attempted to re-create the game using the Jedi Academy engine. I believe they re-made most of the game but there were a few levels that were never finished. Their website is here: http://darkforces.jediknight.net/
I think this is the first game to ever use a texture on a wall to display vital information (when in the vault on Coruscant). I remember wondering about that area for ages until I realised that the map on the wall was actually updating as I opened and closed doors and was meant to be used to guide you to the centre of the vault. I'd never seen anything like it before then and it really blew me away as suddenly walls could do more than just be barriers.
Dark Forces 2 Jedi Knight is also an absolute favourite of mine. I really wish LucasArts would consider making another one (and preferably not the shallow experience that was Force Unleashed)...
Nope - check out Doom screenshots. They darkened the textures with Z depth. They had to do it using some funky method to alter the bits of the palette they used (which is part of the reason that dark things in Doom turned grey) but it was most certainly possible. It was largely responsible for the sense of depth. To wit:
http://www.mobygames.com/images/shots/l/24660-doom-dos-screenshot-chainsaw-massacres.gif
Look at the ceiling, from top down - it gets darker in the distance. Not strictly realistic, but it makes a big difference to the sense of space.
There's nothing wrong with the screen shots. I think you are saying there is no volumetric lighting or fog, which wad not technically possible at the time.
'It's up to Disney now.'
..So we can look forward to 'Dark Forces 3 : Mickey Mouse rapes your childhood' coming soon to the Wii, IPad and I-Phone for just 100 micropayments of $1.99 each.